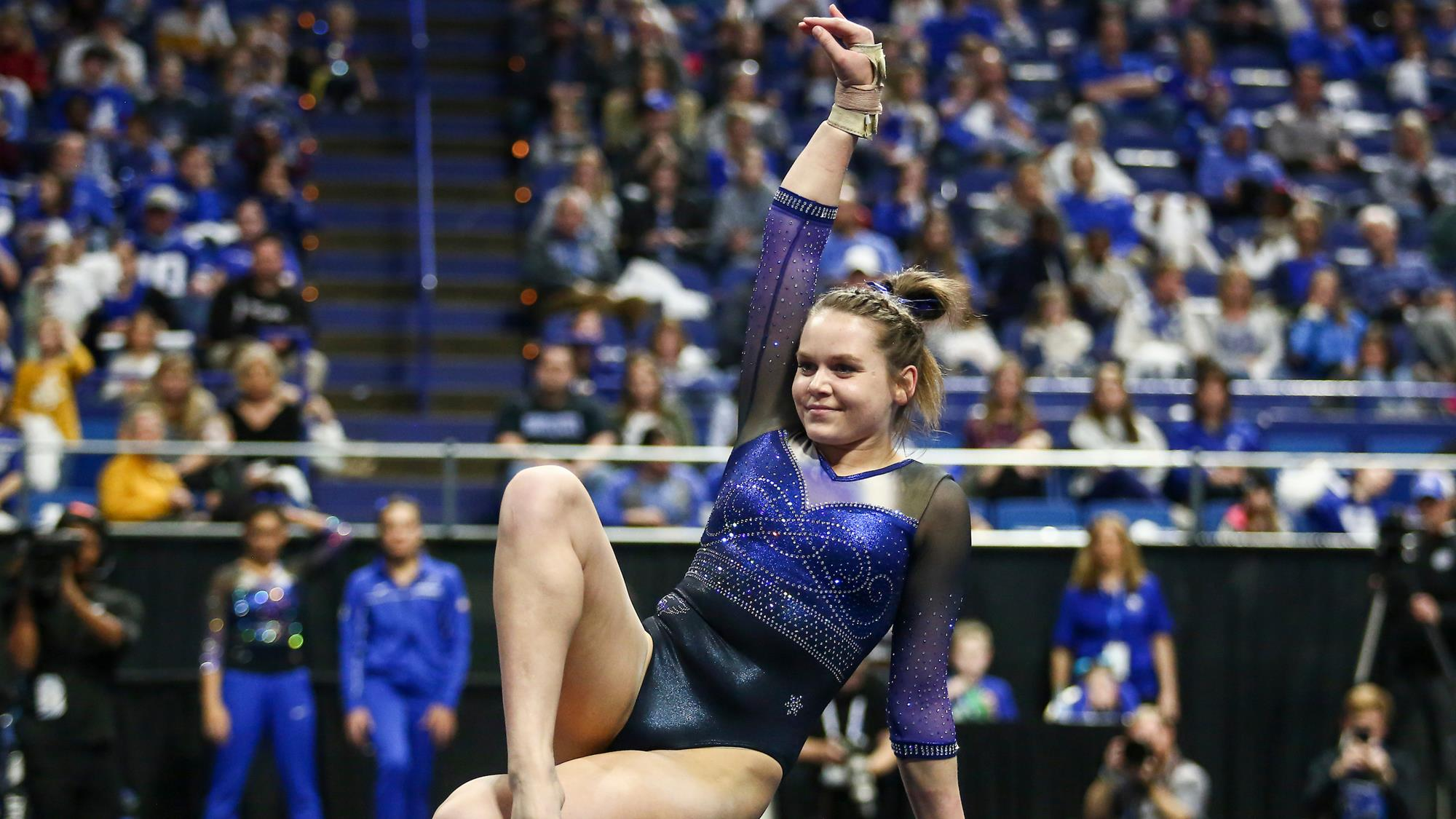 February 14, 2020 - 01:24 PM
No. 12 Kentucky Prepares for Sunday Showdown at No. 9 LSU
LEXINGTON, Ky. – In the second installment of its only two-meet road stretch of the season, No. 12 Kentucky (6-2, 3-1 Southeastern Conference) is set to make its way to Baton Rouge, Louisiana, for a showdown with No. 9 LSU (5-2, 2-2 SEC) on Sunday at 3 p.m. ET.
 
Sunday's contest will be aired live on SEC Network+ and tape-delayed later that night at 8 p.m. on ESPNU.
 
The Wildcats head to Pete Maravich Assembly Center seeking a second consecutive regular season victory over the reigning SEC champion. Kentucky upset the Tigers 197.150-196.125 in Lexington on Feb. 8, 2019, marking the first of a program-best six 197-point performances last season. Mollie Korth, then a junior, led the Cats with wins on vault (9.925) and all-around (39.600). LSU avenged the loss with a 197.900-196.225 triumph in last year's SEC Championship.
 
In its most recent outing, Kentucky claimed a 197.275-196.250 decision at then-No. 17 Auburn on Feb. 7. The Cats tied the third-best team vault score in school history (49.400) and produced the program's fifth-best floor rotation (49.500). Korth collected wins on vault (9.950), bars (9.875) and all-around (39.575), while sophomore Josie Angeny placed first on beam (9.900) and freshman Raena Worley tied for the win on floor (9.950).
 
Kentucky's only meet of the season to fall on a Sunday coincides with LSU's annual February "double weekend." Before hosting the Wildcats, LSU will compete against No. 18 Iowa State, No. 19 Missouri and Lindenwood in the GymQuarters Mardi Gras Invitational in St. Charles, Missouri, on Friday at 7:30 p.m.
 
To purchase tickets for the 2020 season, visit UKAthleticsTix.com. For the latest on the Kentucky gymnastics team, follow @UKGymnastics on Twitter, Facebook and Instagram, as well as on the web at UKAthletics.com.