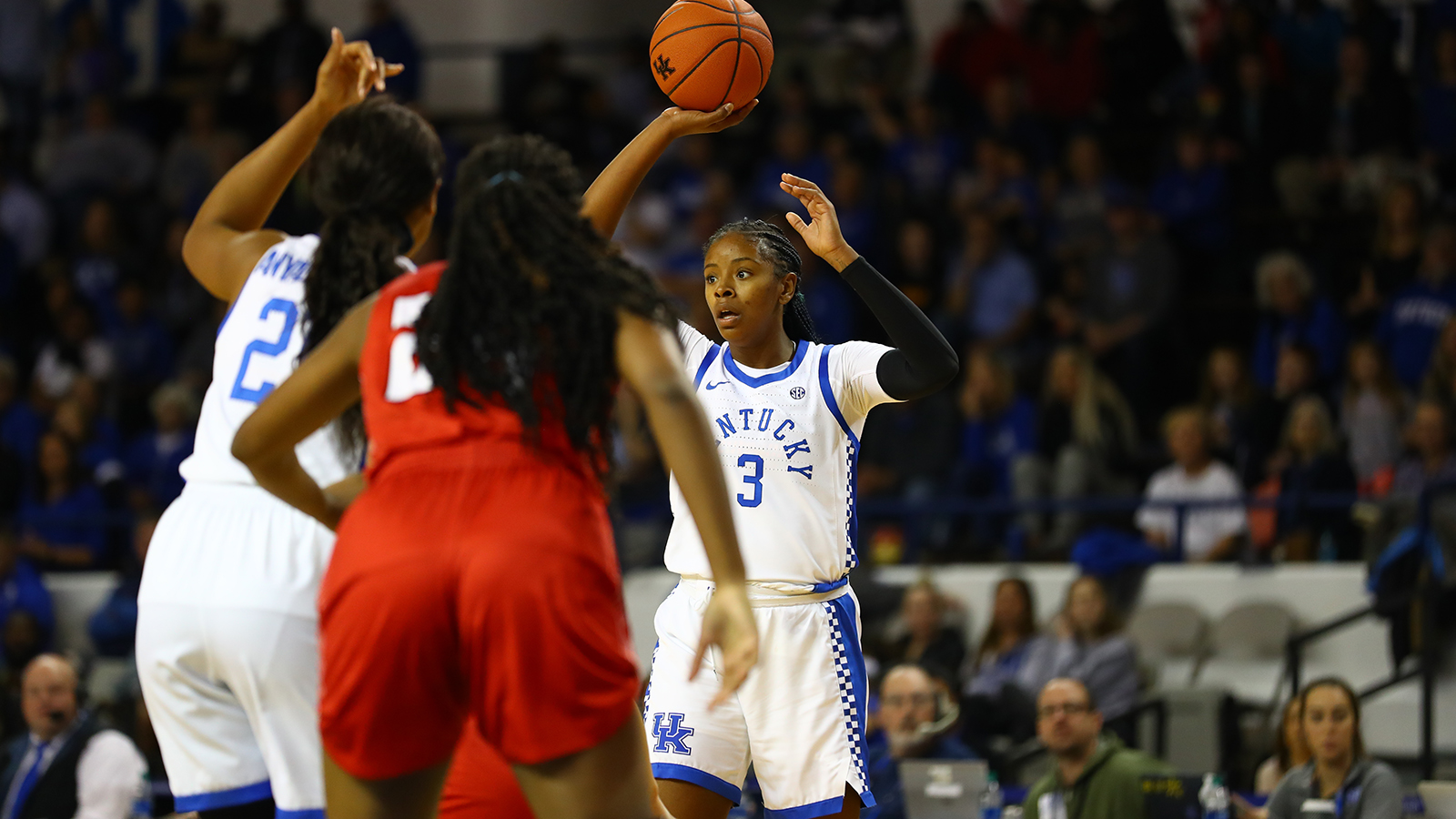 February 14, 2020 - 10:14 PM
Rested, Healthier Cats Ready for Sunday's Challenge
Last Sunday afternoon, the Kentucky women's basketball team found itself on the wrong end of a 103-85 score against Arkansas.
The good news for the Wildcats following that contest was two-fold. One, there was plenty to learn from in the postgame film. And two, UK would have a week off before having to return to action again.
Head coach Matthew Mitchell liked where the mid-week bye fell for his team for multiple reasons.
"Yeah, as I am sure a lot of teams are, we are really banged up right now, so, it was good to have a few days where we could try to respond, feel better," Mitchell said. "I think the time off is beneficial. We are also able to get some good work in too, so it's been a good week for us."
The Cats return to action rested and ready for the season's stretch drive. But their first task after the mid-week bye is a tough one, as Kentucky welcomes Mississippi State to Memorial Coliseum on Sunday  at 5 p.m. ET. The Bulldogs are 22-3 and 10-1 in the SEC and are currently ranked fifth by the coaches and sixth by the Associated Press.
Mitchell knows how good the Bulldogs are.
"I think you have to start with how explosive they are, and you have to be ready to play a tough game and a mentally sharp game, because they feast on your mistakes and they create a lot of those if you're not tough or sharp," Mitchell said. "So, to me, it's so much about how we show up on Sunday prepared to play against a great team. Because, they're doing such a great job of creating turnovers and turning those turnovers into points."
The Cats are getting closer to being healthy again. After missing three games with a broken finger, Rhyne Howard returned to action on Sunday. And while the sophomore showed a bit of rust, she did score 20 points yet again. With another week to heal, Mitchell likes where Howard is at this point.
"She's doing better, she's doing well, and she had a great practice yesterday," Mitchell said. "She continues to improve and is still trying to work her way through it. She's not 100 percent, but she played with tremendous effort and energy in practice, and she looked really good yesterday."
Mitchell hopes that Howard, and the rest of the Cats, will be up to the challenge that MSU will present in Sunday's contest.
"They're playing well and have done well so far through their portion of the conference schedule," Mitchell said. "It'll be a tremendous challenge, but we're working hard to get ready for it."
The Wildcats hope that the lessons learned at Arkansas, combined with the week off, will be a recipe for success in Sunday's game against Mississippi State.