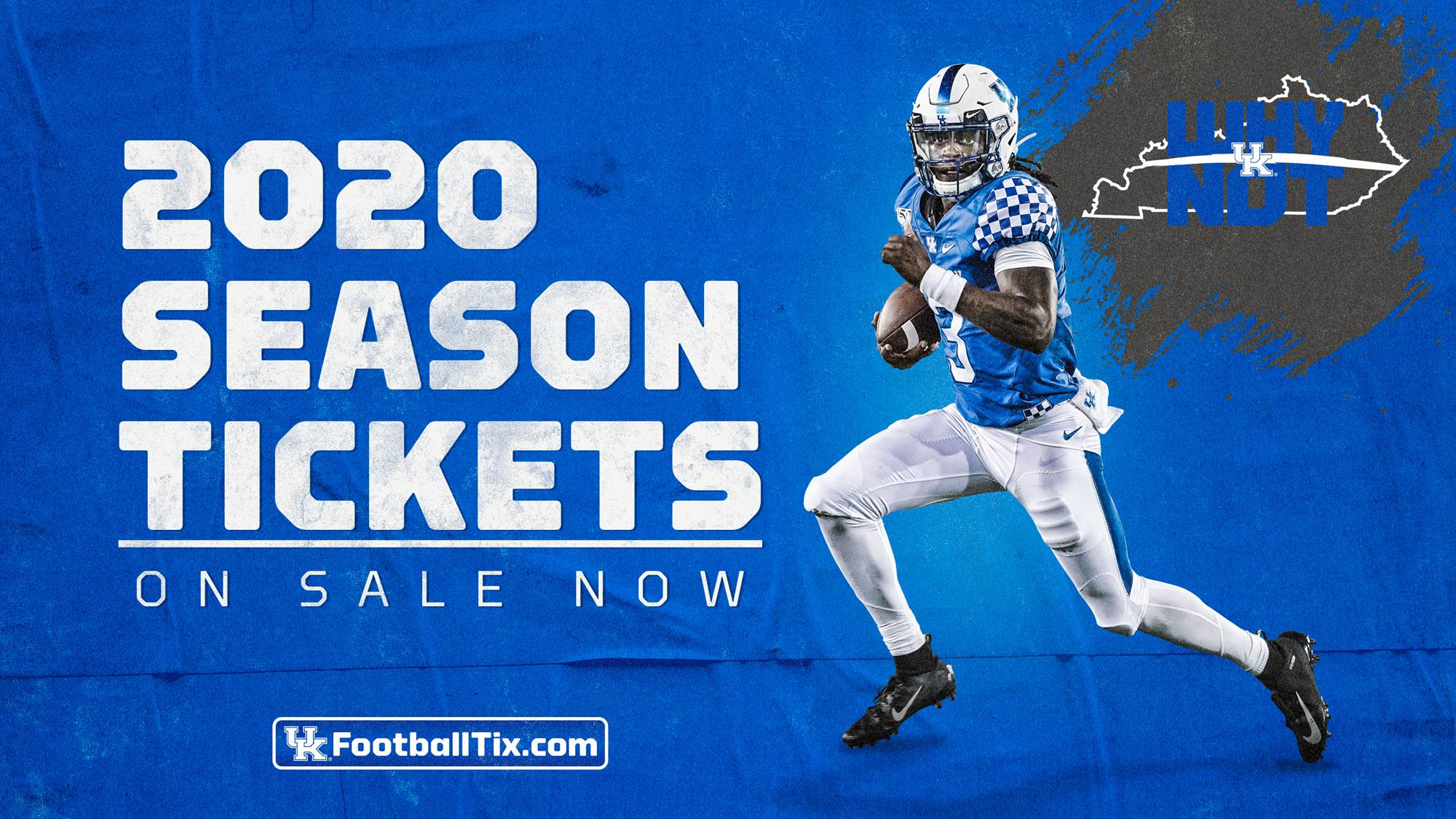 LEXINGTON, Ky. – Kentucky football season tickets are now on sale, coming on the heels of UK selling nearly 17,000 season tickets during the Early Signing Period. That total is up from 2019, when UK sold over 15,000 tickets during the Early Signing Period.
 
The on-sale period began Friday morning, with prospective new season ticket holders able to work together with a personal ticketing consultant to compare and purchase available seat locations by submitting a request at this link or by contacting the UK Sales Office at (800) 928-2287 (Option 1). Fans are also able to access to the Kentucky Football Virtual Venue for 360-degrees views from inside Kroger Field.
 
Returning season ticket holders are also still able to renew their season tickets through their My UK Account at UKathletics.com/renew, while paper invoices will be mailed later this month. The renewal deadline for 2020 football season tickets is Friday, April 10.
 
Standard season tickets are $365/$340 apiece with corresponding per-seat K Fund donations, while tickets in the 200-level public areas range from $250-$320 apiece. Complete ticket pricing can be found at UKFootballTix.com, while parking pricing is available at this link.
 
2020 Season Ticket Pricing (Plus Applicable Per-Seat K Fund Donations) View a 2020 season pricing chart here
 
Premium Seating – $500
Standard – $365/$340
200-Level Sideline – $320
200-Level Corner – $250
 
2020 Parking Pricing (Plus Applicable Per-Permit K Fund Donations) View a 2020 season parking map here
Colored Lots – $280
Parking Structures – $168
RV permits – $700
Season parking permits are available for purchase, primarily in the expanded Purple Lot behind the East end zone. Fans can contact the K Fund at (859) 257-6300 or the UK Ticket Office at (800) 928-2287 (option 1) to buy. There is a limit of one (1) season permit for every four (4) season tickets purchased per account.
 
Kentucky football is slated to play seven homes games this fall. The schedule includes SEC matchups against South Carolina (Sept. 26), Vanderbilt (Oct. 17), Mississippi State (Nov. 14) and Georgia (Nov. 21). UK will also host nonconference foes Eastern Michigan (Sept. 5), Kent State (Sept. 19) and Eastern Illinois (Oct. 10).
 
Once again, UK Athletics will offer a variety of season ticket holder benefits, including the opportunity to order additional single-game tickets at exclusive prices in advance of non-season ticket holders and recognition on the Kentucky Farm Bureau "Wall of Commitment" inside Kroger Field. Click here (PDF) to view a complete list of 2020 season ticket holder benefits. The following exclusive incentives will be also be available to fans who renew season tickets or purchase new season tickets prior to the following date:
 
Benchmark 2: Renew or purchase by April 10:
Invitation to UK Athletics' annual CATSPY Awards in April
Ability to renew through a three-month, no-interest payment plan
Invitation to exclusive UK football community event
Entry into "Season Ticket Surprise" drawings, including access to premium seating, Kentucky football memorabilia and complimentary tickets to away-games
Single-game ticket information will be released at a later date. A variable pricing model implemented based on fan feedback will be in place with ticket prices based on seating location and opponent to provide many options to fans. Season tickets remain the best value for fans to attend games at Kroger Field.
 
Student season ticket information for 2020 will be released at a later date at UKStudentTix.com, and students will receive more information by email in the spring.
 
The Kentucky football team finished the 2019 season with a record of 8-5 after defeating Virginia Tech in the Belk Bowl in thrilling fashion. With the win, Mark Stoops joined Bear Bryant and Rich Brooks as the only coaches in program history to lead UK to back-to-back bowl championships.