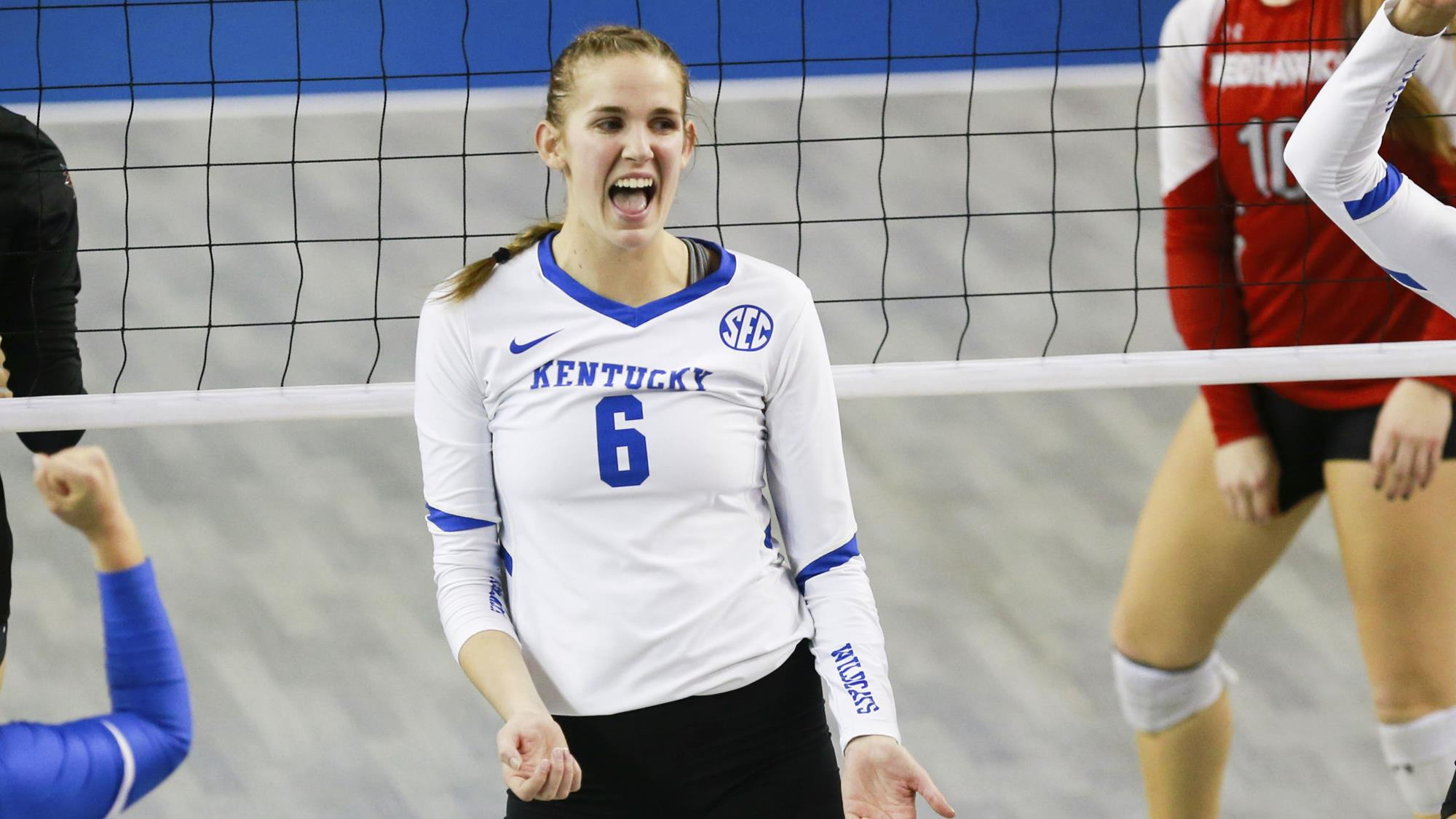 February 13, 2020 - 04:50 PM
Two Wildcats Named to SEC Student-Athlete Advisory Council
BIRMINGHAM, Ala. – Kentucky men's golfer Jacob Cook and volleyball player Kendyl Paris will represent the Wildcats at this week's Southeastern Conference Student-Athlete Advisory Council (SAAC) on Friday and Saturday at the SEC offices in Birmingham, Alabama.
 
The purpose of the SEC SAAC is to provide student-athletes with additional opportunities to engage with campus leaders and conference office staff. Additional councils with similar purposes were introduced by the Conference in 2016 for football and men's and women's basketball. Each council convenes annually, and a joint meeting is held during the summer. The SEC Football Leadership Council conducted its two-day meeting last weekend, and the basketball councils meet during the fall.
 
Agenda items for the SEC SAAC meeting include a presentation on social justice education by Jen Fry, a conversation with SEC Commissioner Greg Sankey, a review of NCAA and SEC legislative items, and an open discussion on SAAC programs. The group will also elect its vice chair at the end of its meeting. Current SEC SAAC chair Jake Gibbons will provide an update from the NCAA Division I SAAC meeting held recently at the NCAA Convention.
 
Cook has appeared in 11 events during his three-year career with his low round, low tournament score and best tournament finish coming during the 2019 fall season for the men's golf team. He's currently pursuing a degree in management and is a three-time Academic All-SEC selection. The Frankfort, Kentucky, native serves as the men's golf representative for Kentucky's SAAC division and is heavily involved in the Fellowship of Christian Athletes program. This summer, he served on a mission trip to Nicaragua and he's also participated in projects benefiting Habitat for Humanity, Ronald McDonald House, Special Olympics, God's Pantry and the Salvation Army.
 
Paris is a three-time SEC Champion as a part of the volleyball team. The Hilliard, Ohio, native has appeared in more than 60 career matches and has averaged 1.40 kills per set and registered more than 170 blocks in her career. She's a three-time All-SEC Academic Team member pursing a degree in kinesiology. Like Cook, she's a member of UK's SAAC. This summer, she traveled to Ethiopia as part of the UK Athletics' mission trip and has worked with Step-by-Step, God's Pantry, Special Olympics and the George Pruitt Recovery Center.
 
Other student-athletes attending this weekend's council include: Taylor Morgan (Alabama soccer), Ben Fuller (Alabama men's golf), Lauren Evans (Arkansas volleyball), Jacob Quattlebaum (Auburn football), Chesney McClellan (Auburn volleyball), Trey Freeman (Florida men's swimming and diving), Kristine Akervold (Florida women's track and field), Katie Jackson (Georgia women's track and field), Josh Horne (Georgia men's swimming and diving), Courtney Henderson (LSU soccer), Aubrey Sultemeier (Ole Miss volleyball), Cade Bethmann (Ole Miss men's track and field), Kanani Price (Mississippi State volleyball), Danny Kovack (Missouri men's swimming and diving), Sarah Thompson (Missouri women's swimming and diving), Parker White (South Carolina football), Courtney Weber (South Carolina volleyball), Jessica Magnoli (Tennessee rowing), Erin Gilroy (Tennessee soccer), Daria Britton (Texas A&M soccer) and Jake Gibbons (Texas A&M men's swimming and diving).
 
For more information regarding the Kentucky men's golf and volleyball teams, visit UKathletics.com.