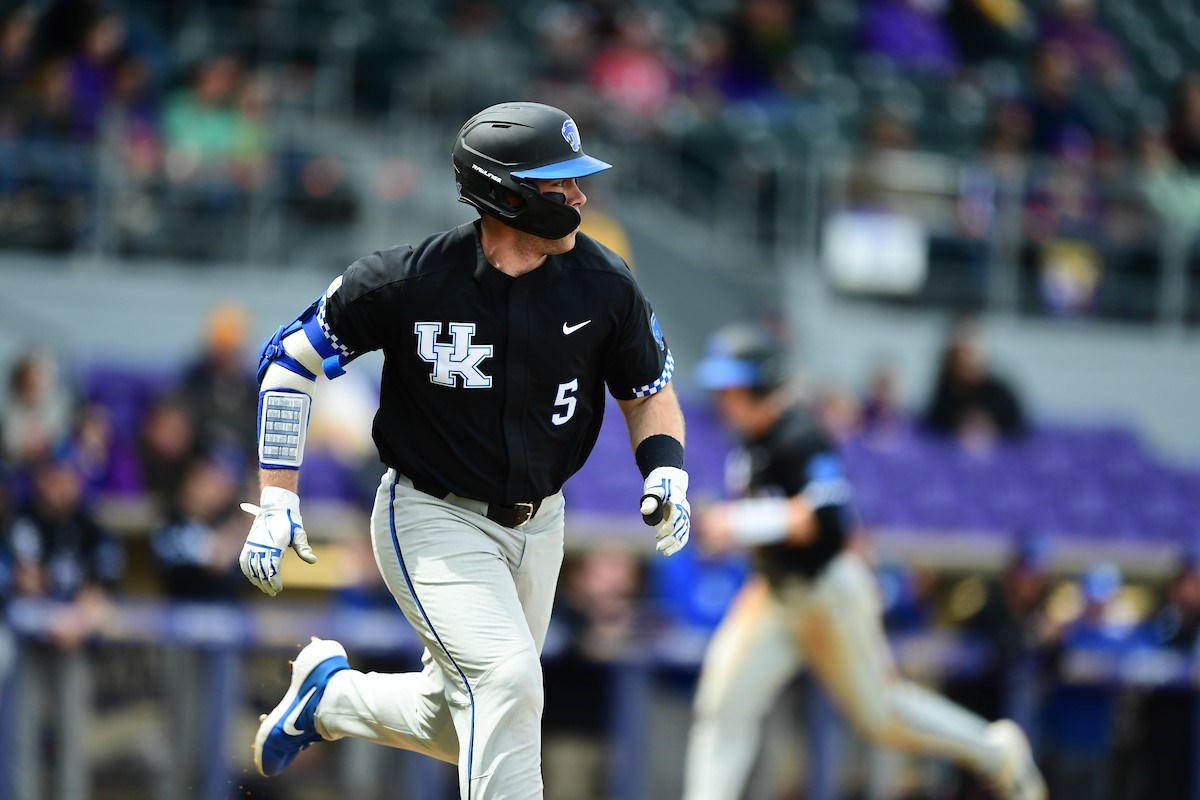 Kentucky baseball senior T.J. Collett has one more season to play for the Cats. But his impact on the program and the community have already been felt.
Collett has shown consistent power during his three years in Lexington. If he hits at least 10 home runs this season, he will be the first Wildcat in nearly 40 years to have double-digit home run numbers in three consecutive seasons. This despite the fact that he has battled a number of nagging injuries during his career.
Collett underwent another surgery this offseason, but as the season approaches, he feels like he's ready to go.
"Unfortunately, since it was my fifth surgery, I'm starting to get kind of good at it," Collett said jokingly. "I know what it takes to recover 100 percent, fully and make sure I don't have any drawbacks. I'm feeling great. I lost some weight since last year, which I think is going to help my body."
UK head coach Nick Mingione knows that Collett is ready to go in 2020.
"T.J. Collett is back and he's healthy. He had another surgery this fall, but his body looks great, he's in great shape," Mingione said. "He has elite power, as all of you know. He actually led the Cape Cod League this summer in home runs. He's an unreal teammate and human being."
Collett has 21 career home runs and needs 13 to reach the UK career top 10 list in longballs. But it's his leadership that Mingione likes best.
"He is the voice, he's the guy that the players feel comfortable going to," Mingione said. "He's the guy who just shows up in our office and hangs out with us just because. He just has a ton of experience. He's comfortable in his own skin. He makes everyone better. He has that unique ability to make people better."
And while Collett has made plenty of noise with his bat, sometimes literally, his impact off the field will have a longer-lasting impression on the UK community.
Since his freshman season, Collett has headed up the UK Baseball program's effort to give back to sick children in Central Kentucky. For Collett, it was something that come to him naturally.
"Coming in my freshman year, I had the conversation with Coach Mingione that I had done some work with the Jessie Rees Foundation, which is a foundation based on care for kids with cancer," Collett said. "And what we do is we deliver joy jars to Kentucky Children's Hospital. So, I told Coach Mingione that I wanted to get involved with that here at Kentucky. So we started making hospital visits, which are still some of my best memories since I've been here."
From there, Collett and his teammates grew the program, expanding it to home games.
"Starting my sophomore year, we started hosting kids from the Children's Hospital before the games, to have fun, play catch, high fives, just lots of fun. And then we recognize them in the middle of the third inning of the game. Every single one gets a standing ovation. And those families just work so hard to make those kids smile. And when you put them in front of a crowd, that can give them every single ounce of hope. It's just amazing to see the smiles on the kids' faces."
Mingione had high praise for Collett regarding his community service efforts.
"The stuff he does with the Children's Hospital with the kids coming to our ballpark and NEGU and the Kentucky Children's Hospital is really amazing," Mingione said. "I hope I get an opportunity to coach another guy like TJ Collett because his heart and his talent, whew, he's special."
Collett will leave UK having made a huge impact not only on the baseball program, but also on the community thanks to his efforts to inspire and support sick children.