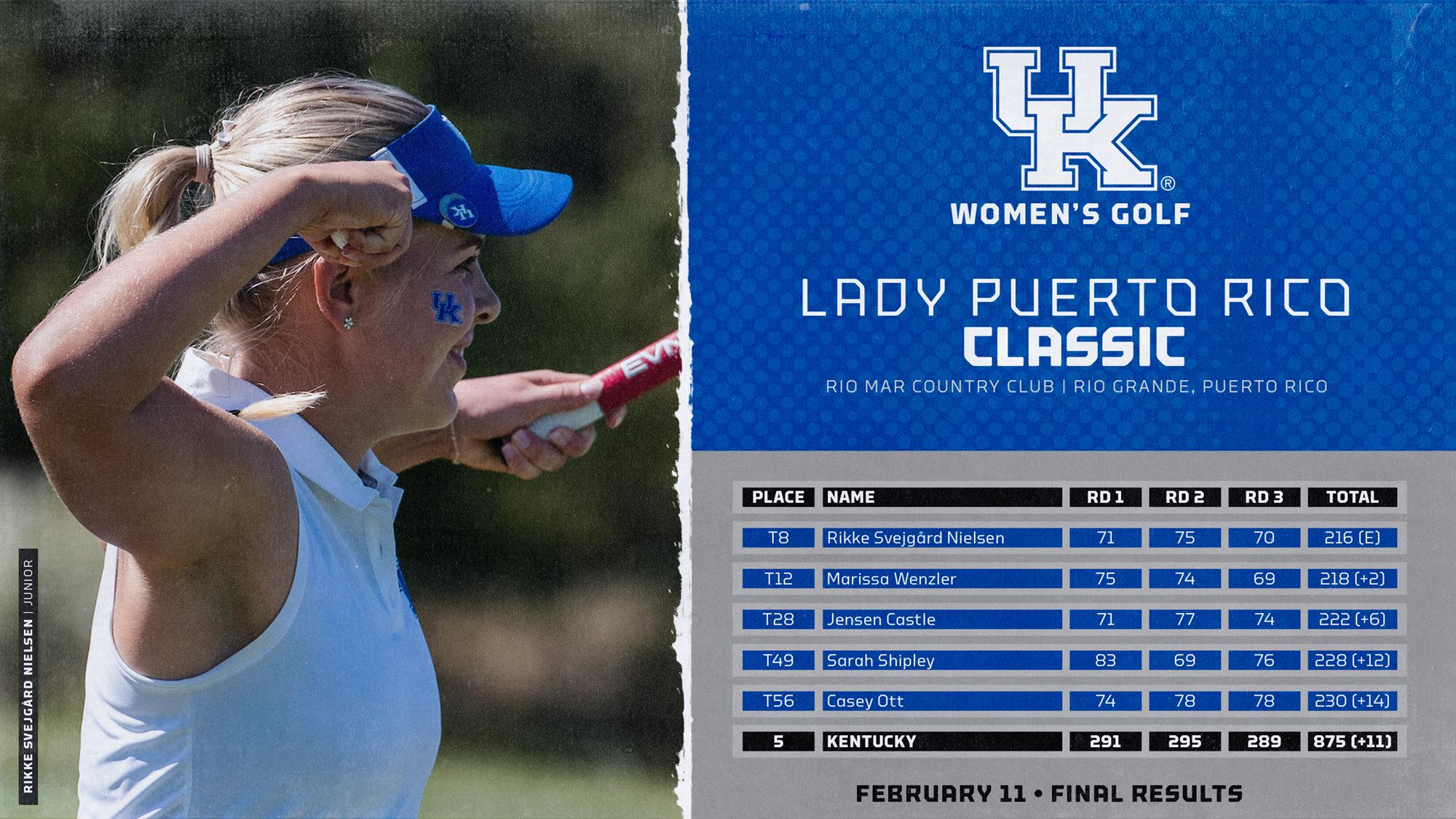 February 11, 2020 - 03:13 PM
UK Places Fifth with Pair of Top-20 Finishers at Puerto Rico Classic
RIO GRANDE, Puerto Rico – The Kentucky women's golf team opened the spring season this week with a solid fifth-place showing and a pair of top-20 finishers at the Lady Puerto Rico Classic.
 
Junior Rikke Svejgård Nielsen held steady near the top of the leaderboard over the course of the three-day, 54-hole tournament and freshman Marissa Wenzler joined her with a career-best final round.
 
With Svejgård Nielsen tying for eight place at even par and Wenzler finishing in a tie for 12th place at 2-over par, No. 21 Kentucky carded a three-day score of 875 (11-over par) to close the week at the Rio Mar Country Club (par 72, 6,164 yards) in Rio Grande, Puerto Rico.
 
UK has finished in the top five in four of its five team events this season.
 
The Wildcats stayed in the mix all week, finishing just behind the likes of No. 32 Texas Tech (6-over par), No. 22 Virginia Tech (7-over par) and No. 14 Oklahoma State (9-over par), but Northwestern went low in the final round with a score of 8-under par to finish at even for the tournament and a six-shot victory.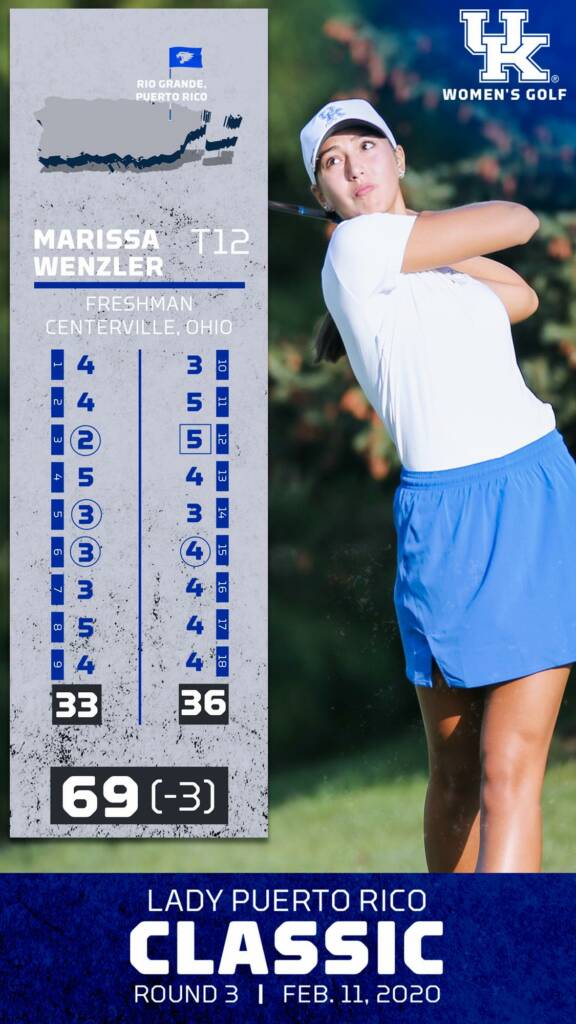 Northwestern's Irene Kim won the individual title at 9-under par.
 
"We were really close to having a great round today," UK head coach Golda Borst said. "I think this week gave us a good indicator of what we need to work on to get ready for our next event and it knocked off some tournament rust that we may have had from the winter."
 
Svejgård Nielsen posted her second top-10 finish of the season and third of her career with 71-75-70 on her scorecards. She played her best golf of the week Tuesday with two birdies, 16 pars and not a single bogey. The 70 also tied for her 18-hole low this season.
 
Wenzler had the best UK round of the day and moved up 22 spots in the final round. With a 3-under-par 69, she set a new 18-hole collegiate low and just narrowly missed out on a 54-hole career best. The freshman from Centerville, Ohio, who now has three top-20 finishes to her name in just five events, posted four birdies Tuesday.
 
"Marissa and Rikke stepped up for us today," Borst said. "They played very steady and it has just been a matter of time for the both of them to post some lower numbers. It was great to be back competing and we are looking forward to playing again next week."
 
Freshman Jensen Castle, in a tie for 28th at 6-over par, finished outside the top 20 for the first time in five collegiate tournaments. She tried to make a run at keeping the top-20 streak alive late in Tuesday's round with three birdies over her final five holes.
 
Senior Sarah Shipley, who tied Wenzler with the 18-hole team-best score this week – a 69 on Monday – recorded a 76 in the finale and tied for 49th at 12-over par overall.
 
Junior Casey Ott, owner of a team-high three top-10 finishes this season, could never find a rhythm in Puerto Rico and tied for 56th at 14-over par.
 
Kentucky should hold fairly steady in the next Golfstat rankings with a decent showing in a difficult field. This week's field featured eight teams ranked in Golfstat's top 50 and three – including No. 21 UK – in the top 25.
 
The fifth-place finish bested Kentucky's other Lady Puerto Rico Classic appearance, which was an eighth-place showing in 2013.
 
The Wildcats will return to Lexington for just a few days before heading to Melbourne, Florida, for the Moon Golf Invitational. That tournament will be held Monday and Tuesday of next week.
 
For the latest on the Kentucky women's golf team, follow the team on Twitter, Facebook, and Instagram, as well as on the web at UKathletics.com.