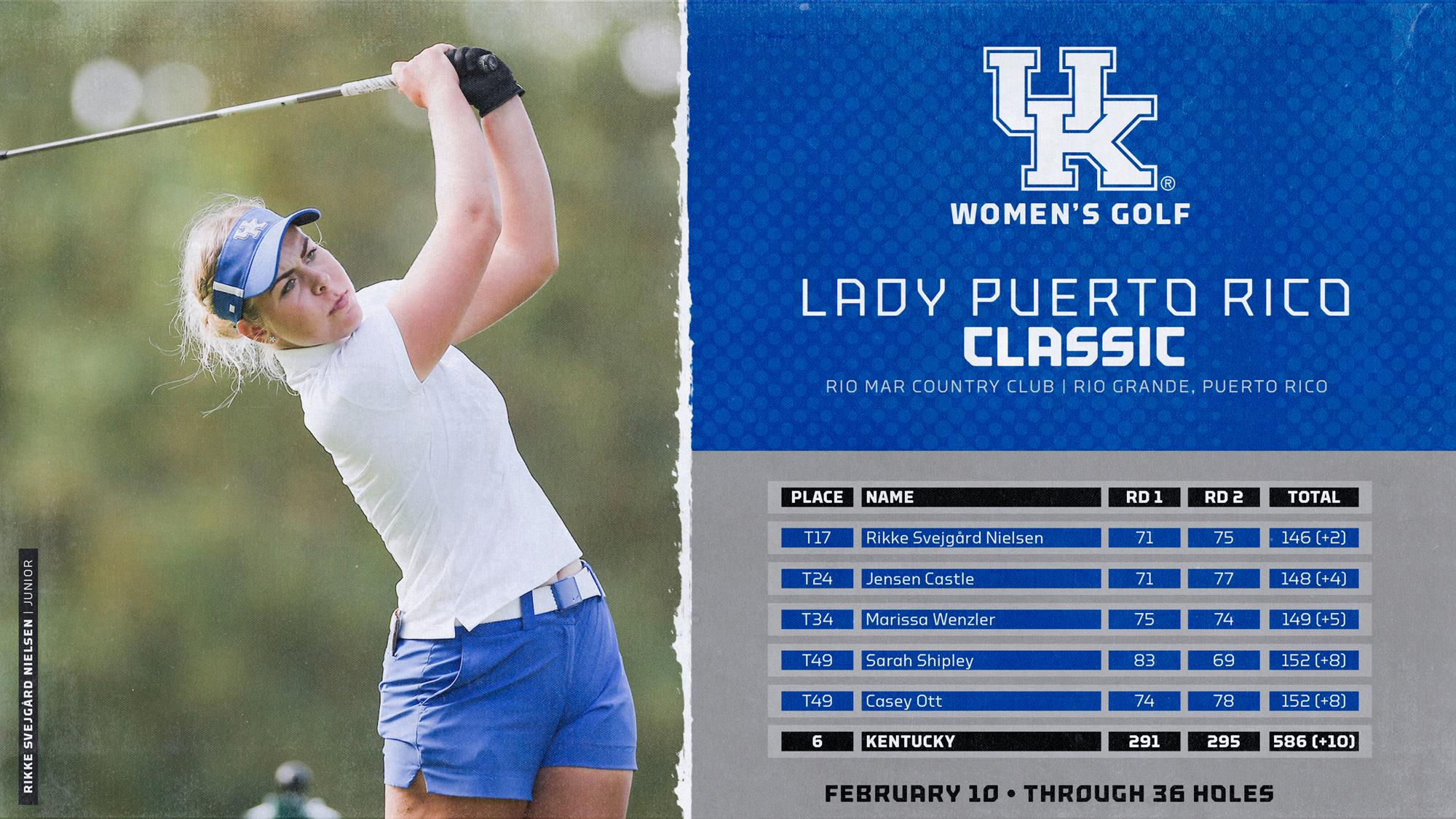 February 10, 2020 - 05:05 PM
Wildcats Seven Shots Back Heading into Lady Puerto Rico Finale
RIO GRANDE, Puerto Rico – On a day when big numbers showed up more than the Kentucky women's golf team would have liked, a familiar face stepped up to salvage the round and keep the Wildcats in the hunt at the Lady Puerto Rico Classic.
 
A day after shooting a highly uncharacteristic 83, senior Sarah Shipley bounced back in a big way with a 3-under-par 69 to lead UK in the second round. With Shipley's 14-shot turnaround, Kentucky posted a 7-over-par 295 and stayed close to the lead.
 
Heading into Tuesday's finale at the Rio Mar Country Club (par 72, 6,164 yards) in Rio Grande, Puerto Rico, the No. 21 Wildcats are in sixth place at 10-over par. No. 32 Texas Tech leads the 15-team field at 3-over par with No. 14 Oklahoma State just two shots back.
 
"Sarah bounced back really well and worked hard to get her mind right as soon the round was over yesterday," UK head coach Golda Borst said. "I'm proud of her for the mental toughness she showed throughout the day and it was great to see her play with confidence today."
 
Junior Rikke Svejgård Nielsen, at 2-over par and in a tie for 17th, and freshman Jensen Castle, at 4-over par and tied for 24th, remain Kentucky's top overall performers for the tournament, but they'll need to go low Tuesday to apply pressure on the leaders, Alyssa Montgomery from Virginia Tech and Irene Kim from Northwestern.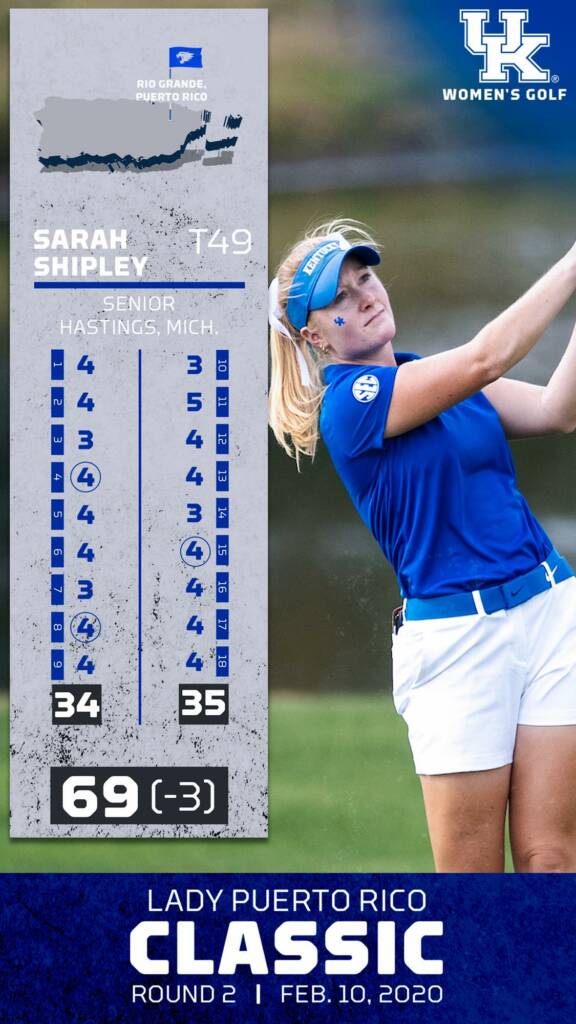 "The scores got away from us a little bit towards the end of the day; we had a few too many big numbers and those are hard to recover from," Borst said. "Overall we battled hard again today but we know we have more in us. This group is competitive and I know they will continue to give it all they have tomorrow."
 
The final round will tee off Tuesday with a shotgun start at 7:30 a.m. AST (6:30 a.m. EST). Live scoring will be available at GolfStat.com.
 
Sunday was an anomaly for Shipley. In 90-plus collegiate rounds, Monday's 83 was the second-highest round of her career and her worst since her freshman season. The usually consistent and low-scoring senior failed to record a birdie in the first round and posted eight holes of bogey or worse, including a triple bogey.
 
To do a complete 180-degree turn Monday embodied the career of Michigan native.
 
Shipley wiped the slate clean in the second round and played near-flawless golf. She posted three birdies on the day without a single score over par. The 14-shot turnaround propelled her 29 spots up the leaderboard and into a tie for 49th.
 
Svejgård Nielsen remains in front for the Wildcats after a second-round 75. The junior from Denmark was hovering around par for much of the day thanks to two birdies early in the day but two bogeys over her final two holes has put her six shots back of the individual lead.
 
Castle experienced her first up-and-down day as a Wildcat. Entering the morning with nine rounds of par or better in just 12 opportunities, the 35th-ranked player in the country turned in a 77, the highest score of her young career. A third of Castle's second-round scorecard was still circled with birdies – six in all – but four double bogeys and three bogeys made a mess of things.
 
Freshman Marissa Wenzler held steady and in a tie for 34th with a 2-over-par 74 on Monday, a one-stroke improvement over her first-round score. She carded three birdies but a string of three straight bogeys to close the back nine prevented her from going lower. She's at 5-over par overall.
Sophomore Casey Ott, who entered the tournament with a team-best three top-10 finishes this season, is likely out of the hunt for a fourth with a second-round 78. She's tied for 49th with a 36-hole score of 8-over par.
 
This week's field features eight teams ranked in Golfstat's top 50 and three – including No. 21 UK – in the top 25.
 
Hosted by Purdue, the Lady Puerto Rico Classic is in its 18th season. Kentucky has made one prior appearance, finishing eighth in 2013.
 
For the latest on the Kentucky women's golf team, follow the team on Twitter, Facebook, and Instagram, as well as on the web at UKathletics.com.