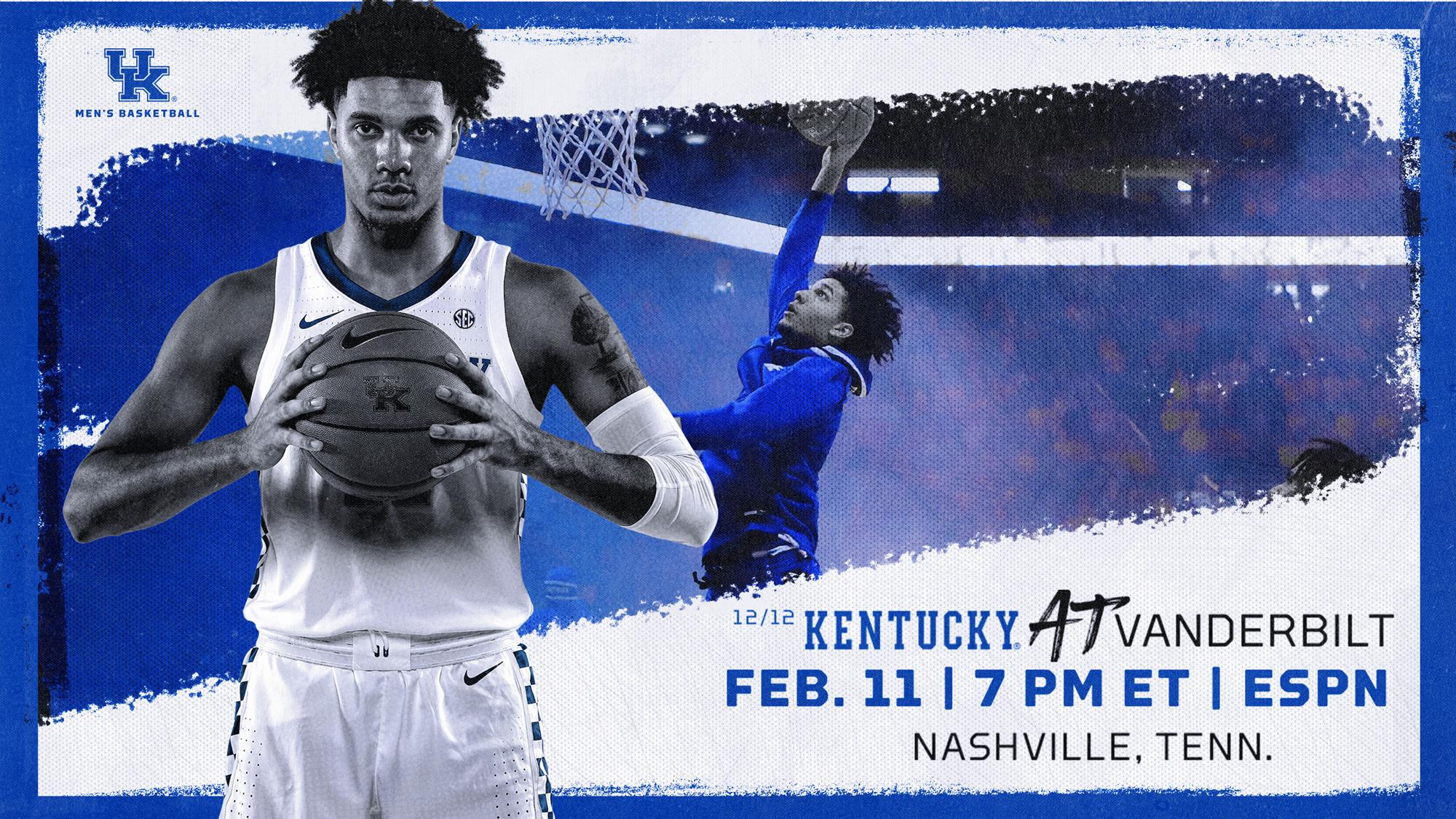 February 10, 2020 - 04:23 PM
Cats Visit Nashville for Rematch with Vanderbilt on Tuesday
Two weeks ago, Vanderbilt was in the midst of a long losing streak and a nasty shooting slump.
 
Coming into Rupp Arena at Central Bank Center, nobody gave the Commodores much of a chance against Kentucky. All they did in response was build a 10-point second half margin and lead the heavily favored Wildcats with less than 10 minutes remaining before UK rallied to victory.
 
Few expected that was possible, but count John Calipari among them.
 
"This is a hard game and I knew they would make shots," Coach Cal said afterward
 
Over the ensuing three games, the Commodores have shown their form in Lexington was no fluke.
 
Vandy lost its first five games after losing leading scorer Aaron Nesmith to injury by at least 15 points. Over the ensuing two weeks, the Commodores have been competitive with four potential NCAA Tournament teams in UK, Florida, LSU and Mississippi State. They held halftime leads in three of the four, including last week when Vandy shot 57.4% in an upset of LSU – previously unbeaten in Southeastern Conference play.
 
Kentucky at Vanderbilt

Tue., Feb. 11 – 7 p.m. ET
Memorial Gymnasium
Nashville, Tenn.
Game Notes: UK | VU
UK Athletics App

Coverage

TV: ESPN
Radio: UK Sports Network
Watch
Listen
Live Stats

UK
Stats
VU
18-5
Record
9-14
8-2
Conference Record
1-9
75.3
PPG
72.7
65.7
Opp PPG
74.2
.463
FG%
.433
.385
Opp FG%
.465
37.7
RPG
32.9
.324
3PT FG%
.327
.288
Opp 3PT FG%
.344
14.0
APG
11.8
5.2
SPG
7.2
4.9
BPG
3.7

"I think they're a team that has another very good coach, a good staff that has a tremendous wealth of experience at the highest level," assistant coach Joel Justus said, "and I think they're getting a group of folks that haven't had a tremendous amount of success to believe that if they play hard and they play together that good things will happen, and when you're focused on that, similar to the way we are, I think the results take care of themselves."
 
With the Commodores playing at a higher level, the way they are perceived has shifted slightly since the last time the Cats faced them. It's a good thing, then, that No. 12/12 UK (18-5, 8-2 SEC) had plenty of respect for Vanderbilt (9-14, 1-9 SEC) to begin with as the Cats prepare to head to Nashville for a 7 p.m. Tuesday matchup.
 
"Actually, since that game they played us here, they've been on a little roll," Ashton Hagans said. "They're going to come out and give us their best shot. We've just got to be prepared, stay locked in with each other, go out there and play them like it's any other game and just stay locked in."
 
Justus pinpointed 3-point defense – especially early – as a key factor in Tuesday's game. In that first matchup, the Commodores got hot early with five first-half 3s, propelling them to an early lead. UK has been excellent defending the perimeter on the season in holding opponents to 28.8% 3-point shooting – 14th nationally – and will need to play to form.
 
"I think that its starts on the ball," Justus said. "When you have good on the ball defenders that can keep the ball in front of you, problems happen defensively whenever teams penetrate that initial line of defense and now you're in tags, you're in rotations, and now your helping to where then teams drive and kick and now you're playing in a scramble mode."
 
Keying UK's on-ball defense, of course, is Hagans. The sophomore point guard continues to make huge plays down the stretch, but the last three weeks have been a relative struggle for him. Over his last five games, he has scored double figures just twice and has 26 assists against 22 turnovers, with lapses in decision-making plaguing him.
 
"Just playing my game, it happens," Hagans said. "Just leave that in the past whenever that happens and try to fix it the next game. But, others are playing good right now, so that's all we're focusing on and trying to keep getting better."
The good news, Justus says, is that even Hagans' mistakes come from a good place.
 
"You know Ashton is a driven and competitive young man that wants to do well first and foremost," Justus said. "Sometimes you know Ashton comes in and just is trying to make the right play be perfect: instead of just taking what's there and getting our team into some offense, taking a shot. He's trying to get guys involved and I really think he's trying to do what Coach is asking him to do. He's trying to do what our team is asking him to do and he wants to win more than anything."
 
That's a team-wide attitude, and one that has led to a new player stepping up seemingly every night. In a win over Saturday, for example, it was Johnny Juzang who came off the bench to register career highs in minutes played (24) and points (13).
 
With Juzang's emergence, Immanuel Quickley's remarkable steadiness, Tyrese Maxey's continued improvement and what Hagans is capable of, the UK backcourt is already dangerous every game. The hope is an entirely different monster over the final month of the regular season and beyond.
 
"It's scary because one of us can have a bad game and somebody else can play real good if we all weren't on the same page that night," Hagans said. "For the guards to be on the same page, it could be scary."
Kentucky Ends Drought in Knoxville with Win at Tennessee
KNOXVILLE, Tenn. – Kentucky continued its recent surge by finally finding a way to beat Rick Barnes' Tennessee Volunteers in Knoxville.
Immanuel Quickley scored 15 of his 18 points in the second half as No. 15/16 Kentucky beat Tennessee 77-64 on Saturday to win for the sixth time in seven games. The Wildcats (18-5, 8-2 SEC) won at Thompson-Boling Arena for the first time since 2015.
"This is a hard environment," Kentucky coach John Calipari said. "This is a tough place to play. Rick's teams are not going to give you the game. You've got to take it."
Tennessee (13-10, 5-5) had won its last four home games against Kentucky, including two instances when the unranked Vols beat a ranked Wildcats squad. Kentucky had been the higher-ranked team in each of those four matchups.
That gave Tennessee hope it could do it again Saturday, but, as their head coach implored, the Wildcats took the victory.
John Fulkerson's ability to get Kentucky's big men in foul trouble allowed Tennessee to stay close most of the way, but the Wildcats' superior depth ultimately made the difference.
Kentucky outscored Tennessee 17-3 off the bench as freshman reserve Johnny Juzang collected 13 points, more than twice as many points as he'd ever tallied before. Juzang's previous career high was six points against Georgia on Jan. 21. He entered Jan. 15 with just 20 points all season.
"If you have a clear vision and goal in mind of what you want to do, you're going to keep pushing," Juzang said. "You're not always going to feel great or motivated or positive. That's just not realistic, you know? You're going to go through stretches where you're down and not motivated and might lose a little bit of hope. You've just got to keep going, no matter how you feel."
Juzang was one of five Kentucky players to score in double figures. Quickley led the way with his 18. Nick Richards and Tyrese Maxey added 15 apiece, and Ashton Hagans had 10.
Santiago Vescovi scored 18 points for Tennessee. Jordan Bowden joined Fulkerson with 16.
Vescovi's consecutive 3-pointers narrowed a 10-point Kentucky lead to 51-47 with 9:16 left. One of those 3-pointers came from well over 30 feet away with the shot clock expiring.
The Wildcats were still clinging to a four-point lead when Richards got fouled with 7:59 left. Richards made the first of two free throws and missed the second, but Juzang got the offensive rebound and scored to make it 56-49.
Tennessee was within five points again when Bowden missed a 3-pointer with 2:24 left. Kentucky outscored the Vols 11-3 the rest of the way with a back-breaking 3-pointer from Quickley and key free throws down the stretch.
Of note …
• In Kentucky's most played series, UK extended its series lead to 156-73 and 56-52 in games in Knoxville
• For those into good omens, UK has never won a national title without winning in Knoxville in the same season
• In every season the Wildcats have won at Tennessee in the Calipari era coming into this season, they've advanced to the Final Four (UK did not play in Knoxville for the 2014 Final Four run)
• UK improved to 15-0 when outrebounding the opponent this season
• Kentucky moved to 198-19 (.912) under Calipari when keeping the opponent at 40% or less, including 11-3 this season
• Entering the game at 78.7% at the foul line, the Wildcats had another solid performance at 88.0% (22 of 25). It is UK's fifth straight game shooting 80% or better from the charity stripe
• UK is now 278-7 under Calipari when leading by at least 10 points during the game
• Five players scored in double figures for the second time this season (also did it at Arkansas)
• Quickley scored in double figures for the 12th straight game, the longest streak since PJ Washington did it 12 straight times last season
• Keion Brooks Jr. grabbed a career-high nine rebounds
Tuesday Marks Calipari's 400th Game at Kentucky
John Calipari will near another career milestone when he coaches in his 400th career game at Kentucky on Tuesday at Vanderbilt. Only the Baron of the Bluegrass, Adolph Rupp, coached more games as UK's lead man.
Rupp coached in a jaw-dropping 1,066 career games over the span of 41 seasons at Kentucky. Calipari just recently pass Joe B. Hall, who led the Kentucky sidelines for 397 games.
Calipari has kept pace with one of the game's all-time greatest coaches. Rupp won 331 times in his first 400 games at UK. If Calipari can secure a victory Tuesday night, he will be just seven wins behind Rupp with 324 in his first 400. Rupp finished his Kentucky career with 876 victories and an .822 winning percentage. Calipari currently has an .810 winning percentage.
As Calipari hits game No. 400, it's worth looking back at some of his most memorable accomplishments in Lexington:
• 2012 national title
• Four Final Fours appearances, including four in a five-year span, one of just three coaches in NCAA history to accomplish that feat
• More wins (323), NCAA Tournament wins (31), Final Four appearances (four), Elite Eights (seven)and Sweet 16s (eight) than any other coach during his tenure at Kentucky
• Six Southeastern Conference Tournament titles and five SEC regular-season championships
• Churned out 38 NBA Draft picks, 29 first-rounders, three No. 1 selections, seven top-five picks and 21 lottery selections at Kentucky
• Graduated 100% of the players (20 of 20) who have been eligible to receive their diploma by the end of their senior seasons and exhausted their athletic eligibility
• Secured a top-three ranked signing class in every season