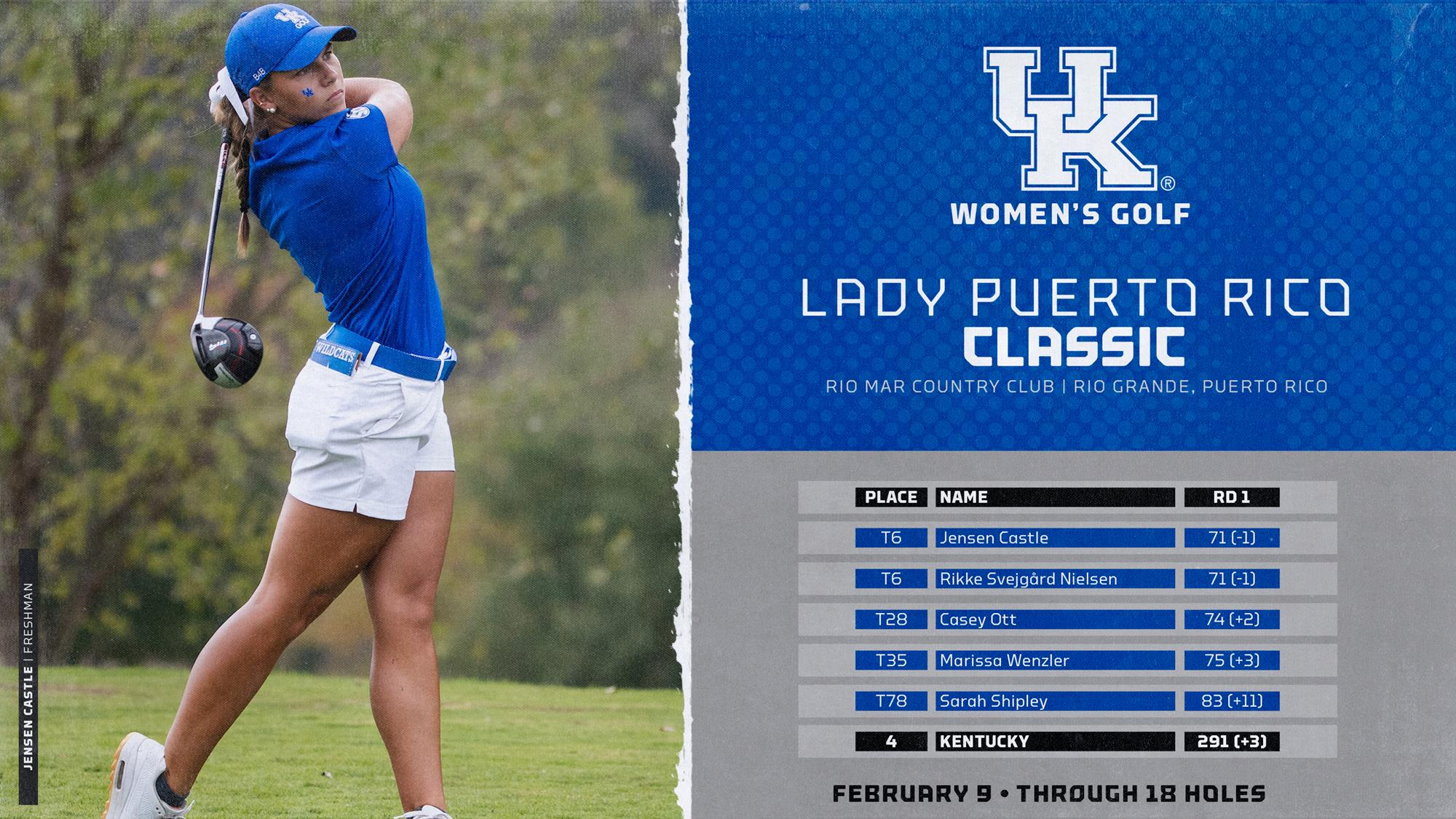 February 9, 2020 - 04:13 PM
Wildcats Open Spring in Strong Fashion at Lady Puerto Rico Classic
RIO GRANDE, Puerto Rico – Given all the team had accomplished in the fall, with all the newfound expectations that came with the success, and then a long four-month break, the opening round of the Lady Puerto Rico Classic qualified as a test for the Kentucky women's golf team as it opened the spring season Sunday.
 
UK passed with flying colors.
 
Showing no signs of resting on their fall laurels, the Wildcats began a challenging spring season with an impressive 3-over-par 288 at the Rio Mar Country Club (par 72, 6,164 yards) in Rio Grande, Puerto Rico. Led by junior Rikke Svejgård Nielsen and freshman Jensen Castle, who are tied for sixth with a pair of tournament-opening 71s, Kentucky is in fourth place after the first round with a score of 291 (3-over par).
 
UK is just six shots behind the tournament leader, No. 14 Oklahoma State, heading into Monday's second round.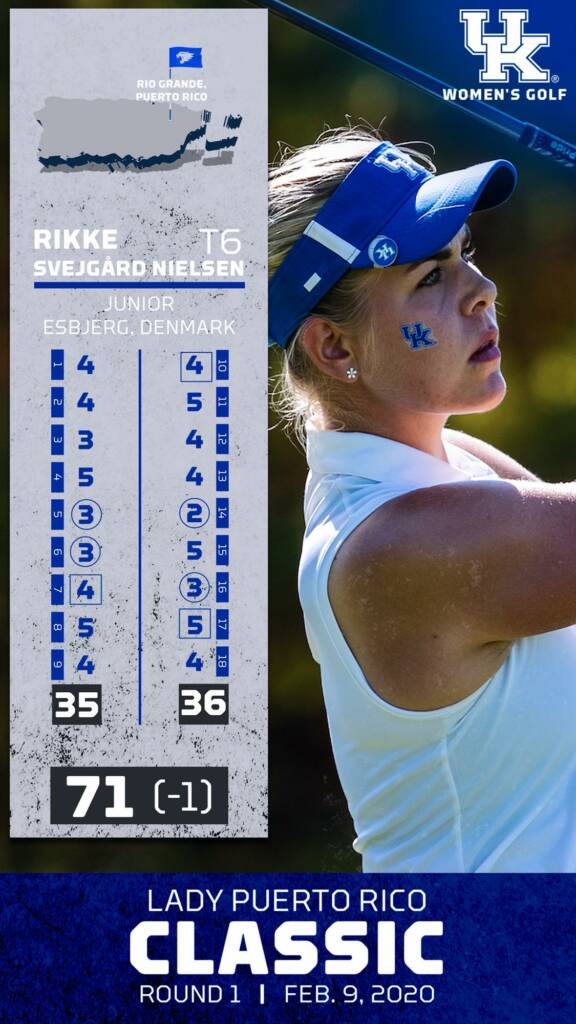 "It was a hard fought-day today," Kentucky head coach Golda Borst said. "You never really know what the first round of the spring is going to look like and I'm very happy with how our team came out and competed. It was a grind out there with windy conditions and bumpy greens, but they stuck with their game plans and did a good job of committing to their decisions overall.
 
"I'm proud of our team's effort and composure. We know where we can find some shots and I know our team is ready to get back after it tomorrow."
 
The tournament will resume Monday at 8 a.m. AST (7 a.m. EST) with the second of three rounds. Live scoring will be available throughout the weekend at GolfStat.com.
 
In a 15-team field that features eight teams ranked in Golfstat's top 50 and three – including No. 21 UK – in the top 25, the Wildcats positioned themselves well with a balanced team effort.
 
Svejgård Nielsen and Castle went toe-to-toe with the tournament leaders. Each recorded four birdies in the opening round, and the Kentucky duo, at 1-under par, is just three shots back of Purdue's Sifat Sagoo.
 
Castle, the 35th-ranked player in the country, recorded her ninth round of par or better in just her 12th collegiate round. This was one of her most impressive rounds of the season after a difficult practice day on Saturday. Castle entered this weekend 4-for-4 in top-20 finishes.
 
Svejgård Nielsen has recorded two of those this season and is the lone Wildcat on the roster with an individual title. She's given herself a chance at a second after her sixth round of par or better in 2019-20.
 
Sophomore Casey Ott was among the leaders midway through the round when she birdied three out of five holes making the turn from the front nine to the back nine. A double bogey late set her back, but Ott is still in the hunt after a first-round 74, which has put her in a tie for 28th.
 
Just behind Ott is freshman Marissa Wenzler in a tie for 35th. The Ohio native recorded three birdies Sunday and is at 3-over par.
 
Senior Sarah Shipley had a rare off day with an 83. Although she's tied for 78th, her impressive track record, which features two top-20 showings this season, indicates she'll bounce back and give the Wildcats a lift later this week.
 
"Sarah had a tough day today from the very start and was never quite able to get any shots back," Borst said. "She battled hard and was able to find her rhythm a little bit towards the end of the round. Her team had her back today and I know she will be ready for tomorrow's round."
 
All things considered – the wind, the long break and the expectations after a historic fall – the Wildcats performed well Sunday. UK was coming off a fall season that featured two team championships and a runner-up showing. Kentucky individuals combined for nine top-10 finishes and 16 top-20 performances, and the Wildcats entered the spring well ahead of the school's 18-hole school record average.
 
Hosted by Purdue, the Lady Puerto Rico Classic is in its 18th season. Kentucky has made one prior appearance, finishing eighth in 2013.
 
For the latest on the Kentucky women's golf team, follow the team on Twitter, Facebook, and Instagram, as well as on the web at UKathletics.com.