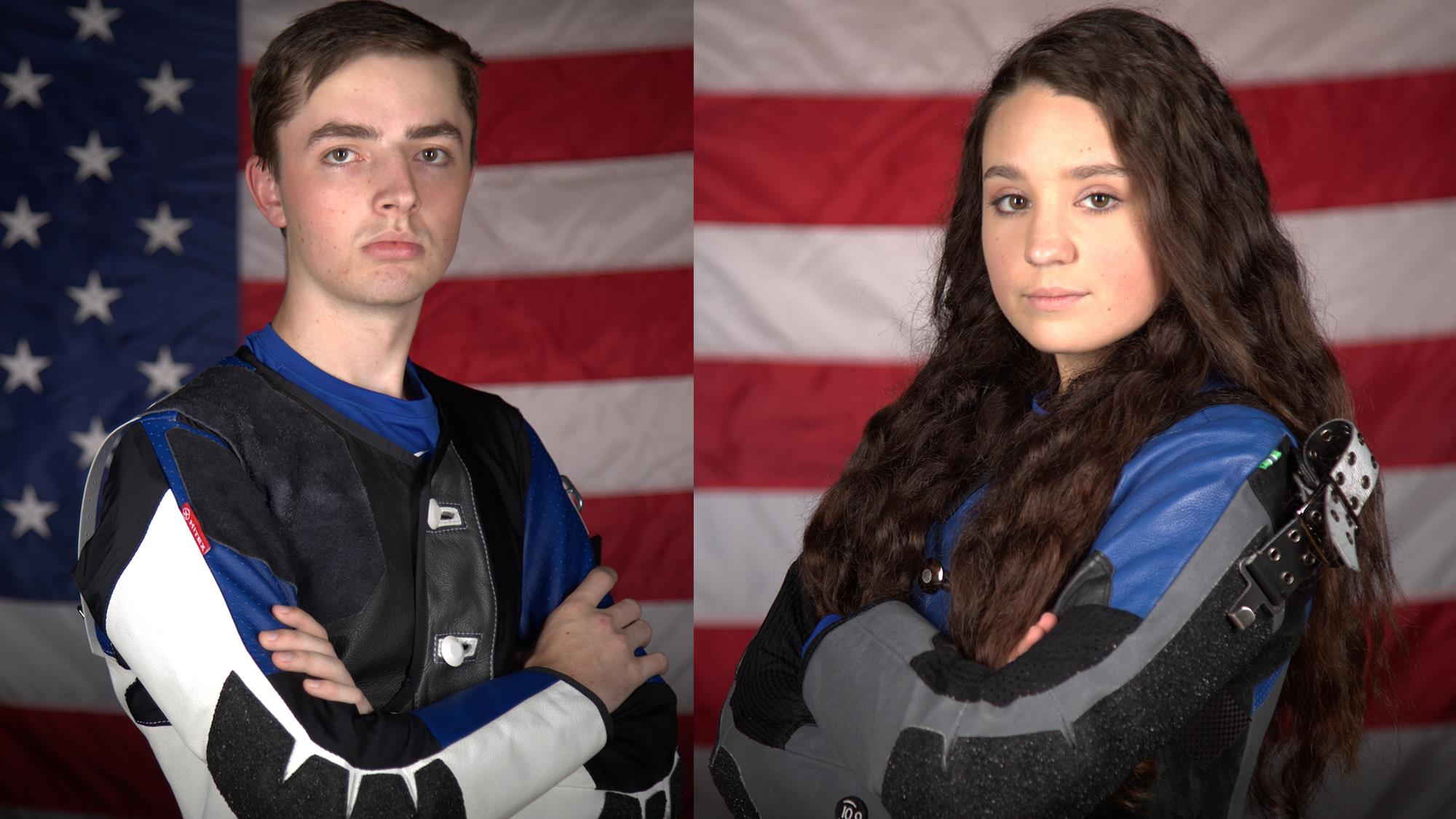 LEXINGTON, Ky. – For the first time in program history, two current University of Kentucky rifle athletes will be competing in the Olympics as freshman Mary Tucker and sophomore Will Shaner put together brilliant performances this weekend at the Air Rifle Olympic Trials Part II in Colorado Springs, Colorado, to earn a spot on Team USA.
 
Tucker and Shaner represent two of four athletes (two females and two males) who qualified for the team and will represent the United States this summer in air rifle at the 2020 Olympic Games. Of the four athletes who made the team Sunday, all competed collegiately across three schools and two conferences.
 
"I am very excited to see that the hard and long work that Mary and Will have put in has been rewarded with them earning spots on Team USA," UK head coach Harry Mullins said. "You have to be excited and overjoyed for them that their journey as shooters is moving forward to the world stage. This is a very special time for them in their shooting careers and I know that everyone is so proud of Mary and Will and what they have accomplished. To have two Kentucky shooters qualify out of this weekend is very special. Mary and Will are not only gifted shooters but amazing people and now they join the long line of folks that have worn the Blue and White of Kentucky and carried that into representing their country in the Olympics. Several of those that came before them have reached out and expressed how proud they are and that just means the world to them and our program. This is a great day for everyone involved."
 
The Olympic Games Tokyo 2020 begin July 24 and conclude August 9, 2020. Air rifle shooting will be contested July 25 (women) and July 26 (men) and will be held at the Asaka Shooting Range in Tokyo. Final selections to the 2020 U.S. Olympic Team are subject to U.S. Olympic & Paralympic Committee approval.
 
Tucker is having a great season for the Wildcats, averaging 597.636 in air rifle with an aggregate average of 1187.909. Tucker has scored 598 or better in air rifle seven times this NCAA season while there have only been 14 scores of 598 or better overall in the NCAA. Shaner is right behind Tucker with a 595.545 air rifle average and 1182.909 aggregate average. Shaner has four scores of 597 or higher in air rifle this season.
 
Kentucky will be back in action next weekend in Morgantown, West Virginia for a dual match with the No. 3 Mountaineers. The Wildcats will host a NCAA Qualifier on Saturday, Feb. 22.
 
This season's GARC Championships will be in Memphis, Tennessee, on Feb. 28-29. Kentucky will play host to the 2020 NCAA Championships in Memorial Coliseum on March 13-14. Tickets are available online at UKAthletics.com/NCAARifle.
 
For the latest on the Kentucky rifle team, follow @UKRifle on Twitter, Instagram and Facebook, as well as on the web at UKathletics.com.