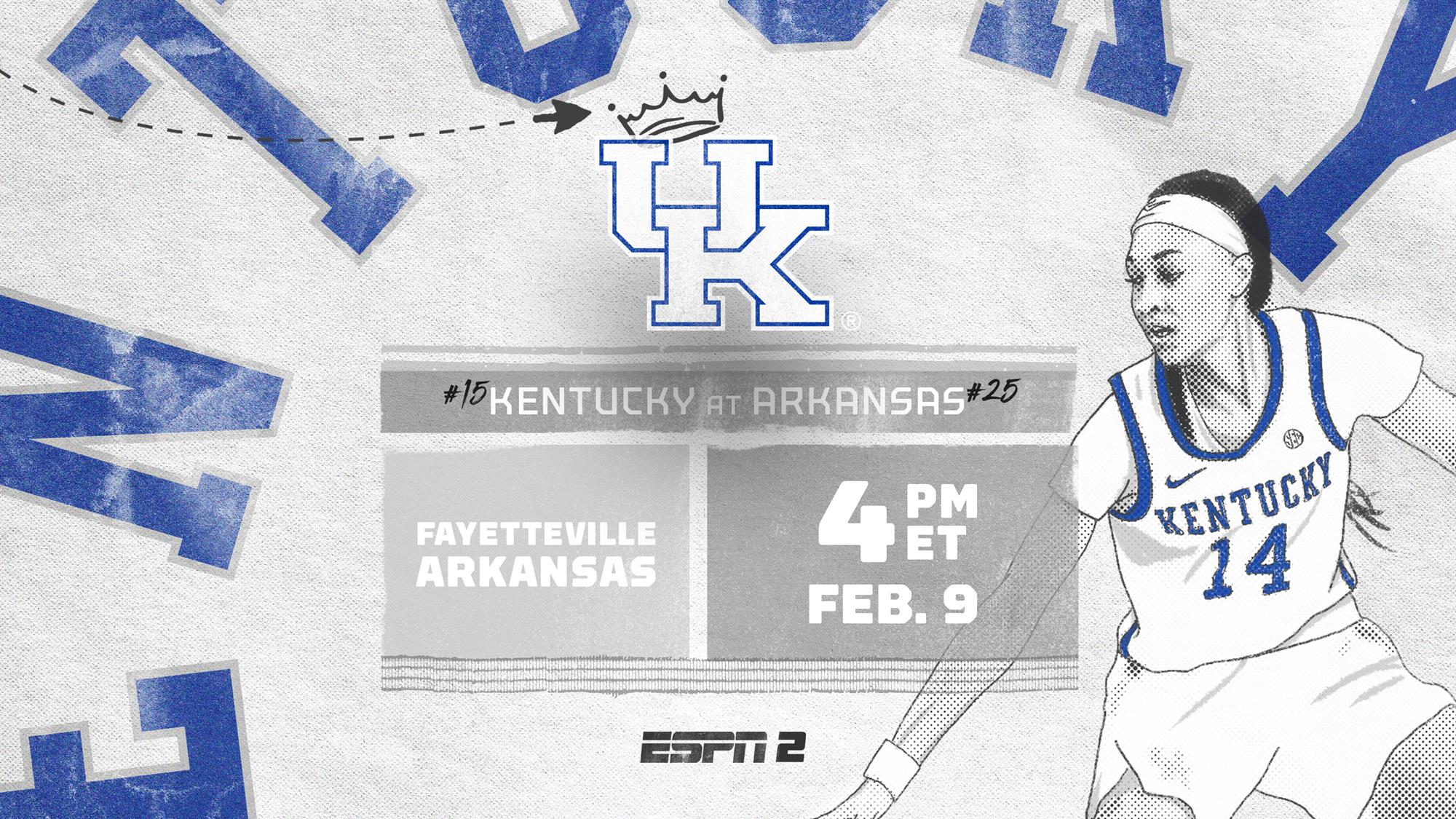 February 8, 2020 - 09:45 AM
No. 15 Kentucky Travels West to Face No. 25 Arkansas on Sunday
LEXINGTON, Ky. – Fresh off earning a key Southeastern Conference win against Alabama on Thursday, the No. 15 University of Kentucky women's basketball team hits the road this weekend traveling to face No. 25 Arkansas on Sunday at 4 p.m. ET inside Bud Walton Arena.  
 
The game will be broadcast on ESPN2 with Pam Ward and Steffi Sorensen on the call. The action can also be seen through WatchESPN on computers, smartphones or tablets. Darren Headrick will have the call on the UK Sports Network on 630AM WLAP in Lexington. Live stats and free live audio will be available online at UKathletics.com.
 
Kentucky (18-4, 7-3 Southeastern Conference) is coming off a victory over Alabama on Thursday inside Memorial Coliseum. The Wildcats led a majority of the game but never could pull away from the Crimson Tide until the very end with junior Tatyana Wyatt completing an and-one and senior guard Sabrina Haines getting a steal and score to seal the victory. Haines led Kentucky with 14 points hitting four 3s while senior guard Jaida Roper had 10 points with five assists. Junior guard Chasity Patterson scored 11 points in the game while Wyatt, junior forward KeKe McKinney and senior forward Ogechi Anyagaligbo each scored seven or more points, marking the first time the post trio has accomplished that in the same game this season.
 
The Wildcats were still without leading scorer Rhyne Howard in the game, who has missed each of the last three contests with a fractured finger. Howard leads UK with 23.2 points and 6.3 rebounds per game while hitting a team-best 61 3-pointers. Patterson is averaging 11 points per game and has 21 steals this season, while Haines is averaging 10.7 points and 4.3 rebounds per game while her 42.3 percent from 3 is one of the best percentages in the nation. As a team, UK is scoring 71.3 points per game this season while limiting opponents to 56.1 points per game. The Wildcats have a +9.2 turnover margin, which is top-10 nationally.
 
Arkansas (18-5, 6-4 SEC) is coming off a 86-65 loss to No. 1 South Carolina on Thursday in Fayetteville. The Razorbacks are led this season by junior guard Chelsea Dungee who is averaging 17.8 points per game with 5.0 rebounds per game and 36 steals. Senior guard Alexis Tolefree is averaging 15.1 points per game and has hit 65 3s, while junior guard Amber Ramirez is averaging 14.7 points per game and has a team-best 73 3s made. As a team, Arkansas has hit 223 3s, which leads the league and ranks top-10 nationally.
 
Kentucky leads the all-time series in games played against Arkansas, 24-13. Arkansas leads the all-time series in games played in Fayetteville, 9-7. UK has won 18 of the last 19 meetings against the Razorbacks, including 10 straight. UK's last loss to Arkansas was a 78-67 decision on Jan. 6, 2011 in Fayetteville. Matthew Mitchell is 14-1 against Arkansas as UK's head coach.
 
For more information on the Kentucky women's basketball team, visit UKathletics.com or follow @KentuckyWBB on Twitter, Instagram and Facebook.