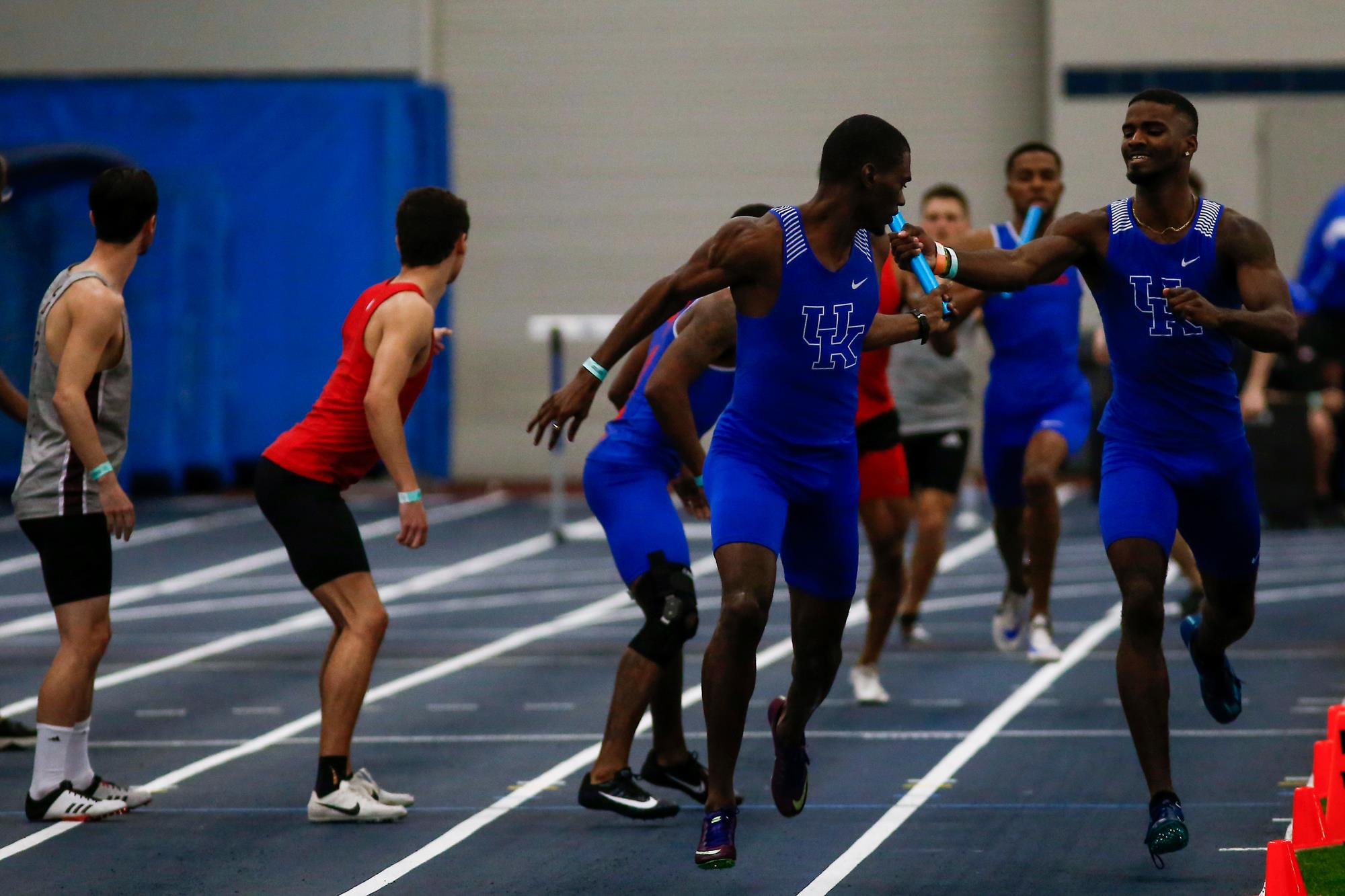 February 6, 2020 - 11:27 AM
Kentucky T&F Travels to New Mexico and Virginia This Weekend
LEXINGTON, Ky. – After taking last weekend off, Kentucky will be splitting the squad this weekend as many of the sprinters will travel to the New Mexico Collegiate Classic hosted by the University of New Mexico while the rest of the team will travel to the Doc Hale Elite Meet hosted by Virginia Tech. Both meets are scheduled for Friday and Saturday. 
 
The Wildcats are back in action after a successful showing at the Rod McCravy Memorial on Jan. 24-25 in Lexington which included Ellen Ekholm (high jump) and Joshua Sobota (shot put) setting new school records in their respective events, while the 4×400-meter women's relay team of Megan Moss, Abby Steiner, Dajour Miles and Alexis Holmes won the event with a time of 3:31.29 which is currently the No. 1 time in the NCAA.
 
On the women's team, Steiner holds the No. 3 time in the NCAA in the 200m with a 23.06. Holmes and Moss hold the No. 2 and No. 5 times, respectively, in the 400m in the NCAA with times of 52.27 and 52.85. Ekholm is No. 2 in the NCAA in the high jump with a mark of 6-1.25 (1.86m). 
 
The men's team is led nationally by Langston Jackson, who holds the No. 2 200m time in the NCAA with a 20.72 and the No. 5 time in the 60m with a 6.61. Sobota's mark of 66-3.25 (20.20m) in the shot put places him at No. 6 in the NCAA while Matthew Peare sits at No. 11 in the pole vault with a mark of 17-8.5 (5.40m). 
 
Following this weekend's action, UK will travel to the Tiger Paw Invitational in Clemson, South Carolina while the distance runners are scheduled to compete at the Iowa State Invitational in Ames, Iowa. Both of these meets are scheduled for Feb. 14-15. 
 
New Mexico Collegiate Classic
In Albuquerque, New Mexico, many of the Kentucky sprinters will compete at the ABQ Convention Center which is the same venue that will host the 2020 NCAA Indoor Championships on Mar. 13-14. 
 
Watch Live ($): https://www.flotrack.org/signup?redirect=%2Flive%2F19515
Live Results: http://www.liverunningresults.com/events/unmcc20/
 
Doc Hale Elite Meet
In Blacksburg, Virginia, the Wildcats make their first trip to Virginia Tech since 2016. UK will field an entire squad for the two-day meet. 
 
Live Results: https://flashresults.com/2020_Meets/Indoor/02-07_VTElite/
 
Schools Competing: 7 Schools
Duke
East Carolina
Kentucky
Liberty
Tennessee (Field Events)
Virginia
Virginia Tech
 
Follow along with the Cats on Facebook, Instagram, Twitter and on the web at UKathletics.com.