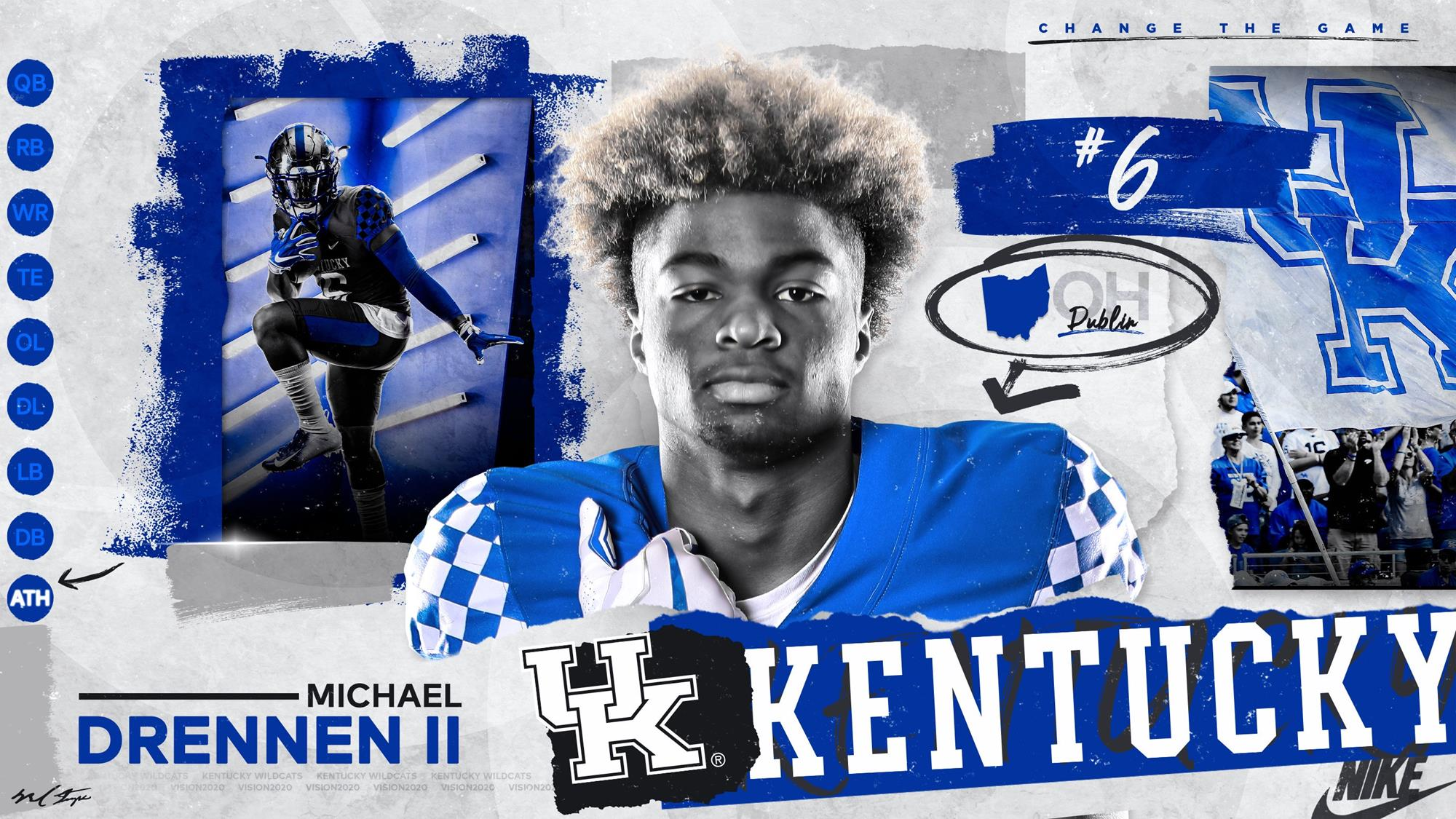 Kentucky's 2020 recruiting class welcomes another impressive recruit with the signing of four-star all-purpose back Michael Drennen II, head coach Mark Stoops announced today. The highly regarded Ohio prospect received over 40 scholarship offers and ultimately chose the Wildcats over Florida, Michigan and Southern California.
"We are so excited to add Michael to our already strong 2020 recruiting class," head coach Mark Stoops said. "We've known him since he was an eighth-grader and he's become an extremely versatile and dynamic player with big-time play-making ability. He can help us in so many ways and he's a great addition to our Wildcat family."
 
Michael Drennen II, Athlete, 5-11, 196, Fr.-HS, Dublin, Ohio (Coffman) – Consensus four-star prospect … Considered the No. 6 all-purpose back in the nation by 247Sports … No. 3 overall recruit in Ohio by Rivals and 247Sports … Four-year starter for head coach Mark Crabtree … Helped lead the Rocks to the state playoffs all four years of his prep career, including two straight regional title games … Was limited as a senior due to injury … Earned a spot on the All-America Future 50 game roster … Earned second-team All-Ohio honors as a junior in 2018 after rushing for 801 yards on 162 carries, making 30 receptions for 464 yards, and scoring 16 touchdowns in helping the Shamrocks (11-2) to a regional final … Earned the 2019 Buckeye Blue Chip Award, given by the Touchdown Club of Columbus … Excels in the classroom with a 3.7 grade point average … Had over 40 scholarship offers but ultimately chose Kentucky over Southern California, Alabama, Arizona State Auburn, LSU, Florida, Michigan, Notre Dame, Ohio State, Stanford and Tennessee … Nickname is "Donut."
 
The signing further bolsters a class rated in the Top 25 nationally by Rivals and includes several of the highest-rated players to sign with UK since the recruiting services began evaluating and ranking players. The Cats now have 11 signees who have been rated as four- or five-star players by Rivals. Prospective student-athletes have until April 1, 2020 to sign national letters of intent.
Here is a list of Kentucky's 2020 recruiting class.
 
| NAME | POS | HT | WT | HOMETOWN | PREV SCHOOL |
| --- | --- | --- | --- | --- | --- |
| Reuben "R.J." Adams | OL | 6-3 | 325 | Woodbridge, Va. | Senior |
| *Beau Allen | QB | 6-2 | 200 | Lexington, Ky. | Lexington Catholic |
| *Sam Anaele | OLB | 6-4 | 250 | Deefield Beach, Fla. | McDougle Technical Institute |
| *Kalil Branham | WR | 6-1 | 210 | Columbus, Ohio | Northland |
| *Deondre Buford | OL | 6-5 | 285 | Detroit, Mich. | Martin Luther King |
| Izayah Cummings | WR | 6-3 | 215 | Louisville, Ky. | Male |
| Michael Drennen II | DB | 5-11 | 196 | Dublin, Ohio | Coffman |
| Jeremy Flax | OL | 6-6 | 315 | Detroit, Mich. | Robichaud |
| *Joey Gatewood | QB | 6-5 | 230 | Jacksonville, Fla. | Bartram Trail |
| Josaih Hayes | DL | 6-3 | 285 | Horn Lake, Miss. | Horn Lake |
| Rickey Hyatt | DB | 6-2 | 187 | Westerville, Ohio | Central |
| *D'Eryk Jackson | LB | 6-1 | 250 | Dublin, Ga. | West Laurens |
| Josh Jones | OL | 6-6 | 300 | Phenix City, Ala. | Central-Phenix City |
| *JuTahn McClain | RB | 5-10 | 180 | Fairfield, Ohio | Fairfield |
| *Octavious Oxendine | DL | 6-3 | 296 | Radcliff, Ky. | North Hardin |
| *Andru Phillips | DB | 6-0 | 180 | Mauldin, S.C. | Mauldin |
| Justin Rogers | DL | 6-3 | 315 | Oak Park, Mich. | Oak Park |
| Tre'Vonn Rybka | DL | 6-4 | 300 | Dickson, Tenn. | Dickson County |
| Earnest Sanders IV | WR | 6-1 | 205 | Flint, Mich. | Beecher |
| Vito Tisdale | S | 6-1 | 201 | Bowling Green, Ky. | Bowling Green |
| Carrington Valentine | DB | 6-0 | 178 | Cincinnati, Ohio | Moeller |
| *Joel Williams | DB | 6-1 | 190 | Baton Rouge, La. | Madison Prep Academy |
| *John Young | OL | 6-6 | 280 | Louisville, Ky. | Christian Academy |

 
*Early Enrollees
 
Class is eligibility for the 2020 season
 
Pronunciation Guide
Sam Anaele – "ah-NEL-lee"
D'Eryk Jackson – "dee-ERIC"
JuTahn McClain – "ja-TAWN"
Tre'Vonn Rybka – "TREY-vaughn"
Josaih Hayes – "joe-SIGH-uh"