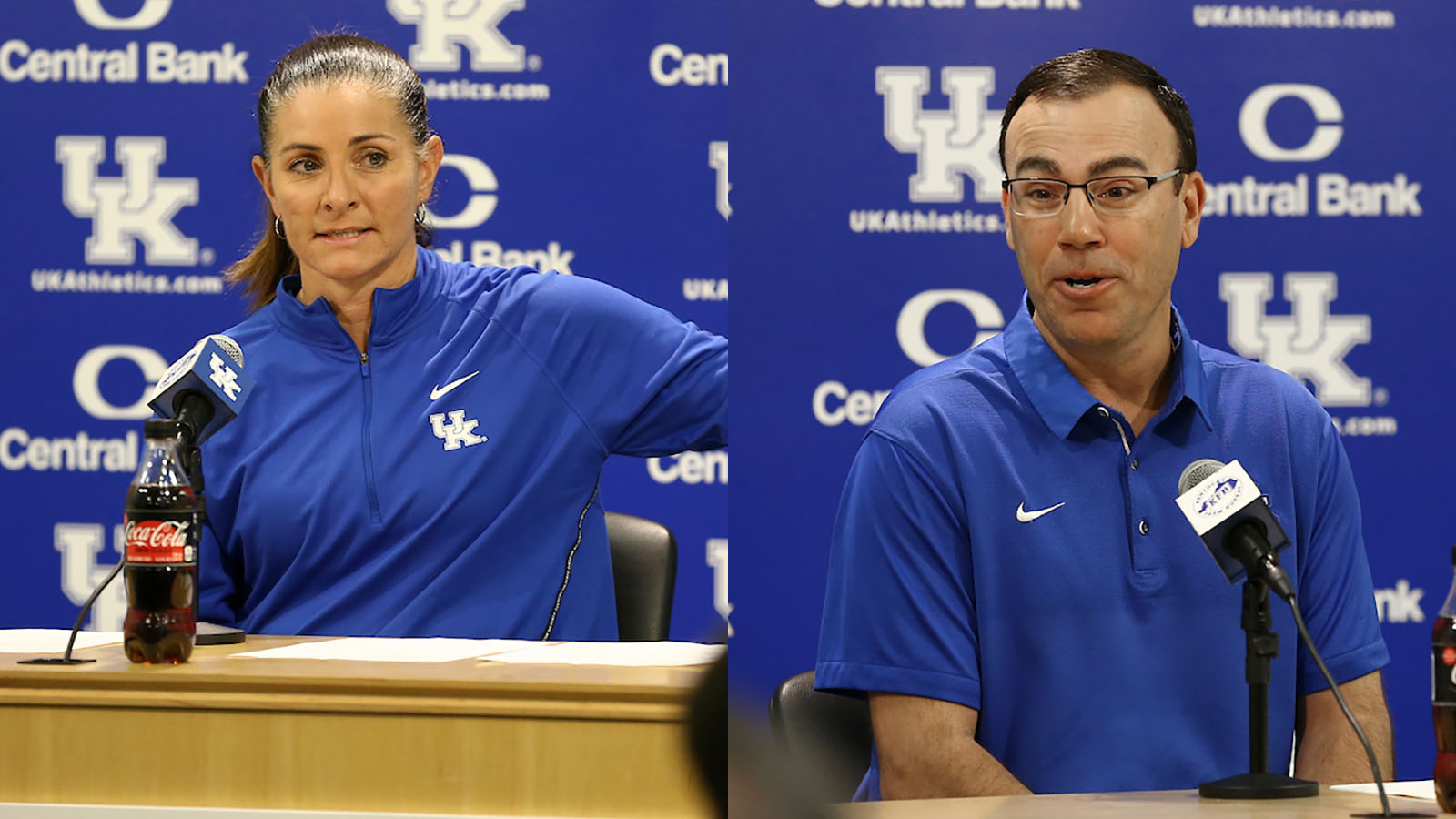 Replacing a National Player of the Year and/or a first-round draft pick is no easy task. Yet that's what faces Kentucky softball head coach Rachel Lawson and UK baseball head coach Nick Mingione as they prepare their teams for the 2020 campaign.
The coaches met the media on Tuesday at Kroger Field during their annual media day. And, despite the losses, both coaches are optimistic about what lies ahead.
The Kentucky softball team lost the left side of its infield, including National Player of the Year Abbey Cheek and four-year starter Katie Reed, as well as catcher Jenny Schaper. Yet head coach Rachel Lawson is excited about her team as the 2020 season approaches.
"I never thought about how do we replace players, I think about who is going to be the successor," Lawson said. "It's going to be hard to succeed when you have three All-SEC performers leaving."
Lawson will count on her experienced pitching staff this season, with three hurlers who all saw significant action last season returning. Junior Grace Baalman was 10-10 last year with a 3.49 ERA, while leading the team with 102 strikeouts. Senior Autumn Humes was 15-11 with a 4.14 ERA, while leading the team with two saves. Sophomore Meghan Schorman was 5-2 with a 4.47 ERA in 21 appearances last season.
Losing Cheek, Reed and Schaper will be tough, but the Cats return plenty of offensive firepower. Second baseman Alex Martens quietly led the team with a school record 66 runs batted in last season. Martens had 13 home runs in 2019, tied for second on the team with first baseman Mallory Peyton, who also returns for the Cats.
"Obviously, we are returning Alex Martens and we're returning Mallory Peyton, who were everyday starters for us," Lawson said. "That's a great, strong right side of the infield."
Kayla Kowalik, who started in center field last season, will move to catcher in 2020. Kowalik hit .357 as a freshman last season and was second on the team with 14 stolen bases.
Kentucky's softball season begins this weekend as the Cats travel to Clearwater, Florida, for the NFCA Lead-Off Classic. The Cats will face Liberty in Friday's opener at noon, followed by a matchup against Texas State at 2:30 ET. Kentucky's home opener is March 7 against Texas A&M.
The Kentucky baseball team faced a number of challenges in 2019 as the Cats tried to replace 21 Major League Baseball draft choices, combined, in 2017 and 2018. The one constant last season was left-handed ace pitcher Zack Thompson, who was 6-1 with a 2.40 ERA while striking out 130 batters in 90 innings. Those numbers led to Thompson being taken in the first round of the MLB Draft by the St. Louis Cardinals.
While heading into the season without Thompson will be tough, Mingione thinks his team is ready and is much more experienced than it was at this time last season.
"Much different feeling this year compared to last year," Mingione said. "I felt like we were starting over last year, so many new faces. We knew it would be hard, it was an extremely difficult season."
Unlike last season, this year's Cats can put a lineup on the field that has significant SEC experience.
"Last season, we had two guys with 85 at bats or more," Mingione said. "This year, we have eight guys with 90 at bats or more. So, offensively, we'll have a ton more experience."
Catcher Coltyn Kessler is the leading returning hitter for the Cats. Kessler hit .297 last season with five home runs and 29 runs batted in. T.J. Collett was second on the team with 10 homers last season despite missing eight games. Jaren Shelby (.273, 6 HR, 35 RBI) and Austin Schultz (.265, 2 HR, 8 RBI, 10 SB) also return for the Cats.
On the mound, UK hopes to get key contributions from Mason Hazelwood, Dillon Marsh, Jimmy Ramsey and Carson Coleman, among others.
Kentucky opens its baseball season on Feb. 14, facing TCU in Fort Worth, Texas. The three-game series continues on Saturday and Sunday. UK's home opener is Feb. 18 against Southeast Missouri, the first of 15 consecutive home games for the Cats.
While the losses for each team may be tough to overcome, both Lawson and Mingione are optimistic as their respective seasons approach.