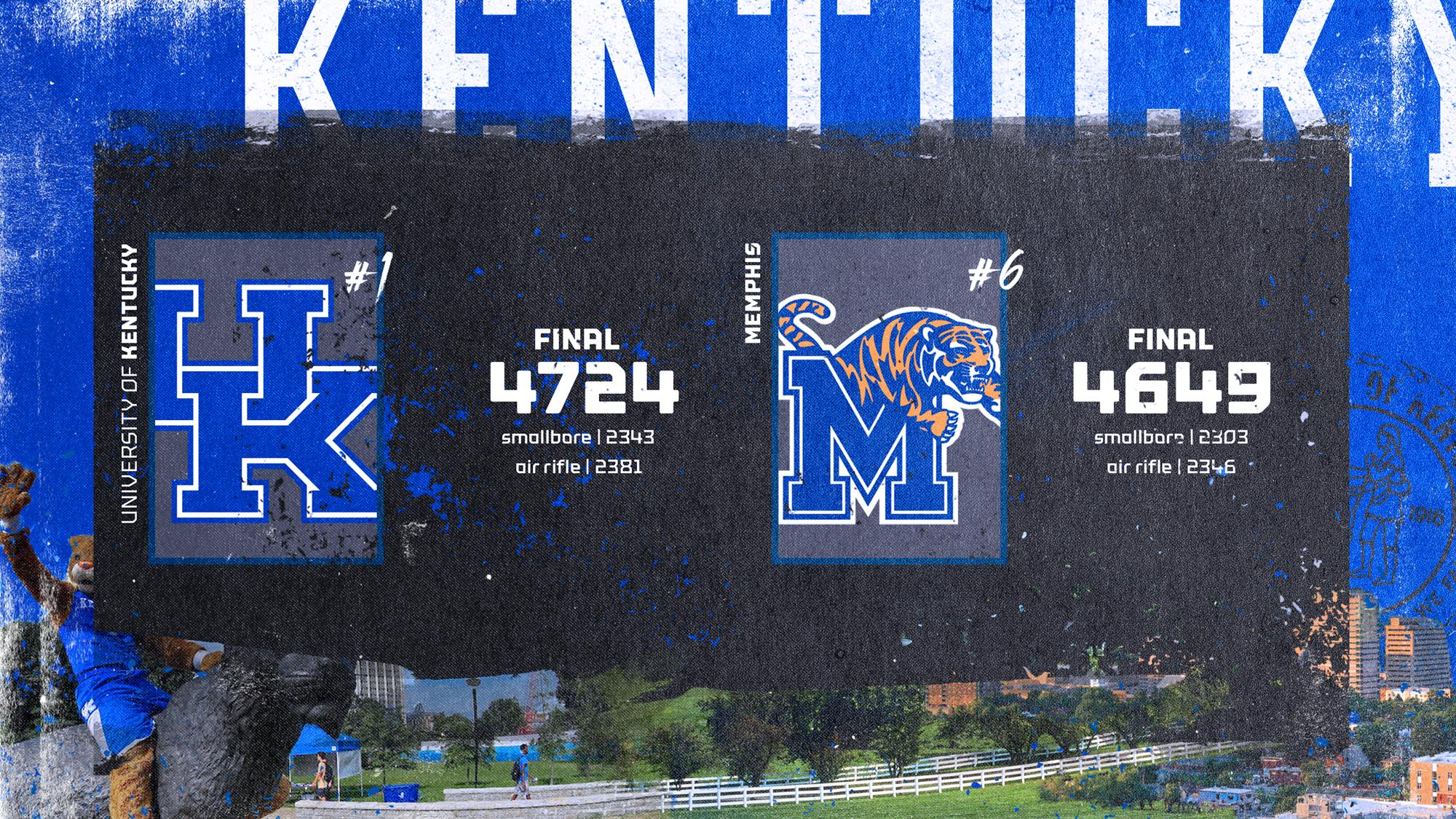 LEXINGTON, Ky. – Behind its best home score of the season, the No. 1 University of Kentucky rifle team posted an impressive team score of 4724 in its victory over No. 6 Memphis (4649) on Saturday at the UK Rifle Range in Lexington, Ky. 
 
"I am very excited for the team to have the performance they had today," UK head coach Harry Mullins said. "They worked well as a group and battled hard for the points. Mary (Tucker) had a great day breaking 1193 combined and I am so happy for her. Jaden also posted two personal bests today and I am very happy for her because she has been working hard to get through that barrier. Overall, I feel we had a good day, but we can still always find some things to work on. I am very proud of the work this group has put in and to see the numbers come up is very exciting."
 
It was a strong day in smallbore for the Wildcats, who scored 2343 in the discipline, which was its second highest smallbore team score of the season. UK's best was the 2344 it shot on Jan. 19 at Army. Kentucky's 4724 team score was not only its best home score of the season but its second-best overall score of the year behind only the 4734 school-record total it fired just a few weeks back vs. Army. UK also performed well in air rifle with a 2381, which was its fourth score of 2380 or above in air rifle this season.
 
Individually, UK was paced by three Wildcats earning aggregate scores over 1180 for the first time this season. Freshman Mary Tucker was the top performer, posting a season-high aggregate score of 1193, which is the top score in the NCAA this season. The high mark came after she also posted the NCAA's best smallbore score this year at 595 and tied the second-best air rifle score this season at 598. Sophomore Will Shaner finished second with an aggregate of 1184, which was his seventh score of 1180 or above this season. Junior Hailee Sigmon was third at the match with a season-high aggregate score of 1180, earning a season-high smallbore score of 585, while her 595 on air rifle was her second-best score this season.
 
There have been eight scores this season in the NCAA of 593 or above in smallbore with Tucker and Shaner claiming seven of those, while Tucker has seven of the 13 NCAA air rifle scores at 598 or above. Tucker and Shaner are also the only two athletes in the NCAA that have totaled aggregate scores of 1190 or above with Tucker accomplishing the feat five time while Shaner has done it once.
 
Completing the lineup in both categories was sophomore Richard Clark, who posted a 575 in smallbore and 592 in air rifle for an aggregate score of 1167, and fellow sophomore Ruby Gomes, who totaled a 573 in smallbore and 589 in air rifle for an aggregate of 1162.
 
Several Wildcats performed very well in the second relay Saturday, paced by freshman Jaden Thompson, who scored a personal-best 584 in smallbore and 595 in air rifle for an impressive aggregate score of 1179 – her best aggregate score of the season. Sophomore Mitchell Nelson went 577-587-1164, freshman Emmie Sellers scored 569-581-1150, junior Mason Joachim earned a 565-580-1145, senior Ian Foos posted a 568-571-1140 and freshman Mason Hamilton scored a 562-575-1137.
 
Kentucky will not compete next weekend before traveling to Morgantown, West Virginia on Feb. 15 for a dual match with the No. 3 Mountaineers. The Wildcats will host a NCAA Qualifier on Saturday, Feb. 22.
 
This season's GARC Championships will be in Memphis, Tennessee, on Feb. 28-29. Kentucky will play host to the 2020 NCAA Championships in Memorial Coliseum on March 13-14. Tickets are available online at UKAthletics.com/NCAARifle.
 
For the latest on the Kentucky rifle team, follow @UKRifle on Twitter, Instagram and Facebook, as well as on the web at UKathletics.com.