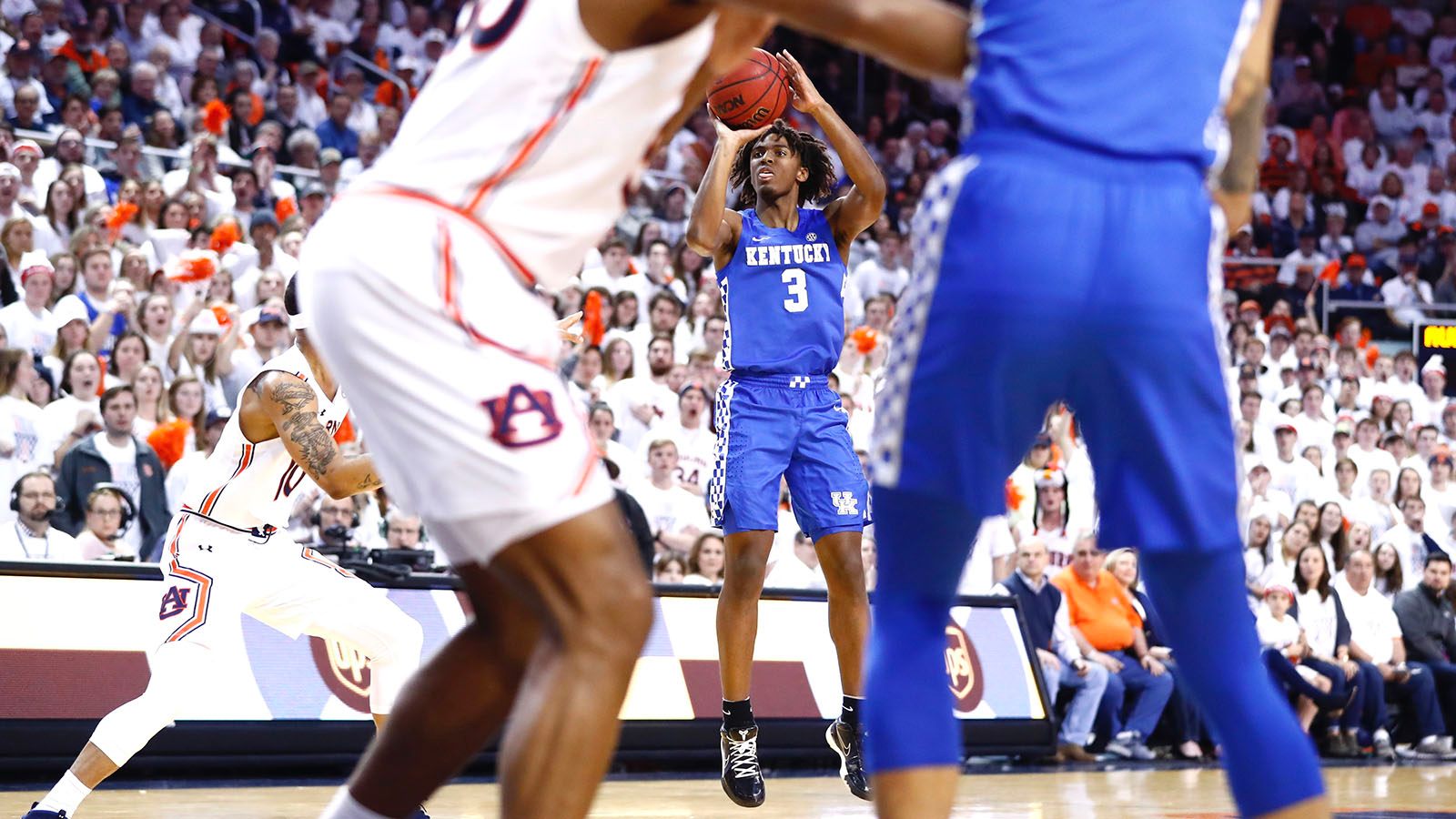 February 1, 2020 - 08:49 PM
No. 13 Kentucky Comes Up Short at No. 17 Auburn
AUBURN, Ala. — For the first time in three weeks, Kentucky couldn't overcome a hostile road environment. 
Samir Doughty scored 23 points while making 14 of 15 free throws and No. 17/16 Auburn finished strong in a 75-66 win over 13th-ranked Kentucky on Saturday in an NCAA Tournament rematch.
Isaac Okoro made a key 3-pointer and scored 14 points for the Tigers (19-2, 6-2 Southeastern Conference), who dominated the final four minutes to close out the win.
Kentucky, which entered the game winners of eight of its last 10, including two previous Saturday showdowns on the road, dropped its second conference game of the season and second in a row to Auburn. The Tigers defeated the Wildcats (16-5, 6-2) in last season's Elite Eight.
Many of the faces from that game have since moved on, but Auburn used a downhill driving approach to get to the foul line and outrebounded a much bigger UK squad by 14. 
"Rebounding is just toughness," said Kentucky sophomore guard Immanuel Quickley, who helped the Wildcats stay in the game in a hostile environment at Auburn Arena with big 23 points. "They out-toughed us today."
The smaller Tigers grabbed 17 offensive rebounds and took the fight to Kentucky, earning 29 foul calls for a 33-for-44 performance at the foul line. 
"I don't know if that's the most free throws taken against my team, but it might be," UK head coach John Calipari said. "But let me just tell you: They put their head down and they go, and that's what they do. And we were trying to do the same without the same result, but we were trying to do the same. The difference was the offensive rebounding, and that came down to toughness. … We didn't play well, but give them credit because they did what they had to."
The minus-14 rebounding margin was one of the worst of the Calipari era, as was the free-throw disparity.
It was the most free throws a UK opponent has taken in a game since Kansas shot 47 — making 30 — on Jan. 30, 2016. The last time an opponent shot at least 44 free throws vs. Kentucky in regulation was Dec. 14, 2013, when North Carolina took 45 attempts — and made 26 — in Chapel Hill, North Carolina. No opponent has made as many free throws as Auburn did in the Calipari era at Kentucky. 
The common denominator in all of them: They all came on the road and they all resulted in losses. 
But Calipari wasn't using the foul-riddled game as an excuse.
"We all had a bad day, me included," he said. "We all had a bad day, because there's not one guy in our room I would say played well. But give Auburn the credit. They were more physical. They created more fouls than us, obviously, and the crazy thing is we had our chance: 62-60 with the ball, we're OK, let's go and we don't do what we need to."
Freshman Tyrese Maxey added 22 for the Wildcats but the rest of the cast outside of Quickley and Maxey largely struggled. 
Nick Richards, a leading candidate for SEC Player of the Year after a recent tear, was limited to seven points and seven rebounds. The rest of the frontcourt combined for just six points and seven rebounds.
Sophomore point guard Ashton Hagans got in foul trouble early and could never get in a rhythm. He mustered just five points and three assists in 21 minutes, ending his 17-game streak of five or more assists. He had six turnovers before fouling out with the game still on the line. 
"He struggled," Calipari said. "And it's hard because Tyrese is not ready to run a team yet. Possessions matter. They really do."
Austin Wiley had 12 points and 10 rebounds for the Tigers, seven of them off the offensive glass. Danjel Purifoy had 11 points and half of Auburn's six 3-pointers.
Auburn outscored Kentucky 16-6 down the stretch after trailing much of the way. Purifoy started that hot streak with a 3-pointer and Okoro buried another for a 68-62 lead with 2:36 left. Kentucky didn't make a field goal over the final 2:15.
The Tigers capped a drama-filled week after rallying from 19 points down in the second half for an 83-82 overtime win over Mississippi. Auburn hadn't played a ranked team all season, so while the significance of Auburn's win didn't quite match last season's Elite Eight win, it still had major implications. 
For Kentucky, which will look to rebound Saturday vs. a red-hot Mississippi State team, it hurt all the same.
"Any loss, honestly, individual for me is tough," Quickley said. "I'm a competitor, so I don't like losing. I'm sure the rest of my teammates can say that as well. We're all competitors. We all want to win and we play really hard to win. Any loss, not just Auburn, we're going to take it tough and we're going to take it on the chin and we're going to keep moving forward."

BIG PICTURE
Kentucky: Fell to 3-2 against ranked teams and forced only seven turnovers.
Auburn: Has won 15 straight home games. The Tigers overcame a poor shooting night after hitting 18 of 51 shots (35.3%).
ESPN GAMEDAY
The disparity in the programs' history was amplified by ESPN College GameDay's airing from Auburn for the first time. It was Kentucky's 19th appearance on the show, second most among programs.
DOUGHTY'S START
Doughty scored 10 points during Auburn's early 12-1 run, making all seven free throw attempts and a 3-pointer.
UP NEXT
Kentucky hosts Mississippi State on Tuesday night.
Auburn visits Arkansas on Tuesday night.