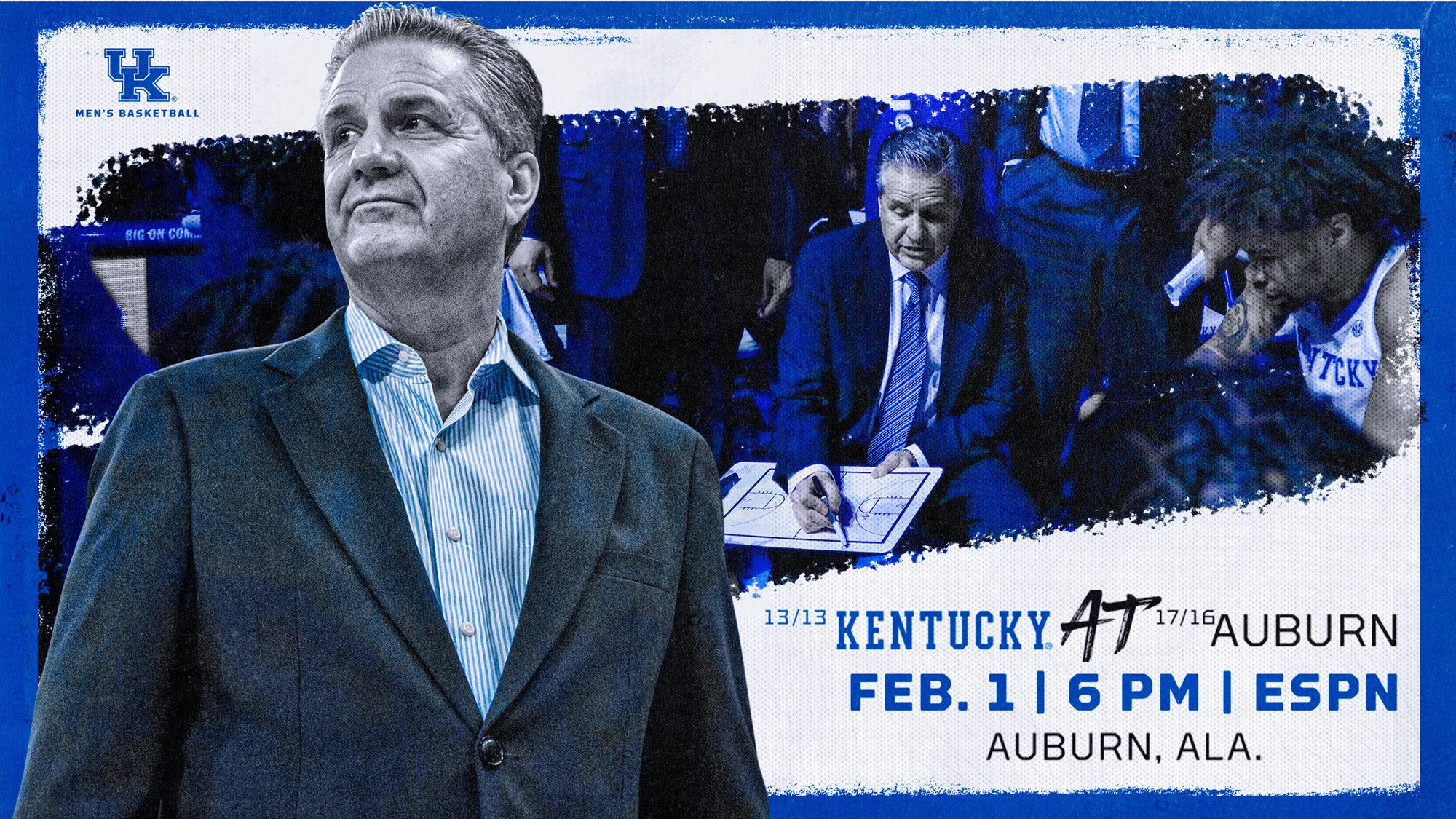 January 31, 2020 - 05:08 PM
Cats Eager to Face Next Road Challenge at Auburn
Kentucky had just won an emotional road game and Nick Richards, in particular, was on a high.
 
With a rowdy student section on his back all day at Texas Tech, Richards had the last word by hitting the game-winning free throws to cap a 25-point, 14-rebound performance.
 
It was all so much fun that Richards was already thinking about the next opportunity he and Kentucky would have to – in the words of John Calipari – ruin the weekend of an opposing fanbase eager to host the Wildcats.
 
"I think we go to Auburn soon," Richards said last weekend. "That's going to be a really good game. I know for the guys that came back, we love playing at Auburn. It's the crowd. Just like this one, loud, everybody is rooting against you. It's just a fun environment to play in."
 
The Cats have come to relish playing on the road. And considering two of their best four wins on the season have come on the road against Texas Tech and Arkansas, it's clear that enjoyment is yielding results.
 
Kentucky at Auburn

Sat., Feb. 1 – 6 p.m. ET
Auburn Arena
Auburn, Ala.
Game Notes: UK | AU
UK Athletics App

Coverage

TV: SEC Network
Radio: UK Sports Network
Watch
Listen
Live Stats

UK
Stats
AU
16-4
Record
18-2
6-1
Conference Record
5-2
75.4
PPG
79.3
65.0
Opp PPG
68.6
.462
FG%
.443
.389
Opp FG%
.411
38.5
RPG
41.1
.323
3PT FG%
.314
.289
Opp 3PT FG%
.305
14.6
APG
13.6
5.3
SPG
6.4
5.1
BPG
5.5

"I think all our away games have been really good this year," Immanuel Quickley said Friday. "Coach Cal's always taking us before the game to go see the tents and stuff, people camping outside trying to see us play and things like that. Every environment so far has been really good and I don't think Auburn will disappoint either."
 
The jury is out on what the campout scene will look like this weekend on the Plains, but it's a guarantee the crowd at Auburn Arena will be fired up come 6 p.m. on Saturday when No. 13/13 UK (16-4, 6-1 Southeastern Conference) takes on No. 17/16 Auburn (18-2, 5-2 SEC).
 
"It's a great atmosphere there at Auburn," Montgomery said. "It's just going to be a very fun game."
 
Montgomery knows what he's talking about. Not only is the sophomore forward a former Tiger commitment, he was also on the floor for 10 minutes of UK's thrilling 82-80 victory at Auburn last January. The Cats would go on to dominate Auburn at Rupp Arena a month later, but the Tigers didn't lose after that until the national semifinal. En route to the Final Four, Auburn took down Kentucky in the Elite Eight in a 77-71 overtime thriller.
 
Revenge, the Cats say, will not be a factor though.
 
"I wouldn't say payback," Quickley said. "Just more looking forward to a really good game. Auburn's a really good team. I think they're like 18-2 or something like that, so they've won a lot of games this year so far. So we're just going to have to be really locked in and hopefully get a win."
 
There's no question about that.
 
Auburn was the last power conference unbeaten left standing, running its record to 15-0 before losing back-to-back road games to Alabama and Florida two weeks ago. The Tigers might have lost their top three scorers from last season – Bryce Brown, Jared Harper and Chuma Okeke – to the professional ranks, but Bruce Pearl has managed to put together a team capable of another deep NCAA Tournament run.
 
"Different players but they play the same," John Calipari said. "They play hard. Bruce has got them doing what they do. They're tough on baseline out of bounds. If you get it in, they're tough on sideline out. They run their little actions into isos and, you know, different ways of getting easy baskets. They're good. They're a top-20 team for a reason, and they won their first, what, (15) games for a reason because they're good."
 
Auburn's characteristically disruptive backcourt is made up primarily of J'Von McCormick and Samir Doughty, who combine to average 25.9 points per game. The Tigers don't shoot quite as well from outside as last season, dipping from 38.1% to 31.4%, but they make up for that with improved stoutness inside. Thanks in large part to Austin Wiley (10.1 ppg and 9.2 rpg), Auburn ranks 25th nationally in offensive rebounding rate and seventh in free-throw rate.
 
"He's been good," Calipari said about Wiley. "Really good. Physical play and being able to score around the basket. He runs and plays hard. Great, great kid. I had him on the (U19) USA Team. I love him to death. He's a beautiful person aside from being a heck of a basketball player."  
 
That figures to present a challenge for Richards, but he doesn't figure to shrink from it with the way he's been playing. And with the way they have been playing on the road as a team, the Cats don't figure to shrink from the latest such challenge either.
 
"The whole thing is how do you prepare your team?" Calipari said. "I think, again, you can look at playing on the road and be inspired by it or you can overwhelmed by it. You can be excited about playing on the road and have fun with it or you can be, 'Oh my gosh, we've got to go into that environment.' I think a lot of it starts from we as a staff and how we feel about road games."
Cats Sink Commodores With Strong Second Half
LEXINGTON, Ky. – Just as Vanderbilt was poised to take control for good, No. 13 Kentucky seized momentum and the game by getting stops and turning them into baskets. The Wildcats ended up maintaining their roll and handed the Commodores a record they didn't want to discuss.
Tyrese Maxey scored 10 of his 17 points in the second half, and Kentucky used a 23-12 run to rally past Vanderbilt for a 71-62 victory Wednesday night that dealt the Commodores their record 25th consecutive Southeastern Conference regular season loss.
Kentucky's effort followed a subtle reminder from coach John Calipari to take charge better than they did during a nerve-wracking first half featuring breakdowns on both ends.
"Why did you think I didn't go crazy in the first half and I didn't in the locker room?" he said. "It's your team. You want to lose, go ahead. I'm fine. It's your team. If you play harder and put it on them a little bit and make them make tough plays and get back in it, you will be fine."
The Wildcats (16-4, 6-1 SEC) trailed 40-30 early in the second half before mounting the big run over 8:45 to lead for good at 53-52 on two Immanuel Quickley free throws with 8:33 remaining. Three-point plays by Ashton Hagans, EJ Montgomery and Quickley helped the surge, and Richards added consecutive baskets for a little more breathing room. Maxey took over from there, scoring nine of Kentucky's next 10 points, including six consecutive to make it a seven-point cushion.
The Wildcats improved from 38.5% shooting in the first half to hit 53.3% in the second and finished at 46.4% overall (26 of 56). They also outrebounded the Commodores 37-29 and finished 11-0 in second-chance points.
Asked what sparked the turnaround, Maxey said, "just our competitive spirit and then Nick, honestly. And just to go out there, be competitive defensively and get multiple stops in a row."
Richards had 15 points and 11 rebounds despite foul trouble that limited him to just five minutes in the first half. He recorded 14 points and 10 rebounds after halftime for his ninth double-double of the season and fifth in his last nine games.
Hagans added 12 points, and Quickley 11 as the Wildcats won their fourth consecutive game and eighth in the last nine.
"Whether I was on the court or not, the guys would've stepped it up," Richards added. "Everybody would've found their rhythm, everybody would've made shots, we'd have found a way to get back in the game."
Meanwhile, the Commodores (8-12, 0-7) broke the SEC mark for futility it briefly shared with Sewanee, which dropped 24 in a row from 1938-40 before leaving the conference. Vanderbilt also dropped its seventh in a row to Kentucky. Remarkably, four of those losses to Kentucky have featured double-digit leads by the Commodores.
Of note …
• This marked UK's first double-digit comeback win since Feb. 26, 2019, at home vs. Arkansas. It's the fourth straight season UK has rallied from a double-digit deficit to defeat Vanderbilt
• Kentucky is 14-0 this season when outrebounding the opponent
• The Wildcats limited Vanderbilt to 62 points and 38.9% from the field
• UK is 182-7 (.963) under Calipari when keeping the opponent to 63 points or less.
• Kentucky is 197-18 (.916) under Calipari when keeping the opponent at 40% or less
• UK shot 46.4% from the field and is now 15-1 this season when outshooting the opponent
• Entering the game at 77.1% at the foul line, the Wildcats had another solid performance at 84.2% (16 of 19)
• Kentucky led by 11 points late in the game. UK is now 276-7 under Calipari when leading by at least 10 points at any time in the contest
• UK has won 11 in a row at home and is 12-1 on the season at Rupp Arena
Auburn-Kentucky Evolving into Marquee Matchup; College GameDay on Site
After meeting three times a season ago, including an overtime thriller for a spot in the 2019 Final Four, the Kentucky-Auburn matchup is evolving into must-see TV. After the Wildcats won 18 straight from 2001 to 2015, the series is tied 3-3 over the last six meetings. Highlighting the intrigue of Saturday's matchup, ESPN's College GameDay will originate from Auburn, Alabama, for the first time in its history.
This will be the 19th time Kentucky has appeared on GameDay, tying North Carolina for second most in show history. It will mark the 11th straight season UK has made an appearance. The Wildcats are 8-10 in College GameDay appearances and have won their last three matchups.
Although Kentucky owns an all-time record of 94-20 against the Tigers, including a 31-15 edge in Auburn, the series has been deadlocked for the last four seasons. Three of those matchups have been decided by six points or less. Including Saturday's matchup, each of the last five meetings have seen both of the teams either appearing in the Associated Press Top 25, or sitting just outside with receiving votes.
Saturday's game will mark Kentucky's fifth AP Top 25 matchup of the season. UK is 3-1 thus far this season in such games.
Beginning with a 75-70 Auburn win in January of 2016 in which UK was rated No. 14 in the country, the matchup between the two teams have provided some classics. That game saw the Tigers rally from a five-point halftime deficit for the win despite UK's Tyler Ulis nearly registering a triple-double with 17 points, 10 rebounds and eight assists. The 2017 matchup endured UK guard De'Aaron Fox fouling out with 7:23 to play and nearly 50 fouls called, but Kentucky rallied to win by 20 points. In 2018, Auburn assembled a 13-2 run to turn a four-point deficit into a 68-61 lead with 3:57 remaining as the No. 10 Tigers held off a rally by the young Wildcats.
Last season, Kentucky won both regular-season meetings. The first came at Auburn with the No. 12 Wildcats surviving the No. 14 Tigers as Tyler Herro scored 10 points over the final 5:23 to stave off a 17-point rally by the home team. In Lexington, UK earned a dominating 80-53 win, but it would spark quite the run by the Tigers. Auburn went on to win 11 straight games, including a Southeastern Conference Tournament crown and wins over Kansas and North Carolina in the NCAA Tournament to meet the Cats in the Elite Eight. Auburn's winning streak continued as it rallied from a 10-point first-half hole and forced overtime on a Bryce Brown layup with 38 seconds to go. The Tigers pulled away in the extra minutes for a six-point win to advance to the program's first Final Four, despite 28 points and 13 rebounds from Kentucky's PJ Washington.
This year's matchup is once again a top-20 showdown with Kentucky owning a No. 13 ranking and the Tigers at No. 17. Auburn ranks ninth in the nation in rebounds per game (41.1) and 15th in offensive rebounding (13.30). Auburn scores 31% of its points from long range and owns a 14-game home winning streak dating back to last season.
Samir Doughty leads the Tigers in scoring at 14.8 points per game, while Austin Wiley has seven double-doubles and is averaging 10.1 points and 9.2 rebounds per game.
UK Participating in Coaches Powering Forward
Saturday at Auburn, Kentucky's coaches will join fellow coaches from around the country to help raise awareness for autism through Coaches Powering Forward for Autism benefiting Autism Speaks. UK's coaches will be wearing the blue puzzle piece pin on their suit jackets.
The symbolic act is a part of college basketball's autism awareness weekend, an effort started by Towson head coach Pat Skerry and South Florida assistant coach Tom Herrion. It has since gone national with support from the National Association of Basketball Coaches and Autism Speaks