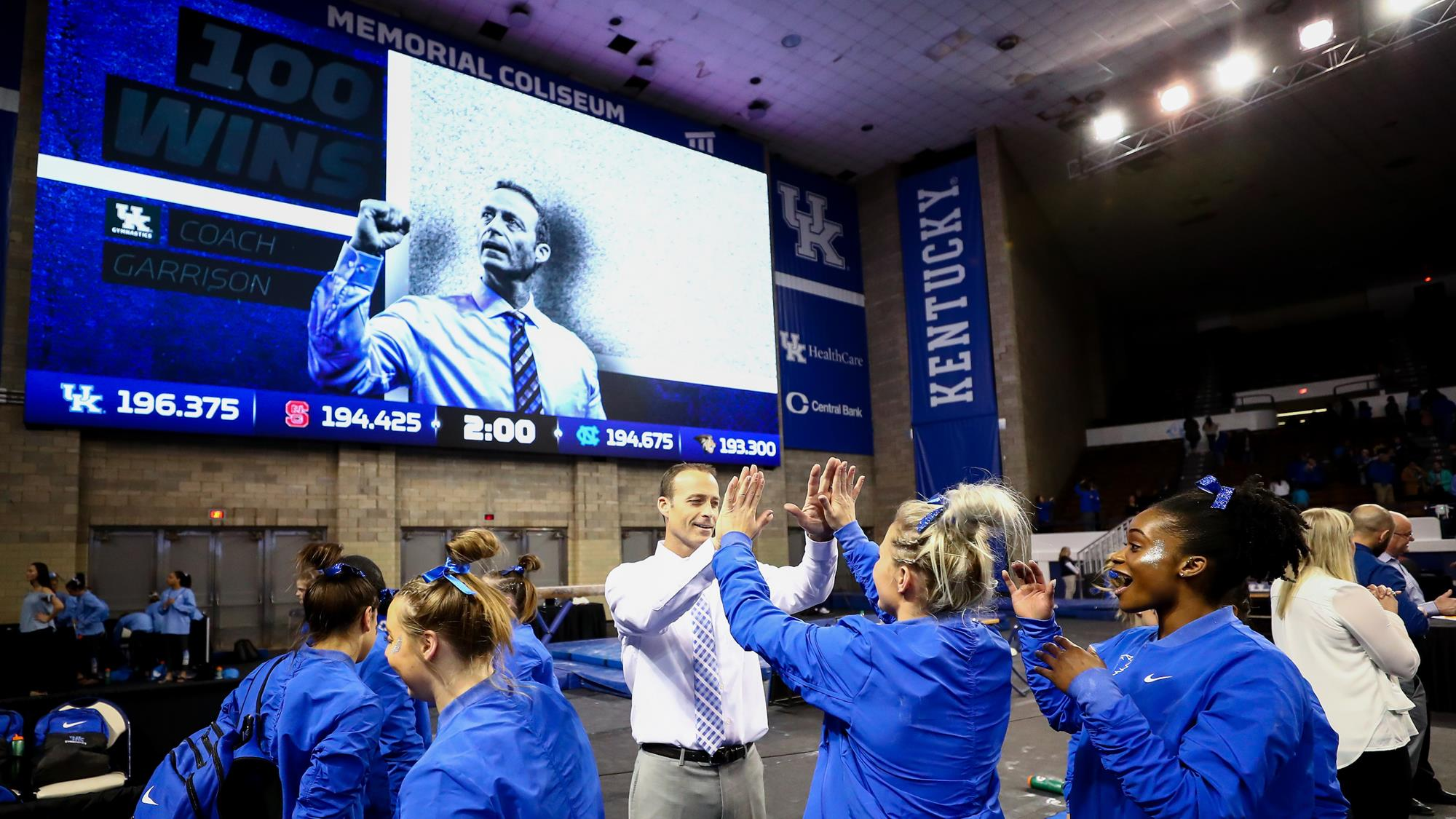 January 18, 2020 - 01:12 AM
Five Cats Earn Individual Wins in First-Place Finish at Quad Meet
LEXINGTON, Ky. – No. 11 Kentucky surged back from a slow second rotation to a first-place finish (196.375) versus No. 29 North Carolina (194.625), No. 39 NC State (194.425) and No. 50 Lindenwood (193.300) on Friday at Memorial Coliseum.
 
Five different Wildcats were credited with event wins, including back-to-back-to-back all-around champion Mollie Korth (39.400). Kentucky head coach Tim Garrison, who entered the season with 98 head-to-head victories in the first eight years of his tenure, surpassed the 100-win benchmark in the first quad meet at Memorial Coliseum since 2017.
 
Kentucky improves to 4-1 (1-0 Southeastern Conference), dropping North Carolina to 3-1, NC State to 1-3 and Lindenwood to 1-4.
 
In the first rotation of the night, four Wildcats reset career-high vault scores to lead the team to a season-best total of 49.075. Junior Ella Warren led off with a career-high 9.800, followed by a career-best 9.700 from sophomore Cally Nixon and a season-high-tying 9.750 from senior Alaina Kwan. Sophomore Arianna Patterson's career-high 9.875 tied the best score on the apparatus across all four teams, giving the native of Plano, Texas, her first career win. Reigning SEC Freshman of the Week Raena Worley and senior Mollie Korth anchored the event with a 9.825 apiece, good for a season high for the former.
 
Kentucky's fortunes took a turn when the team made its way to bars, the only event on which it did not record its best mark of the season. Forced to count a fall, the Cats were outpaced by the Tar Heels midway through the meet and headed to the balance beam in second place overall.
 
The host team slipped further into its deficit when its lead-off routine included yet another collapse, but the tides began to turn once more after senior Hailey Poland's third-slot performance garnered a career-high-tying beam score of 9.875. Korth (9.825) and Worley (9.800) produced two more strong showings before sophomore Josie Angeny won the event outright for the first time with a career-high 9.925.
 
"It felt like a battle," Garrison said. "I'm glad that (the team) battled and finished the way we did."
 
Kentucky carried that momentum onto floor, where it finished with the best score (49.475) of any event this season. Five of the six competing routines surpassed season highs, while the other tied one. Junior Megan Monfredi set the tone with a career-high 9.825, followed by the best floor performance (9.800) of Raina Albores' freshman campaign. Poland tied a career-high 9.875 before Worley, Warren and Korth ended the night with consecutive scores of 9.925. The tally was the best of the night, as well as career highs and the first ever wins for Worley and Warren.
 
Kentucky returns to action with its first conference road test of the season, taking on No. 32 Arkansas next Friday at 7 p.m. ET, live on SEC Network.
 
To purchase tickets for the 2020 season, visit UKAthleticsTix.com. For the latest on the Kentucky gymnastics team, follow @UKGymnastics on Twitter, Facebook and Instagram, as well as on the web at UKAthletics.com.