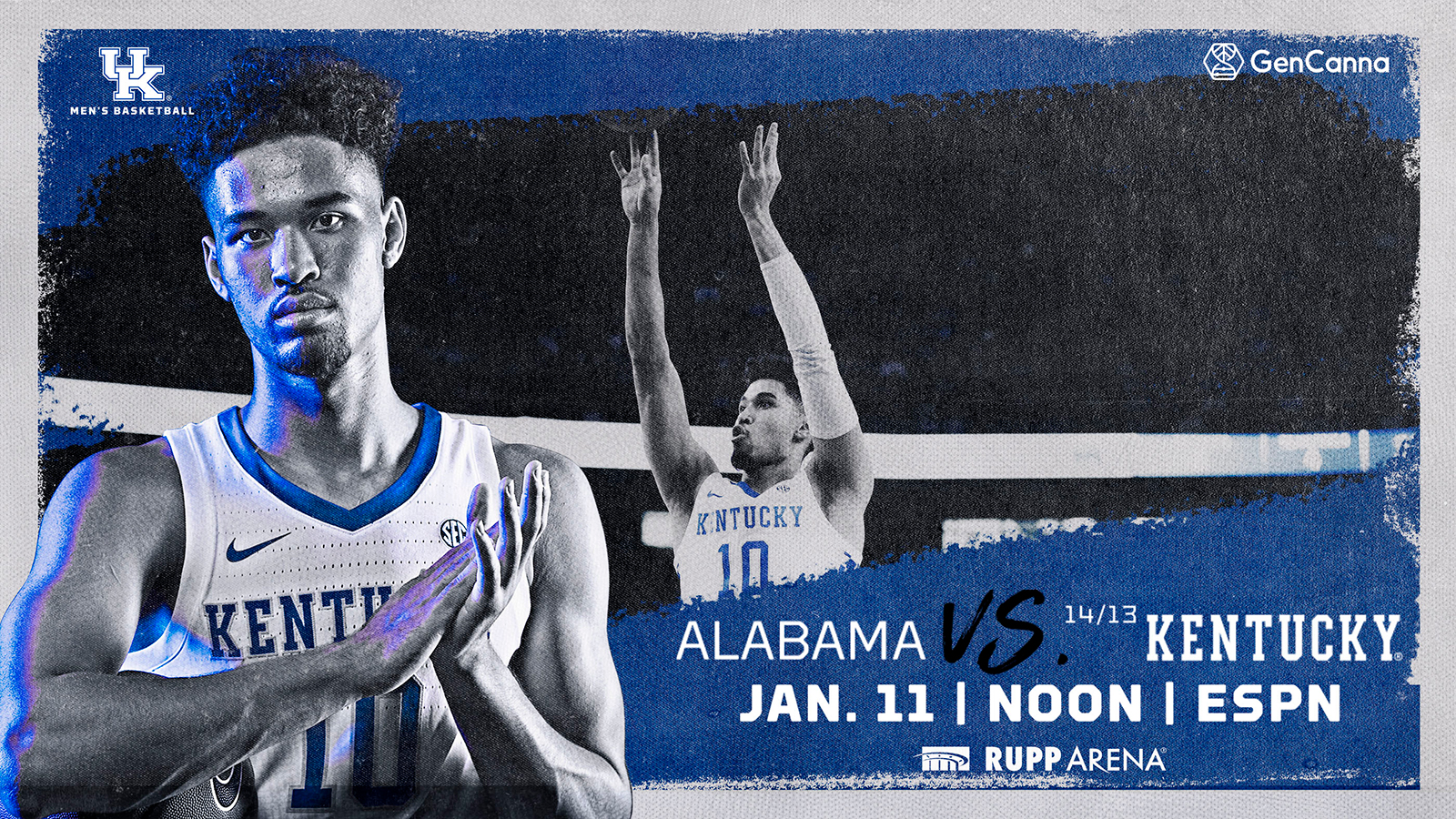 January 10, 2020 - 02:56 PM
Kentucky Faces Unique Challenge in Fast-Paced 'Bama
The Kentucky Wildcats often find themselves facing opponents who sell out to prevent games from turning into up-and-down affairs.
 
This weekend, the Cats won't have to worry about Alabama trying to slow things down.
 
"You guys know that if we play a team that wants to play a game in the 50s, we'll do that," John Calipari said. "And if we play a fast team, we'll try to score 100."
 
The Crimson Tide (8-6, 1-1 Southeastern Conference) is among the nation's fastest-paced teams under first-year head coach Nate Oats entering a trip to face the No. 14/14 Cats (11-3, 2-0 SEC) at noon on Saturday. Alabama ranks third in adjusted tempo according to kenpom.com and fourth in points per game (84.4).
 
The Tide likes to run, no matter the opponent. UK relishes such an opportunity.
 
"I think for our younger guys, they really like to get out and fly and that's what they're used to," Nate Sestina said. "They played fast in high school and AAU, so it's kind of a game like that where they can get out and run and put the ball on the floor and try to get fast break points, whether it's a layup or a transition 3."
 
Kentucky vs. Alabama

Sat., Jan. 11 – 12 p.m. ET
Rupp Arena
Lexington, Ky.
Game Notes: UK | UA
UK Athletics App

Coverage

TV: ESPN
Radio: UK Sports Network
Watch
Listen
Live Stats

UK
Stats
UA
11-3
Record
8-6
2-0
Conference Record
1-1
74.7
PPG
84.4
62.2
Opp PPG
78.9
.464
FG%
.445
.387
Opp FG%
.419
37.4
RPG
41.4
.301
3PT FG%
.372
.297
Opp 3PT FG%
.304
.782
FT%
.706
15.3
APG
14.5
5.4
SPG
6.5
4.6
BPG
4.2

Transition 3s. Therein lies the uniqueness of the challenge presented by Alabama.
 
"The difference is they run to shoot 3s," Calipari said. "They're not running for layups. They're not running for post-ups. Even if they throw ahead and drive, they're driving to find somebody for a 3."
 
Alabama has attempted exactly 200 more 3s on the season than Kentucky, averaging a shade under 30 per game with 46.6% of their field-goal tries coming from beyond the arc. The Tide features five players who have made at least 21 3-pointers, which happens to be how many 3s UK's leader, Immanuel Quickley, has made on the year.
 
"They're shooters," Sestina said. "We have to get back in transition, stop them from getting transition 3s, force them into tough 2s, force them to put the ball on the floor. I thought we did a really good job in the second half, especially, against Georgia stopping their transition offense, getting back, walling up and kind of playing team defense and not just relying on Ashton (Hagans) to get a steal or Tyrese (Maxey) or Immanuel to get a steal or Nick (Richards) to block a shot."
 
There were bumps early, but the Tide has climbed back over .500. Since a 2-4 start, Alabama has won six games by double digits – including victories over Stephen F. Austin, Belmont, Richmond and, most recently, Mississippi State – and lost a pair of close games on the road to Penn State and Florida.
 
"They've done a great job," Calipari said. "I mean, I watched (the) Florida (game), they should have won. They should never have lost that game. They know it. They had Penn State. Penn State led them for two minutes on the road. So, when you start looking at records, you can't look at records when you start talking. The games they lost early, they weren't ready to play this style yet. They hadn't bought in. Now they have and they're–this will be a really hard game for us to win."
 
The Cats are fresh off another such game, but a tough road environment and their worst free-throw shooting night of the season did not stop them from rallying to beat Georgia with an outstanding second half. In that half, Calipari relied almost exclusively on a lineup featuring guards Hagans, Maxey and Quickley alongside Sestina and Richards. The effectiveness of the lineup has led some to wonder whether the group might start Saturday.
 
"Doesn't matter who you start," Calipari said. "It's who finishes the game, so probably as we go through game plans and people are nicked up, we'll see. I'm not as worried about who starts as maybe the clutter out there. I'm more worried about, OK, who am I finishing with?"
 
The other wrinkle is Alabama's personnel, which is small and could pave the way for Montgomery, Kahlil Whitney or Keion Brooks Jr. to emerge. Sophomore Kira Lewis (16.6 ppg, 5.7 rpg and 4.6 apg) is back at his customary point-guard spot for a league-high 37.9 minutes per game, but others have shifted around. That includes 6-foot-5 sharpshooter John Petty (16.7 ppg, 7.3 rpg and 50 made 3s), who spends most of his time playing the three and four spots.
 
"Petty's good," Calipari said. "I mean, they're good. They've got guys who were twos and threes who are now fours and fives. They were twos and threes and now they're fours and fives, which means your four and five better be able to play."
 
All that adds up to a challenge unlike any the Cats have faced to this point and another chance for UK to continue its upward trajectory with a meaningful win.
 
"This will be a really hard game for us to win," Calipari said. "I don't care if it's at home, on the road, on I-95, this is a hard one to play and it'll be a hard game for us to win." 
Big Second Half Lifts Kentucky to Win on the Road at Georgia
ATHENS, Ga. — The Kentucky Wildcats didn't rebound well in the first half. They didn't shoot free throws well all game. Somehow, it all came together for another win over Georgia.
Immanuel Quickley's 3-pointer gave No. 14 Kentucky its first lead of the second half with 8:08 remaining and the Wildcats overcame Anthony Edwards' 23 points to beat Georgia 78-69 on Tuesday night and continue their domination of the Southeastern Conference rivalry.
Kentucky (11-3, 2-0) trailed 37-31 at halftime and by as many as nine before finally taking the lead on Quickley's 3. Georgia (10-4, 0-1) never regained the lead as the Wildcats won their 13th straight in the series.
Tyrese Maxey and Nick Richards each had 17 points and seven rebounds for Kentucky. Quickley added 15 points.
Kentucky, which leads the SEC and ranks fourth in the nation with 80.1% free-throw shooting, had an off night, making 10 of 20 attempts.
"We won without making free throws today," said coach John Calipari, sounding almost surprised. "It's good to know we can do that."
The Bulldogs hoped to gain momentum from last Saturday's win at then-No. 9 Memphis. It was Georgia's first road win over a top-10 team since 2004. The Bulldogs were in position to beat another ranked opponent before the Wildcats took control.
Finally, in the final minute, Kentucky fans in the sellout crowd of 10,523 chanted "Go Big Blue!"
Kentucky point guard Ashton Hagans returned from a left ankle injury he sustained late in the win over Missouri to start and score 13 points.
"He is a tough hombre," Calipari said of Hagans. "The guy is physically tough and strong and he uses it."
Hagans had a slow start, missing a 3-pointer and a layup in the opening minute. The sophomore was 0 for 5 from the field before breaking his drought with a layup to start a traditional three-point play midway through the half. He made 4 of 12 shots.
Edwards had the fans on their feet when he made his first two shots, including a 3, for a 5-0 lead. Kentucky answered with 10 straight points.
The Bulldogs closed the half with an 11-5 run. Edwards capped Georgia's scoring in the half with a powerful baseline jam before Hagans answered with a 3.
Quickley's 3-pointer from the corner gave the Wildcats their first advantage of the second half, 58-57. Following a timeout, Maxey blew past  the Georgia defense to score on a windmill layup, and Richards' three-point play capped a 10-0 run that pushed Kentucky's lead to 63-57.
The Wildcats made 17 of 29 shots (58.6%) after halftime.
Of note …
• Kentucky won the game with an outstanding second half. UK won the half 47-32, shot 58.6%, including 4 of 6 on 3-pointers, and had 11 assists on 17 made baskets
• UK shot 50% from the field and Georgia hit 42.1%, moving Kentucky to 10-0 this season when outshooting the opponent
• The Wildcats are 5-0 this season when making at least half of their field-goal attempts
• Wildcats won the rebounding 41-35 and are now 10-0 this season when leading the board work
• Kentucky led by as many as 11 points. The Wildcats improved to 271-6 under Calipari when leading by at least 10 points at any time in the contest
• This was Kentucky's 999th regular-season Southeastern Conference victory
• Nate Sestina chipped in with eight points and seven rebounds
• Hagans dished out five dimes and has 11 straight games with at least five assists. It's the best run since Tyler Ulis turned the trick in 24 straight games from Dec. 26, 2015 to March 17, 2016
• Quickley has made 9 of 17 shots from 3-point range over the last three games after making all three attempts against Georgia
• Kentucky is 10-0 this season when Richards scores in double figures
• Maxey had career highs in assists (eight) and blocked shots (four)
• UK has won each of its last three true road games to begin the season. It marked the first time the Wildcats have won three straight true road games since doing so from 1995-96 through the 1997-98 seasons
• Kentucky is 2-0 in league play for the seventh time in 11 seasons under Calipari. 
Kentucky One Win Shy of 1,000 Regular-Season Wins in Southeastern Conference Play
Kentucky owns more regular-season victories than any other program in the country. Earlier this season, the Wildcats won their 600th game in Rupp Arena. UK won its 600th game in just 670 tries to become the fastest to 600 in the country. On Saturday, Kentucky is zeroing in on another milestone: win No. 1,000 in regular-season action in Southeastern Conference play.
Kentucky entered the season with a 997-281 mark all-time in league action and has won its first two of the 2019-20 slate. With no other SEC team owning more than 750 victories, UK is set to reach the mark in record fashion among other programs within the SEC.
Determining whether UK is first in the country is up for interpretation. In the current structure of conferences, in which the Big 12 recognizes alignment in its current format as beginning in 1996-97, Kansas would not recognize its victories until that season. However, if one combines all of Kansas' wins in Big 6, Big 7, Big 8 and Big 12 play, Kansas has already topped 1,000 victories.
It is also important to note that Kentucky's 1,000 wins are for SEC regular-season play only. It does not include victories as a member of the SEC, SEC playoff games, SEC Tournament wins or wins against SEC teams in the NCAA Tournament.