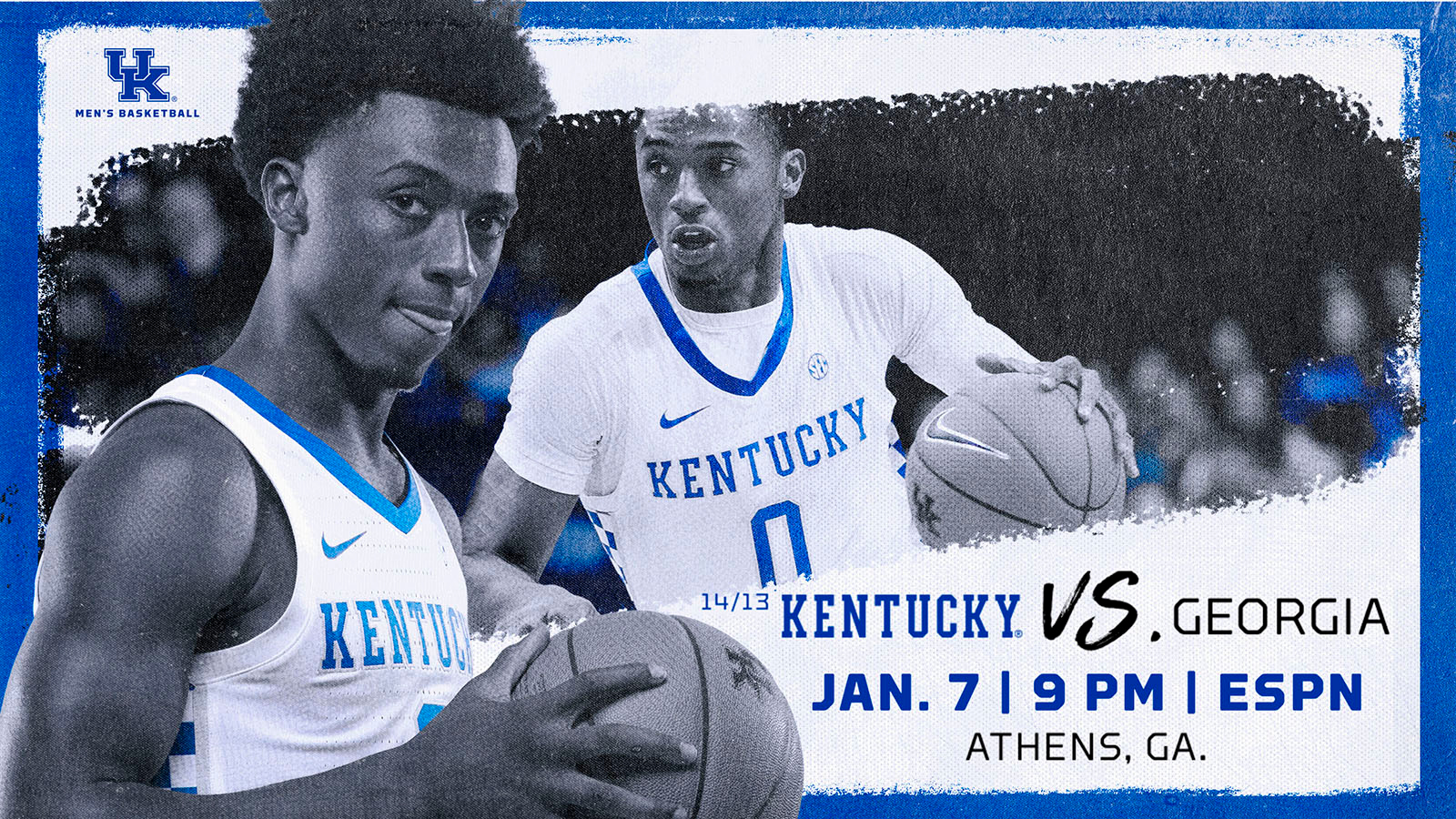 January 6, 2020 - 04:25 PM
Quickley Indispensable as Cats Hit SEC Road
Immanuel Quickley typically comes off the bench for Kentucky. He isn't hailed as UK's best all-around player like Ashton Hagans. He hasn't had huge games on the biggest of stages like Tyrese Maxey.
 
None of that makes him any less important to his team's success.
 
He might not be the flashiest player, but Quickley provides much-needed steadiness and consistent scoring for Kentucky. Now, as Kentucky hits the road in Southeastern Conference play for the first time, Quickley's veteran presence figures to be important once again.
 
"Every game's tough," Quickley said. "Most teams' student sections are right on the floor, so they're screaming and yelling and saying stuff. Just gotta try to be composed and for a freshman that can be tough, but I've seen it before so probably won't be too rattled, too nervous or anything like that. Just gotta try to stay composed and try to help out the young guys."
 
Coming off scoring a combined 41 points in wins over Louisville and Missouri, Quickley will help lead No. 14/13 Kentucky (10-3, 1-0 SEC) as the Wildcats take on Georgia (10-3, 0-0 SEC) at 9 p.m. on Tuesday at Stegeman Coliseum.
 
Kentucky at Georgia

Tue., Jan. 7 – 9 p.m. ET
Stegeman Coliseum
Athens, Ga.
Game Notes: UK | UGA
UK Athletics App

Coverage

TV: ESPN
Radio: UK Sports Network
Watch
Listen
Live Stats

UK
Stats
UGA
10-3
Record
10-3
1-0
Conference Record
0-0
74.5
PPG
72.4
61.7
Opp PPG
67.6
.461
FG%
.451
.385
Opp FG%
.388
37.2
RPG
42.8
.290
3PT FG%
.298
.303
Opp 3PT FG%
.250
.801
FT%
.603
15.1
APG
16.8
5.2
SPG
6.6
4.6
BPG
4.2

"They got a really good team," Quickley said. "Georgia's well coached. Tom Crean's done a great job the past couple years, so Georgia will definitely be a good test for us, especially on the road. We got a lot of young guys, so we're just going to have to try to come together and get a win."
 
Quickley has scored in double figures in nine of his 12 games this season and is averaging 12.7 points. His 18 3-pointers are a team high and he is on pace to break the school record Tyler Herro set last season at the free-throw line. He hasn't missed a free throw in a game in more than a month – his streak of makes now up to 24 – is shooting 46 of 48 (95.8%) on the season.
 
His steady leadership is also important to UK, but what Quickley doesn't get enough credit for is his defense. Most notably, Quickley was the primary defender as UK held Louisville All-America candidate Jordan Nwora to eight points on 2-of-10 shooting.
 
"I got really long arms," Quickley said. "I think my wingspan's like 6-9 or 6-10, so really long arms. I can get deflections, contest. I think I'm pretty quick defensively, so just being able to use my tools effectively and get stops and make stuff hard for the offensive players is key."
 
Quickley has come a long way from high school, when he admits he didn't much time at all thinking about his defense. Now, he has bought into the concept of defensive confidence that his coaches so often preach.
 
"If I'm not making shots, if I'm not playing extremely well or as well as I would think on the offensive end, your defense is based off of your effort," assistant coach Joel Justus said. "It's based off of your preparation, and Immanuel is a guy who in his second year has stepped up. He's a guy that has paid greater attention to multiple positions in our walkthroughs, and I think that's what you want and you need out of these veteran guys."
 
That has helped Quickley stay engaged through inevitable cold shooting stretches, and UK will certainly need him to keep that up against Georgia. The Bulldogs are averaging better than 80 points per game, led by Anthony Edwards (18.4 ppg). Keion Brooks Jr. has a pretty good scouting report on the 6-foot-5 star freshman.
 
"I've been playing against Anthony since about third or fourth grade, so I'm very familiar with him," Brooks said. "Great player. We've just got to do everything we can to make it hard on him and limit his open looks. He's just a great all-around player. He can score on all three levels of the floor, very good with the ball, a good shooter, so we've just got to make sure we're making it tough on him, limit his open looks and when he does get one, just make sure we're there contesting."
Whether Quickley draws the defensive assignment on Edwards remains to be seen. Also in question is the status of Hagans, who suffered a low ankle sprain late in the win over Missouri this weekend.
 
"If Ashton is available, he's available," Justus said. "If he's hurt, he's hurt. Our job is to go out and grab a roster of guys that can step up. If a guy's out, it's the next man up."
 
Hagans has been UK's best player, floor general and the tip of the spear on defense through 13 games. If he's forced to sit, the Cats would also be without the player who scored 29 points in his Georgia homecoming a year ago against the Bulldogs.
 
"It would definitely be a big position for us to fill," Quickley said. "What he gives our team, what he brings, his energy, his leadership, his defensive ability, his toughness. All stuff that's hard to replace, but we would just have to try to do it as a collective team."
 
Based on the way he's been playing, UK should be able to count on Quickley as an important part of that.
The Nick and Quick Show Lead Cats Past Mizzou
Nick Richards carried the load for No. 17/14 Kentucky before Immanuel Quickley finished the job for the Wildcats.
Quickley scored a career-high 23 points, Nick Richards had 21 and Kentucky beat Missouri 71-59 Saturday in the Southeastern Conference opener for both schools.
Richards scored the first nine points for the Wildcats, 14 of their first 16 points and had 17 by halftime, including a key 3-point play. Quickley's 3 put Kentucky (10-3, 1-0) ahead to stay, and he was just getting started.
Quickley was 4 of 8 from behind the arc and 5 of 9 overall. He also went 9 for 9 at the line, part of a 27-for-30 performance for Kentucky as a team.
"My way of changing a game is usually a 3-point shot," said Quickley, who surpassed his previous best of 18 points from last Saturday's victory against Louisville. "We've got other guys, they dunk, they block shots. Any way you can change a game, you want to use that to the best of your ability."
Richards went 9 for 13 from the field and grabbed 12 rebounds for his second consecutive double-double. The junior forward also blocked four shots before fouling out with 3:52 left.
In between blocking shots and grabbing rebounds, Richards worked his way free for scoring opportunities, including a few jumpers.
"All the workouts I've been through, eventually it was going to show up on the court," said Richards, who posted his sixth double-double this season. "My coaches told me not to be arrogant with it, just be humble and everything will just fall through."
Kentucky posted its second straight victory since consecutive losses to Utah and Ohio State. But the Wildcats lost point guard Ashton Hagans with 1:48 left after he hurt his left ankle while playing defense.
Coach John Calipari said it was a low sprain instead of an Achilles tendon tear that he initially feared.
"When they told me it wasn't that, OK, we can deal with whatever else it is," Calipari said. "Maybe he's out. Maybe he doesn't play against Georgia (on Tuesday). Then you're going to see the impact and importance he has on this team."
Missouri (8-5, 0-1) cut a 16-point deficit down to 56-46 with 6:03 remaining. The Wildcats answered with a 6-0 spurt to help close it out.
Of note …
• Kentucky is now 67-19 in Southeastern Conference openers, including 9-2 under Calipari
• The Wildcats are now just two victories shy of 1,000 all-time wins in the SEC.
• UK held the visitors to 59 points. UK is 181-7 under Calipari when limiting the opponent to 63 points or less, including 8-0 this season
• The Wildcats shot 43.5% from the field and Missouri hit 36.2%, moving Kentucky to 9-0 this season when outshooting the opponent
• Kentucky improved to 194-17 in the Calipari era when holding the opponent to 40% or less
• UK was remarkable consistent at the foul line, making 90% in the first half (9 of 10), 90% in the second half (18 of 20) and 90% for the game (27 of 30)
• The Wildcats won the rebounding 36-31 and are now 9-0 this season when leading the rebounding.
• Kentucky had two 20-point scorers for the second time this season. Richards and Hagans did it earlier this season in the Utah Valley game
• UK led by as many as 16 points in the second half. The Wildcats improved to 270-6 under Calipari when leading by at least 10 points at any time in the contest.
Hagans' Breakthrough at Georgia
If Ashton Hagans is able to play Tuesday at Georgia — a big if at this point after the sophomore guard left Saturday's game vs. Missouri late with a left ankle sprain (day-to-day) — he will have a hard time matching his performance in Athens from a year ago.
The Georgia native capped a breakthrough month with his best offensive performance of his freshman season in his return to his home state. In front of family and friends — and the school he originally verbally committed to — Hagans dominated the game with 23 points, four assists and four steals. He was 9 for 18 from the field, which are both still career highs, was 4 of 5 from the free-throw line and 1 of 3 from 3-point range. His 23 points is the second-highest total of his college career. Earlier this season, on Nov. 18 vs. Utah Valley, he topped it with 26 points.
Hagans grew up in Cartersville, Georgia, about an hour-and-45-minute drive from Athens.