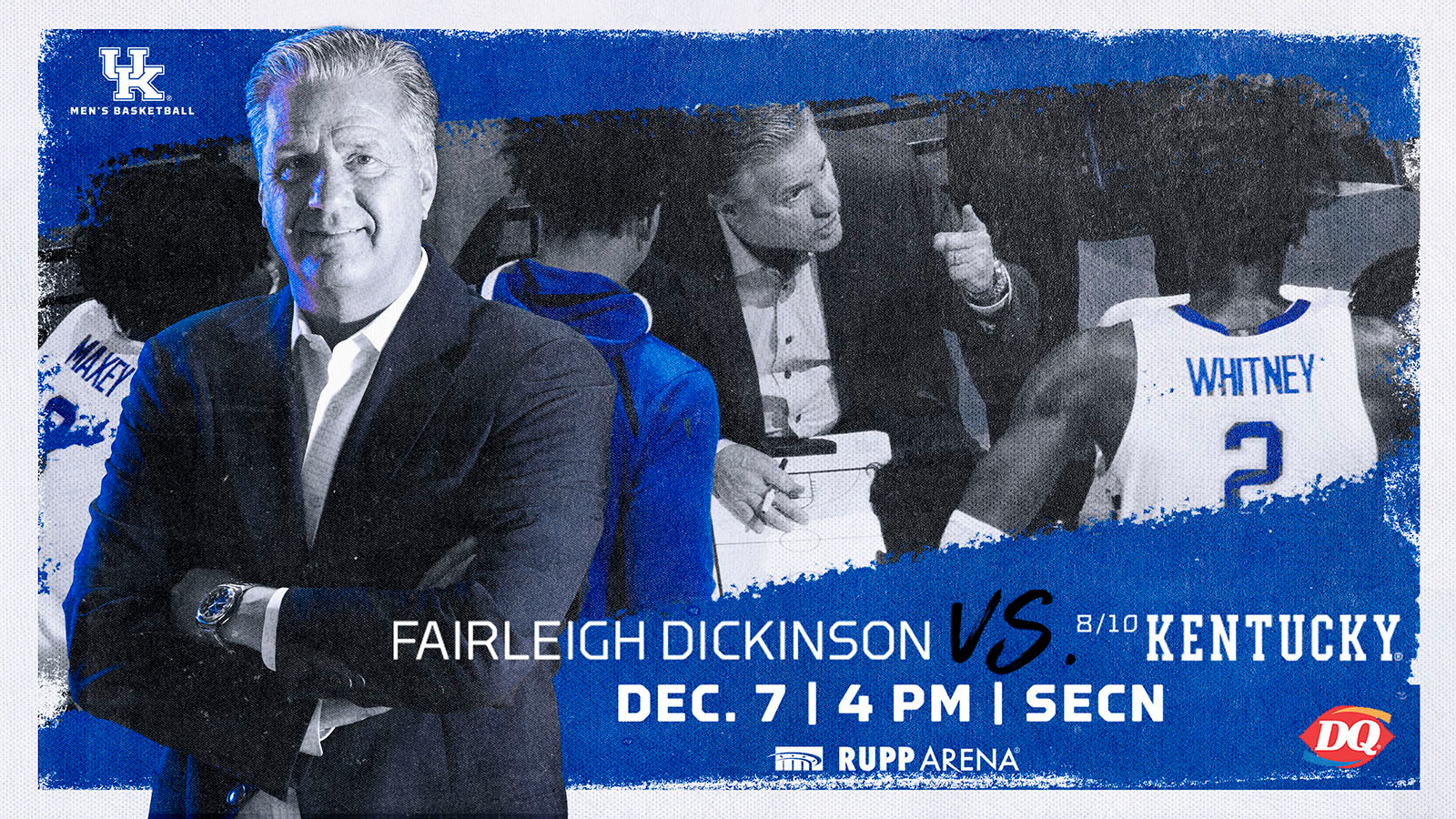 December 6, 2019 - 11:29 AM
Fight and Finish Coach Cal's December Keywords
The way things are going this week, John Calipari might be on his way to creating a new hybrid sport.
 
Putting an orange ball in a 10-foot basket is still the goal, but those practices – according to Calipari – haven't always felt like basketball.
 
"Last two days, whew," Coach Cal said. "Really last three practices were like, literally we might as well put helmets on. And today I got–if you grab and hold I'm going to let you do it twice; on the third one we're running because they are like–literally, it's like lacrosse. I might as well give them sticks."
 
Though he is known for his forward thinking, Coach Cal isn't trying to get ahead of coming rules changes in college basketball that only he knows about. He is trying to prepare his young and developing team to play the same sport the Wildcats have grown up loving.
 
His focus in doing so is on two things.
 
Kentucky vs. Fairleigh Dickinson

Sat., Dec. 7 – 4 p.m. ET
Rupp Arena
Lexington, Ky.
Game Notes: UK | FDU
UK Athletics App

Coverage

TV: SEC Network
Radio: UK Sports Network
Watch
Listen
Live Stats

UK
Stats
FDU
6-1
Record
2-5
0-0
Conference Record
0-0
76.9
PPG
70.6
61.1
Opp PPG
72.0
.469
FG%
.459
.361
Opp FG%
.448
40.0
RPG
33.1
.301
3PT FG%
.326
.299
Opp 3PT FG%
.358
.784
FT%
.712
14.6
APG
10.3
4.6
SPG
6.1
4.6
BPG
3.4

"Two words have been fight and finish," Immanuel Quickley said. "These next games coming up, we're playing some pretty tough teams and we're going to have to fight a little bit harder. And then finishing games. The last five, four minutes of the game, he's been preaching that we gotta stay locked in, stay focused."
 
December begins for the No. 8/10 Wildcats (7-1) Saturday at 4 p.m. as UK hosts Fairleigh Dickinson (2-5). The game is the first of a crucial stretch that coincides with the end of the fall semester, bringing more time between games, Camp Cal and plenty of challenging opponents.
 
"They're a team that–a lot of switching, a lot of taking their fours and fives out on the floor and trying to beat you on the bounce," Calipari said. "You know, they're another capable team that's coming in here. You're seeing now there are no, 'Alright, we just show up and we play.' You can't. Every game is, OK, use the day to prepare to play great."
 
Those two words are at heart of that.
 
"Fight for rebounds," Calipari said. "You fight harder than he's fighting. You're try to get open. He's fighting you to keeping from getting it. You fight harder than he is. You're trying to fight for post position. You fight harder than he is to try to keep you from catching it, and if he's in there, you fight harder than him. Fight. You're fighting over a screen, fight. Run him into the screen. He's fighting to keep you from catching it. Everything is on every possession, fight."
 
On the finish front, UK is coming off a win against UAB in which the Cats gave up three 3-pointers and saw a 20-point lead cut to a final winning margin of 69-58 in the final five minutes. It's no surprise, then, that closing games is a priority.
 
"Last four minutes of games we have been atrocious, but we were last year too," Calipari said. "And so now I'm working on how we finish the last four minutes of games, what we're going to do, what's your mentality."
 
As he seeks to instill those virtues, competition is Coach Cal's greatest ally. And though the Cats might be shorthanded right now, he's still finding ways to encourage it.
 
"If you demand a lot, you'll get a lot," Calipari said. "If you accept mediocrity, you're getting it every single time, especially as a basketball coach, especially with young kids that have had their own way to do whatever they wanted. Now, you've got to raise the bar. They're all capable of reaching what I'm asking them to do, but they've never had to."
 
One player who is apparently embracing the challenge is Johnny Juzang. Though his minutes have been limited in the early going this season, Juzang has played a combined 27 minutes in UK's last two games. In his last outing, he scored five points and – more notably for the sake of his playing time – fought to grab a pair of tough offensive rebounds.
 
"For me, as one of the guys who is not playing a lot, it's like, OK, I've got to do a lot of the small things and maybe that's what he means," Juzang said. "Just trying to find ways to contribute to the team and impact the game. Just putting out effort and being a good teammate, just things like that have been really big for me this year and something I'll always stand by."
 
If he'll fight and finish, Juzang will get his opportunities. The same goes for all his teammates. Coach Cal has made that much clear.
 
"All I'm trying to do–how good can we get," Calipari said. "I said publicly, if we don't become an unbelievable defensive team, we will not be playing late in March. We will not. If we are that and we rebound and have some toughness about us, fight, then we'll have our chances to advance and do what we want to do. The teams that are winning right now are playing great defense."
Home Sweet Home: Cats Approaching Win No. 600 in Rupp Arena
Kentucky enters Saturday's matchup with Fairleigh Dickinson with a 599-70 all-time record in Rupp Arena and just one win shy of No. 600 in the building. It would mark the fastest to 600 wins for a program in one venue in NCAA history.
Already owning an impressive .895 winning percentage, Kentucky's dominance in Rupp is daunting. UCLA currently owns the fastest pace to get to 600 wins in Pauley Pavilion with 689 games needed to reach the mark. Should UK win on Saturday, the Wildcats will achieve the standard  in 19 fewer games than the Bruins. Only one other team, Kansas, achieved win No. 600 in fewer than 700 games. The Jayhawks reached the significant win in their 699th game.
Other notable numbers involving Rupp Arena:
• UK has gone undefeated 13 times in the 44-year history of the building, most recently in 2015-16
• The most wins in one season is 19, set in 2014-15
• John Calipari is the venue's all-time winningest coach with 172 wins. He reached win No. 100 in the venue in just 104 games, the fastest of any UK coach
• Under Calipari, the Wildcats are 152-5 against unranked foes and 91-4 against nonconference opponents
• Calipari began his career with a 54-game winning streak – the longest such winning streak in the venue's history
Wildcats Banged Up
Kentucky's depth has been tested by a number of injuries this season with Nate Sestina's recent left wrist fracture continuing a rash of misfortune.
Eight Wildcats this season have dealt with injuries or are still rehabbing old ones.
The Wildcats have only had nine full-time basketball scholarship players available in three games thus far. Against Utah Valley, with EJ Montgomery (right ankle) and Immanuel Quickley (chest) out, just seven full-time basketball scholarship players were available. That included Ashton Hagans, who was dealing with right leg soreness.
• Dontaie Allen (left knee) – return: undetermined | Torn ACL from his senior season of high school; participated in strength and conditioning programs over the summer and continues to progress with rehabilitation program, including participating in his first practice this past week
• Ashton Hagans (lower right leg) – available | Dealing with a lower right leg injury but has not missed a game; Calipari said prior to the Utah Valley game that Hagans was feeling "healthier"
• EJ Montgomery (right ankle) – available | Sustained a right ankle injury in the first half of the Michigan State game; missed the next three games and returned vs. Mount St. Mary's
• Zan Payne (right knee) – return: undetermined | Continuing to rehab from a knee injury from his senior season of high school; underwent a rigorous rehab program over the summer and participated in his first practice this past week
• Nick Richards (left ankle) – status: available | Sprained his left ankle during the Georgetown College exhibition games and missed the final exhibition vs. Kentucky State
• Nate Sestina (left wrist) – out approximately four weeks from injury | Fractured his left wrist on Nov. 26 and underwent surgery on Nov. 27
• Immanuel Quickley (chest contusion) – available | Suffered a chest contusion in practice prior to the Utah Valley game and did not play vs. the Wolverines. Returned the following game
• Kahlil Whitney (left hand) – available | Dislocated his left pinky finger near the end of the Utah Valley game but has not missed a game
UK-Michigan Agree to Three-Year Series Beginning in London
Kentucky has signed a three-year deal with Michigan that will take the Wildcats to London next season and add a marquee home-and-home series for the following two years.
Beginning with a trip to O2 Arena in London in December of 2020 – exact date to be announced at a later time – the Wildcats and Wolverines will play three consecutive seasons. UK will travel to Ann Arbor, Michigan, for the Dec. 4, 2021 game, and Kentucky will host Michigan in Rupp Arena on Dec. 3, 2022.
The neutral-site game between the two schools will be hosted by the Naismith Memorial Basketball Hall of Fame and serve as a fundraiser for the Hall. It will be the first NCAA Division I college basketball game to be played in one of the world's most popular venues. All further details on play date, game time, television partner, ticket pricing, ancillary events and ticket on-sale will be announced in January of 2020.
UK has played internationally on a number of occasions for foreign exhibition tours, but the game in London will mark Kentucky's third regular-season trip outside the U.S. and first in Europe.
 
London played host to the 1948 U.S. Olympic team that consisted of a handful of Wildcats. After winning the 1948 national championship – UK's first NCAA title – five Wildcats represented the U.S. in the 1948 Olympics in London. The Kentucky-led team won all eight of its games to win the gold medal.
UK leads the all-time series with Michigan 5-2. The most memorable matchup of the bunch – at least in the eyes of Big Blue Nation – was the most recent in March 2014 in Indianapolis. The Wildcats edged the Wolverines 75-72 in a classic in the Elite Eight. Aaron Harrison hit the second of three straight game-winning 3-pointers to advance UK to the Final Four. Howard's Wolverines knocked off Kentucky 81-78 in overtime in the 1993 Final Four to advance to the national championship game.
The on-campus visits in 2021 and 2022 will mark the first in the series since UK's 1970 trip to Ann Arbor and the 1968 UK Invitational Tournament in Memorial Coliseum. The series is tied 1-1 in Lexington, but the Wildcats lead Michigan 2-0 in Ann Arbor and 2-1 at neutral sites.