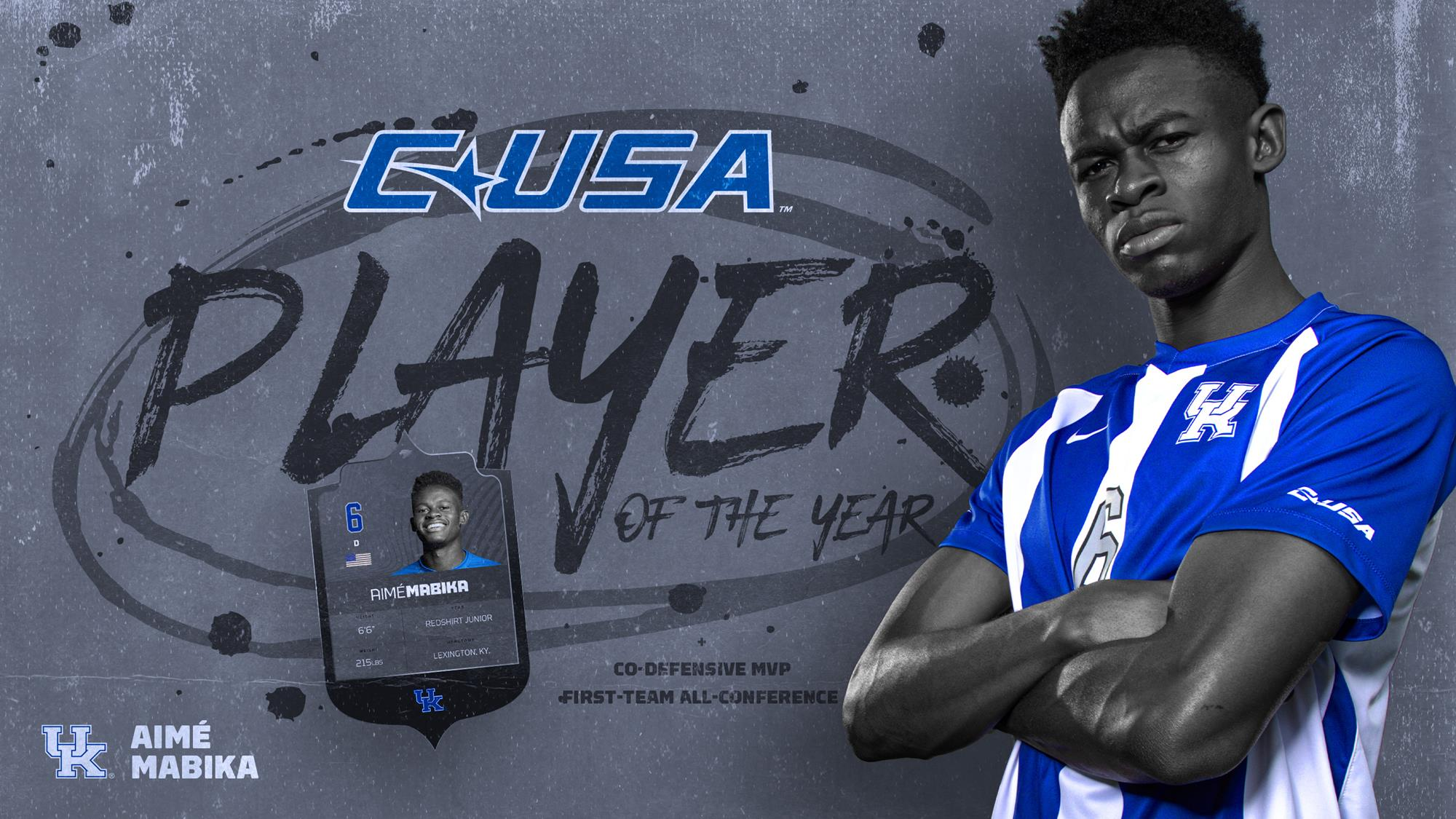 November 12, 2019 - 03:01 PM
Mabika Named Player of the Year, Seven Cats Earn C-USA Honors
DALLAS – After sweeping the Conference USA preseason awards last August, No. 15 Kentucky finished the 2019 regular season with seven players honored for their individual accomplishments on Tuesday.
 
Aimé Mabika was named C-USA Player of the Year, Co-Defensive MVP and first-team All-Conference. Kalil ElMedkhar joined Mabika on the All-C-USA first team, while Enrique Facusse, Marcel Meinzer and Daniel Evans were named All-Conference second team. Eythor Bjorgolfsson and John Michael Bandy were named to the C-USA All-Freshman Team.
 
Mabika becomes Kentucky's second consecutive C-USA Player of the Year recipient and third overall winner in program history, joining former UK forward JJ Williams (2018) and goalkeeper Callum Irving (2014, 2015). Since the award was founded in 2009, Kentucky has garnered the title more than any other program.
 
Mabika, a native of Lexington, also becomes the first player from the Commonwealth of Kentucky to receive the league's top individual honor. The 6-foot-6 former Henry Clay High School standout lived up the hype of his C-USA Preseason Defensive Player of the Year designation, sharing Co-Defensive Player of the Year honors with Nick O'Callaghan of FIU at season's end. At the time of voting among league coaches, Mabika led the Wildcats in minutes (1,393) among field players and tied for third on the team with three goals as one of three players on team to score two goals in a single match.
 
Like Mabika, ElMedkhar and Facusse faced lofty expectations before the season began as members of the C-USA Preseason Team and Missouri Athletic Club Hermann Trophy Watch List. ElMedkhar validated his C-USA Preseason Co-Offensive Player of the Year projection with six assists, five goals, 30 shots, 16 points and two game-winning goals at the time of voting for Tuesday's awards by league coaches. The midfielder from Middletown, Delaware, scored a goal in four straight matches and was one of 12 C-USA players to record two assists in a single match.
 
Facusse posted a .723 save percentage and recorded five straight shutouts from Sept. 21-Oct. 9. The 6-3 keeper and the UK defense were tied for first in the C-USA with seven shutouts and ranked second in the league in goals allowed (13) and goals against average (0.82).
 
Along with ElMedkhar, Meinzer and Evans charged a UK offense that ranked among the conference's top three in shots (195), goals (31), assists (29) and points (91). Like ElMedkhar, Meinzer also recorded two assists in a single match, while Evans led the team with seven goals and 18 points and was one of seven players from around the C-USA to attempt six shots in a single match and one of three players on team to record a brace along with Mabika.
 
Since Bandy made his starting debut at left back in the third match of the season, the redshirt freshman has started every match since. Bjorgolfsson began to shine during Kentucky's C-USA slate, leading the league with two game-winning goals in conference play and ranking fourth in total goals with three.
 
For the latest on the Kentucky men's soccer team, follow @UKMensSoccer on Twitter, Facebook and Instagram, as well as on the web at UKAthletics.com.