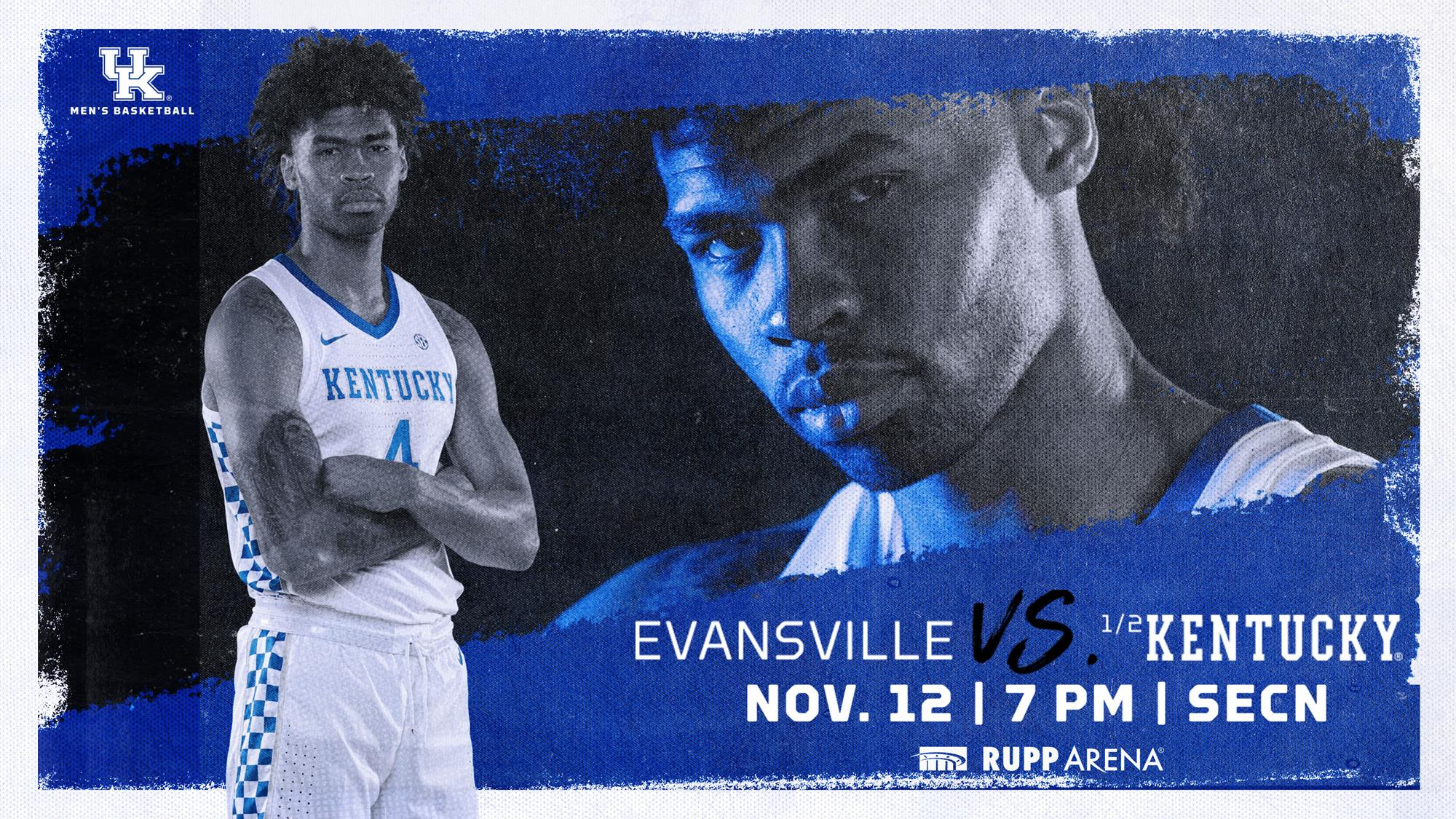 November 11, 2019 - 05:32 PM
No. 1 Kentucky Hosts Evansville, McCarty on Tuesday
Playing in their first game since becoming the top-ranked team in the country on Monday, Kentucky hosts Evansville on Tuesday night at Rupp Arena.
Kentucky (2-0), ranked first by the Associated Press, has opened the season with wins over then-No. 1 Michigan State, 69-62 at Madison Square Garden, and over intrastate rival Eastern Kentucky, 91-49 at Rupp Arena.
Freshman Tyrese Maxey leads the Cats in scoring through two games, averaging 17.5 points per game. Maxey had 26 points in the win over Michigan State, the most points ever scored by a UK freshman in his first college game.
 
Kentucky vs. Evansville

Tue., Nov. 8 – 7 p.m. ET
Rupp Arena
Lexington, Ky.
Game Notes: UK | UE
UK Athletics App

Coverage

TV: SEC Network
Radio: UK Sports Network
Watch
Listen
Live Stats

UK
Stats
UE
2-0
Record
1-0
0-0
Conference Record
0-0
80.0
PPG
79.0
55.5
Opp PPG
75.0
.473
FG%
.475
.317
Opp FG%
.462
42.0
RPG
28.0
.250
3PT FG%
.474
.220
Opp 3PT FG%
.391
.719
FT%
.857
13.0
APG
13.0
6.0
SPG
7.0
4.5
BPG
3.0

Junior forward Nick Richards averages 14 points and seven rebounds per contest. Richards had a team-high 21 points to go along with 10 rebounds in Friday's win over Eastern Kentucky. Sophomore guard Immanuel Quickley is posting 13.0 points per game, while fellow sophomore guard Ashton Hagans averages 11 points per outing.
Graduate transfer Nate Sestina has made his presence felt for the Cats through two games. The Bucknell transfer is averaging 9.5 points and a team-high 8.5 rebounds per game.
Kentucky has hit 47.3 percent of its shots (53 of 112) through two games, while holding opponents to 31.7 percent shooting (38-120). The Cats have taken advantage of their free throw opportunities, hitting 46 of 64 (71.9 percent) from the line, while opponents have made 22 of 29 (75.9) at the charity stripe.
Kentucky also holds a big rebounding edge through two games, grabbing 42.0 boards per games, compared to just 27.5 rebounds per contest by opponents. The Cats have 26 assists, compared to just 21 for its opponents, and UK has blocked nine shots, while opponents have blocked only two.
Evansville is coached by former Kentucky standout Walter McCarty, who played at UK from 1993-96. McCarty averaged 11.3 points for the 1995-96 national championship team, and is also famous for hitting a three-pointer from the corner to give Kentucky the lead in the "Mardi Gras Miracle" game, when the Cats rallied from a 31-point, second-half deficit to beat LSU in Baton Rouge.
The Aces, who are 1-0 this season after beating Ball State in their season opener, also have another familiar name on their roster. Thomasi Gilgeous-Alexander is the brother of former UK standout Shai Gilgeous-Alexander, who played for Kentucky during the 2017-18 season now plays for the Oklahoma City Thunder.
Tuesday's game will be the first ever meeting between Kentucky and Evansville on the hardwood. The game is set for a 7 p.m. ET tipoff and can be seen on the SEC Network.
Kentucky Ranked No. 1 in AP Top 25
For the seventh season in the 11-year John Calipari era, the Kentucky men's basketball team is ranked the top team in the land in the Associated Press Top 25.
After defeating Michigan State – the previous No. 1 team – in the State Farm Champions Classic last week, and then following it up Friday with a dominating 42-point victory vs. Eastern Kentucky, the Wildcats are atop the AP Top 25 for the first time since December 2016.
UK, which was named the NCAA March Madness Team of the Week on Monday, received 64 of the 65 first-place votes. Behind UK was Duke, Michigan State, Louisville and Kansas in the AP Top 25. Louisville picked up the remaining first-place vote in the AP Top. Four teams from the Southeastern Conference are ranked this week. The USA Today Coaches Poll won't be updated until next week.
No other school has reached No. 1 in seven of the last 11 seasons while Calipari has been at Kentucky. According to STATS, only three other programs (Duke, North Carolina and UCLA) have ever been ranked No. 1 in seven different seasons during an 11-year span.
The Wildcats own an all-time record of 220-30 (.880) at No. 1 in the AP Top 25, including victories in 69 of their last 76 contests as the AP's top team. UK has appeared at the top of the AP Top 25 24 different seasons in school history, and this will mark their the program's 125th week at No. 1, third most in college basketball (Duke has 142 after last season's run and UCLA, thanks in large part to its dynasty in the 1960s and 1970s, has 134).
Calipari, one of only two coaches (Frank McGuire) to lead three programs to a No. 1 ranking, is no stranger to the top spot. Dating back to his time at Memphis, Calipari-coached teams have reached No. 1 in eight of the last 13 seasons. Including his tenure at UMass, his teams have ranked No. 1 in 10 different seasons.
With Calipari's teams at the at the top of the AP Top 25 …
• He sports a 110-12 (.902) all-time record
• He's 69-7 (.908) at Kentucky
• He tallied a 32-4 mark at UMass at No. 1 and 9-1 at Memphis
• Only Mike Krzyzewski (216) owns more wins at No. 1 among all active coaches
• His 122 career games coaching a No. 1 team are the fourth most in NCAA history, trailing only Krzyzewski (250), John Wooden (228) and Adolph Rupp (127)
• Among coaches who have owned a No. 1 ranking in at least 119 games, his winning percentage of .902 trails only Wooden (.952) and is ahead of Krzyzewski (.864)
Wildcats Handle Colonels in Home Opener
Sore ankle notwithstanding, Kentucky forward Nick Richards established a strong presence against Eastern Kentucky.
Richards had 21 points and 10 rebounds, Immanuel Quickley added a career-high 16 points and No. 2/2 Kentucky scored the game's first 14 points to cruise past Eastern Kentucky 91-49 on Friday night in UK's home opener.
Seeking to follow up Tuesday's 69-62 victory over top-ranked Michigan State, the Wildcats (2-0) made six of their first 10 shots, including a couple of baskets by Richards. The Colonels, meanwhile, missed their first nine attempts before Darius Hicks' three-point play with 12:57 remaining in the first half gave EKU its first points.
Kentucky had some sloppy stretches that allowed EKU (1-1) to get within 37-23 before regrouping to lead 46-25 at the break. The Wildcats led by 44 in the second half and finished 34 of 62 from the field (55%) and dominated the boards 54-25.
Richards' point total was just four off his career high against Fort Wayne as a freshman. The junior forward also had four of Kentucky's six blocks, one shy of his best against Kansas last January.
His second career double-double was just what the Wildcats needed with concerns about its post depth, especially when it was announced before the game that sophomore forward EJ Montgomery was out with a right ankle injury.
Richards' effort was even more impressive considering he began the week questionable because of a left ankle sprain sustained in Kentucky's exhibition opener against Georgetown College. He returned to get seven points and four rebounds in 25 minutes against Michigan State, and Friday offered proof of his improved health and assertiveness on both ends.
Nate Sestina had 12 points and 11 rebounds for his first double-double in a Kentucky uniform. Ashton Hagans, Keion Brooks Jr. and Kahlil Whitney each added 11 points.
Michael Moreno had 14 points off the bench for EKU, which shot 25% and committed 21 turnovers.
Of note …
• UK increased its series lead over EKU to 13-0
• Kentucky is now 103-14 all-time in home openers and has won 11 straight home openers — all under head coach John Calipari
• UK is now 248-40 vs. AP unranked competition under Calipari and has won 52 in a row at home vs. unranked foes
• Kentucky improved to 18-2 vs. in-state opponents with Calipari at the helm
• UK's 25.0 field-goal percentage defense was its best mark since limiting Georgia to 22.0% on Feb. 22, 2016
• Under Calipari, Kentucky is 189-16 when limiting opponents to 40% or worse from the field, 75-0 when holding the opposition to 55 points or less and 175-7 when limiting the opponent to 63 points or less
• The Wildcats improved to 262-6 under Calipari when leading by at least 10 points
• UK's 91 points marked the highest output since scoring 92 vs. VMI on Nov. 18 of last season
• Kentucky's 54.6% shooting was the team's best since making 55.4% at Ole Miss on March 6
• The Wildcats dominated around the basket, winning the rebounding battle 54-25 and points in the paint 54-12. UK's 42 defensive rebounds are the most of the Calipari era
• Six Wildcats scored in double figures for the first time since Feb. 24, 2018, vs. Missouri
• The 30 fastbreak points are the most of the Calipari era
• Brennan Canada, Riley Welch and Ben Jordan all made their Kentucky debuts
Confident Richards Playing His Best Basketball
Nick Richards has helped calm early-season concerns about Kentucky's front-court depth with a fast start to the season.
The junior forward anchored Kentucky's front line in the first two games with 14.0 points, 7.0 rebounds and 2.0 blocks per game.
Just nine days after spraining his left ankle in the first exhibition game vs. Georgetown College, Richards returned to game action vs. then-No. 1/1 Michigan State and played 25 minutes. Richards posted seven points and four rebounds, but more importantly, he provided rim protection and valuable minutes on a bad ankle.
A few days later, feeling close to 100%, Richards was unstoppable against Eastern Kentucky. He recorded the second double-double of his career with 21 points and 10 rebounds, plus he blocked four shots, one shy of his career high. The 21 points were just four short of his career high of 25, set back on Nov. 22, 2017 vs. Fort Wayne (which also happened to be his previous double-double).
Richards appears more confident and assertive than at any other point in his UK career.
"So much better than a year ago," Kentucky coach John Calipari said after the EKU game. "Then you say, `You must really be pumping him up, saying great things.' No. He's in the greatest shape he's ever been, and he has built his own confidence. It doesn't matter what I say now."
EKU head coach A.W. Hamilton called Richards a "superstar."
"If he plays like that, Kentucky is probably going to win the national championship."