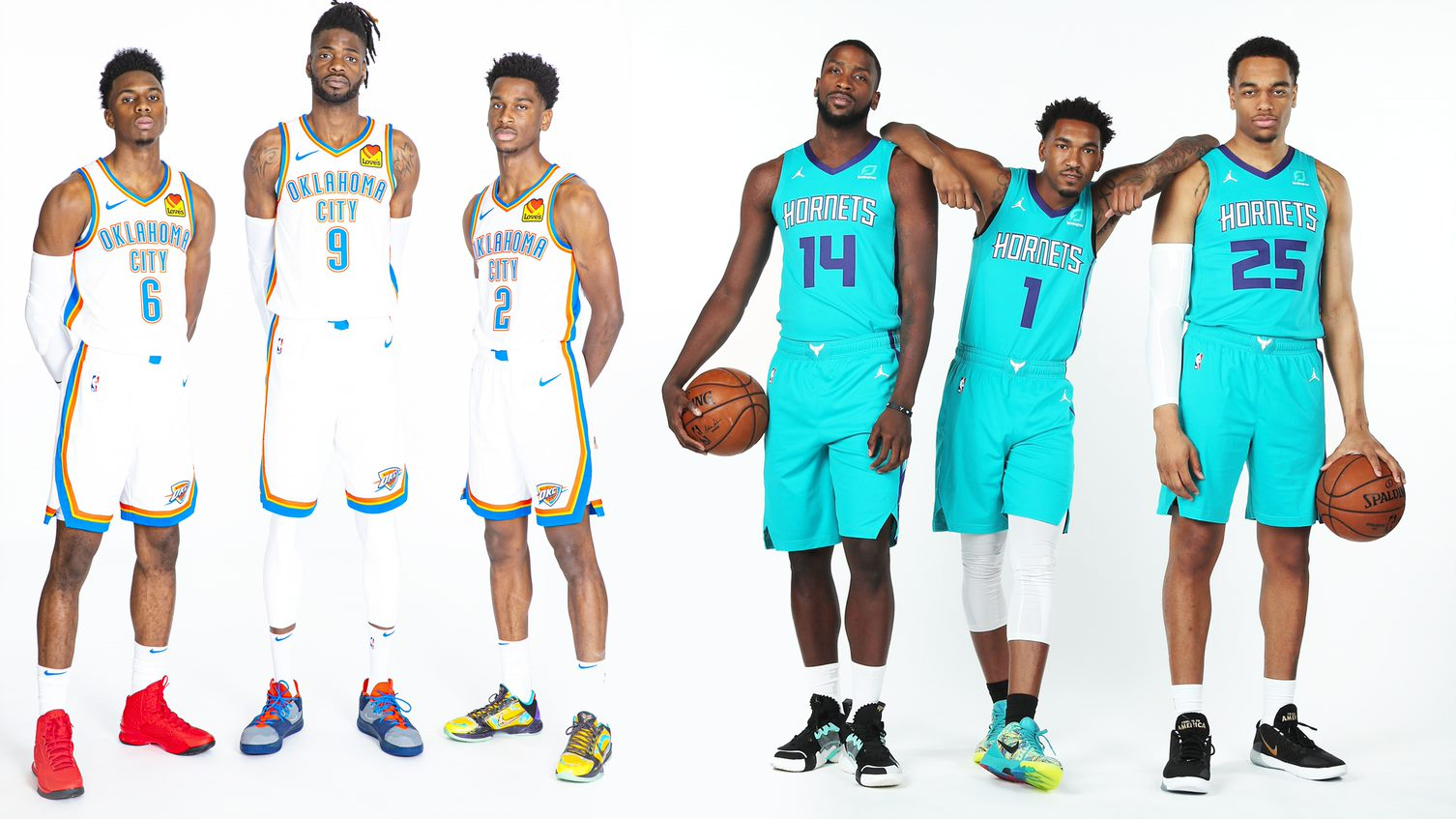 October 22, 2019 - 04:37 PM
UK Leads Nation with 29 Players on NBA Opening-Day Rosters
LEXINGTON, Ky. – Some were certainly projected as can't-miss NBA prospects. But others were supposed to take several years to get there. Some had NBA potential but developed and blossomed in college. And others learned how to grind before they left school and carved their own path.
 
No matter what road they took to get there, for a large chunk of players on 2019-20 NBA opening-day rosters, the journey began at Kentucky.
 
As the 2019-20 NBA season begins Tuesday, a staggering 29 players on NBA opening-day rosters (including two-way and inactive lists) played and finished their college basketball careers at the University of Kentucky. Underscoring the fact that no other school in the country can match UK's ability to develop players and put them in the NBA, UK's 29 players are once again the most of any college basketball program, beating the next-closest school (Duke with 24) by five players.
 
The list was compiled from the NBA's official opening-day roster list.
 
Of the 496 players in the NBA to start the 2019-20 season, 5.8 percent played and finished their college basketball careers at UK. There are actually fewer teams without a Wildcat (12) than there are NBA teams featuring Wildcats (18).
 
Kentucky's NBA dominance is best represented in Charlotte, Los Angeles (Lakers) and Oklahoma City, where a combined nine Wildcats now play at the highest level of the game. Former UK stars Michael Kidd Kidd-Gilchrist (2012), Malik Monk (2017) and PJ Washington (2018-19) call Charlotte their home; DeMarcus Cousins (2010), Anthony Davis (2012) and Rajon Rondo (2005-06) play for the Lakers; and Hamidou Diallo (2017-18), Shai Gilgeous-Alexander (2018) and Nerlens Noel (2013) will suit up for OKC.
 
Five other franchises – the Denver Nuggets (Jamal Murray [2016], Jarred Vanderbilt [2018]) the Miami Heat (Bam Adebayo [2017], Tyler Herro [2019]), the New York Knicks (Julius Randle [2014], Kevin Knox [2018]), the Sacramento Kings (De'Aaron Fox [2017], Wenyen Gabriel [2017-18]) and the San Antonio Spurs (Keldon Johnson [2019], Trey Lyles [2015]) – open the season with at least two Wildcats apiece.
 
Rondo, now entering his 14th season, is the most experienced Kentucky player in the league, while Herro, Johnson and Washington are all in their rookie seasons.
 
Of the 29 Wildcats on an opening-day NBA roster, head coach John Calipari has coached 28 of them. With Derrick Rose (Detroit Pistons), who played for Calipari during the 2006-07 season at Memphis, Calipari has coached 29 players on 2019-20 opening-day rosters.
 
Kentucky has enjoyed unprecedented success at putting players in the NBA under Calipari. In the 10 seasons of the Calipari era, 38 players have been selected in the NBA Draft, more than any other school. Included in the recent run are 29 first-round picks, three No. 1 overall selections (Davis, Karl-Anthony Towns and John Wall) and 21 lottery selections.
 
Calipari's players are not only reaching the next level, they are succeeding when they do. His players have garnered 20 All-Star selections, with Davis winning the game's MVP honor in 2017. Rose was named league MVP in 2011. Five of his players have been tabbed All-NBA (Rose, Wall, Davis, Cousins and Towns), three have been named NBA Rookie of the Year (Rose, Tyreke Evans and Towns), and 12 players from Calipari's first nine teams at Kentucky have made the NBA All-Rookie teams.
 
Using figures compiled by basketball-reference.com and spotrac.com, Calipari-coached players only (which includes Rose but not Rondo) have amassed more than $2.26 billion in career NBA contracts. In the 10 seasons Calipari has been the head coach at Kentucky, his players have totaled nearly $1.9 billion in NBA contracts.
 
In just the 2019-20 season alone, UK players are slated to make more than $255 million. Calipari-coached players only (which includes Rose but not Rondo) will make more than $260 million.
 
Of UK's 21 lottery picks in the Calipari era, 14 have earned second contracts in the NBA with seven of them cashing in on max contracts. Of the seven who haven't earned contracts, all have been drafted in the last three years and are still on their rookie deal. Over the last 10 years, there have been 22 lottery picks who earned max contracts in the NBA. Seven of them attended Kentucky.
 
Calipari has had at least one player selected in the top 10 of the draft in each of the last 12 seasons, dating back to his time at Memphis. No other school or coach in the country has had a first-round pick in each of the last 11 seasons. Calipari is the only coach in the history of the sport to have four players drafted No. 1 overall (Rose – 2008, Wall – 2010, Davis – 2012, Towns – 2015). 
 
The NBA season officially tips off Tuesday with two games. The defending champion Toronto Raptors host Darius Miller (2012) and the New Orleans Pelicans at 8 p.m. on TNT, followed by a UK-centric matchup at 10:30 p.m. for an intra-city matchup between the Lakers and the Clippers in Los Angeles. That matchup will feature Cousins (injured), Davis and Rondo vs. Patrick Patterson (2008-10), who is in his first season with the Clippers.
 
For the latest on the Kentucky men's basketball team, follow @KentuckyMBB on Twitter, Facebook and Instagram and Snapchat, on the web at UKathletics.com. 
 
Wildcats in the NBA
Bam Adebayo – Miami Heat
Eric Bledsoe – Milwaukee Bucks
Devin Booker – Phoenix Suns
Willie Cauley-Stein – Golden State Warriors
DeMarcus Cousins – Los Angeles Lakers
Anthony Davis – Los Angeles Lakers
Hamidou Diallo – Oklahoma City Thunder
De'Aaron Fox – Sacramento Kings
Wenyen Gabriel- Sacramento Kings
Shai Gilgeous-Alexander – Oklahoma City Thunder
Tyler Herro – Miami Heat
Keldon Johnson – San Antonio Spurs
Enes Kanter – Boston Celtics
Michael Kidd-Gilchrist – Charlotte Hornets
Brandon Knight – Cleveland Cavaliers
Kevin Knox – New York Knicks
Skal Labissière – Portland Trail Blazers
Trey Lyles – San Antonio Spurs
Darius Miller – New Orleans Pelicans
Malik Monk – Charlotte Hornets
Jamal Murray – Denver Nuggets
Nerlens Noel – Oklahoma City Thunder
Patrick Patterson – Los Angeles Clippers
Julius Randle – New York Knicks
Rajon Rondo – Los Angeles Lakers
Karl-Anthony Towns – Minnesota Timberwolves
Jarred Vanderbilt – Denver Nuggets
John Wall – Washington Wizards
PJ Washington – Charlotte Hornets
Proud of all these guys!!! I hope each has a career year this year. And @drose is still going strong too!!!#LaFamilia pic.twitter.com/P608tOwzwi

— John Calipari (@UKCoachCalipari) October 22, 2019