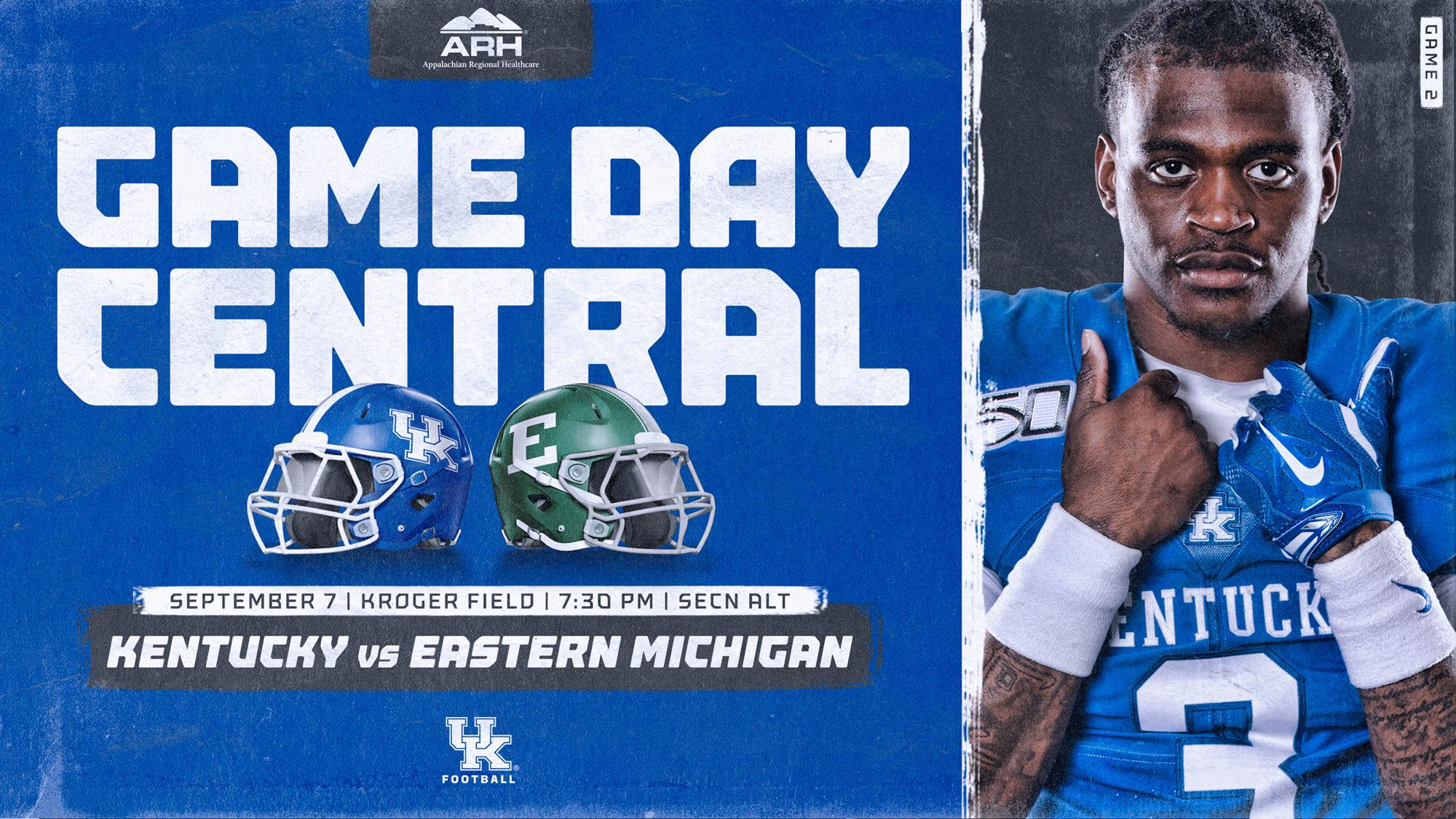 Kentucky will look to continue its winning ways this Saturday when Eastern Michigan arrives at Kroger Field, with the Wildcats seeking a 12th win in the last 15 games. The game is set for a 7:30 p.m. ET kickoff and will air on the SEC Network Alternate.
Having dispatched of Mid-American Conference preseason favorite Toledo in the opener, the Cats enter week two with only Alabama having a better record over the past 14 games amongst Southeastern Conference teams. Last Saturday, UK erased an early 14-7 deficit and powered past a feisty Rockets squad 38-24 to get the 2019 season off to a strong start.
The Cats displayed a balanced offensive attack in the opener, unleashing a triple threat look in the running game to go along with an improved Terry Wilson in his second year as the starting quarterback and a deeper well of talent in the receiving corps.
Despite having to replace all-everything star Josh Allen and the entire secondary, the UK defense rebounded from an uneven first few possessions in the opener to impose its will on a quality Toledo offensive attack and deliver yet another strong effort. 
Cat Scratches: Cats Looking to Learn from Good, Bad in Week 2
Though the NFL preseason has been the subject of much debate this last month, Mark Stoops finds himself jealous of professional coaches this time each year.
 
"I mean, we just practice against ourselves," Stoops said. "And so early on it's very difficult because if you have some inexperienced players, they're just so used to playing your team and then you go play somebody else, they dress things up differently, maybe same plays, things just look different and it's just different."
 
Because of that, by the time fall camp wrapped up, Kentucky's offense and defense knew each other well. What neither side, as currently constituted, did not understand is what it would be like to face an opponent.
 
"Players need to understand that early in the season, because as they go through the year you have circumstances where you see that things change," Stoops said. "And early in the season it's important to talk about those things and you have a game plan and you work on that game plan for a couple weeks heading into that first game and then sometimes things change."
 
That's exactly the situation in which the Wildcats found themselves on Saturday. Toledo had UK on its heels on both sides of the ball, scoring on the game's first drive and later leading 14-7 with the ball early in the second quarter…Read More
 
Kentucky vs. Eastern Michigan
Sat., Sept. 7 – 7:30 p.m. ET
Kroger Field
Lexington, Ky.
Game Notes: UK | EMU
Digital Gameday Program
Gameday App
Coverage

TV: SEC Alternate Network
Radio: UK Sports Network
Watch
Listen
Live Stats

UK
Team Stats
EMU
1-0
Record
1-0
0-0
Conference Record
0-0
38.0
Scoring/game
30.0
422.0
Total offense/game
315.0
176.0
Rushing yards/game
127.0
246.0
Passing yards/game
188.0
20.7
Kickoff returns (avg)
2.0
2.5
Punt returns (avg)
0.0
54.0
Punting (avg)
48.3
30:45
Time of possession/game
27:04
27.3%
Third down conversion
45.5%
100.0%
Fourth down conversion
100.0%
24.0
Points allowed/game
23.0
347.0
Total yards allowed/game
378.0
181.0
Rush yards allowed/game
74.0
166.0
Pass yards allowed/game
304.0

Scouting Eastern Michigan
• EMU coach Chris Creighton is in his sixth season at the school and faced UK in 2017, a 24-20 loss in Lexington.
• The Eagles scored a 30-23 road victory over Coastal Carolina to open the season, rallying from a 13-7 halftime deficit with a 16-point third quarter to turn the tide.
• EMU quarterback Mike Glass was nearly perfect, completing 20-of-22 passes for 188 yards and three touchdowns. He also rushed for a score.
• Running back Shaq Vann was effective on the ground, churning out 108 yards rushing on 22 carries while adding two catches for 13 yards.
• Wide receiver Dylan Drummond hauled in a pair of touchdown catches as part of an afternoon where he caught five passes for 52 yards.
• The Eagles were excellent in pass defense, picking off four passes on the afternoon
• In 2018, EMU finished 7-6 overall and 5-3 in MAC play.
• The Eagles earned a berth in the Raycom Media Camellia Bowl against Georgia Southern, dropping a 23-21 decision on a field goal as time expired.
• Despite that defeat, the season was a success as EMU posted its first winning conference record since 1995 and first US bowl appearance in 31 years.
Series vs. Eastern Michigan
• This is the second meeting between the two programs.
• The teams met on Sept. 30, 2017 with UK winning 24-20 in Lexington.
• Benny Snell Jr. rushed for 75 yards and a game-sealing touchdown in that game while the Cats' defense registered six sacks and three turnovers.
• UK is 21-3 all-time vs. teams from the current alignment of the Mid-American Conference.
• The Cats have won 11 straight games vs. schools from the MAC.
Kentucky-EMU Connections
• Kentucky has three players from the state of Michigan: DT Marquan McCall and LB DeAndre Square both hail from Detroit and RB Tyler Markray is from West Bloomfield.
• Eastern Michigan has one player from the Commonwealth on its roster: DB Russell Vaden IV (Louisville)
• UK defensive backs coach Steve Clinkscale spent three seasons in the MAC at Toledo, helping lead the Rockets to bowl games in 2010 and 2011.
• UK special teams coordinator and safeties coach Dean Hood coached in the MAC at Ohio in 1999 and 2000.
A UK Win Would…
• Give UK its 12th consecutive win over a MAC team, dating back to 2006.
• Improve UK's record to 22-3 vs. teams from the MAC.
• Give Kentucky its seventh straight non-conference win.
• Push the Cats' record over the last 15 games to 12-3, second-best in the SEC.
• Improve UK's overall record at Kroger Field to 164-133-4 (.552).
• Improve coach Mark Stoops' record at home to 28-17 overall and 17-4 vs. non-SEC foes.
Don Franklin Auto Countdown to Kickoff Show
All-Southeastern Conference defensive end Jeremy Jarmon and former quarterback Dusty Bonner will be alongside host Christi Thomas for the Don Franklin Auto Countdown To Kickoff, the two-hour pregame show that airs prior to each UK football game in 2019.
A live video broadcast of Countdown to Kickoff will air on UKAthletics.com, the UK Athletics mobile app and the Kentucky Football Facebook page.
 
For home games, Countdown to Kickoff will broadcast live in front of Nutter Field House outside Gate 1 of Kroger Field with special guests and giveaways. The set of the show is conveniently located near the Coke Fan Zone in Nutter Field House and the Cat Walk presented by Chevy.