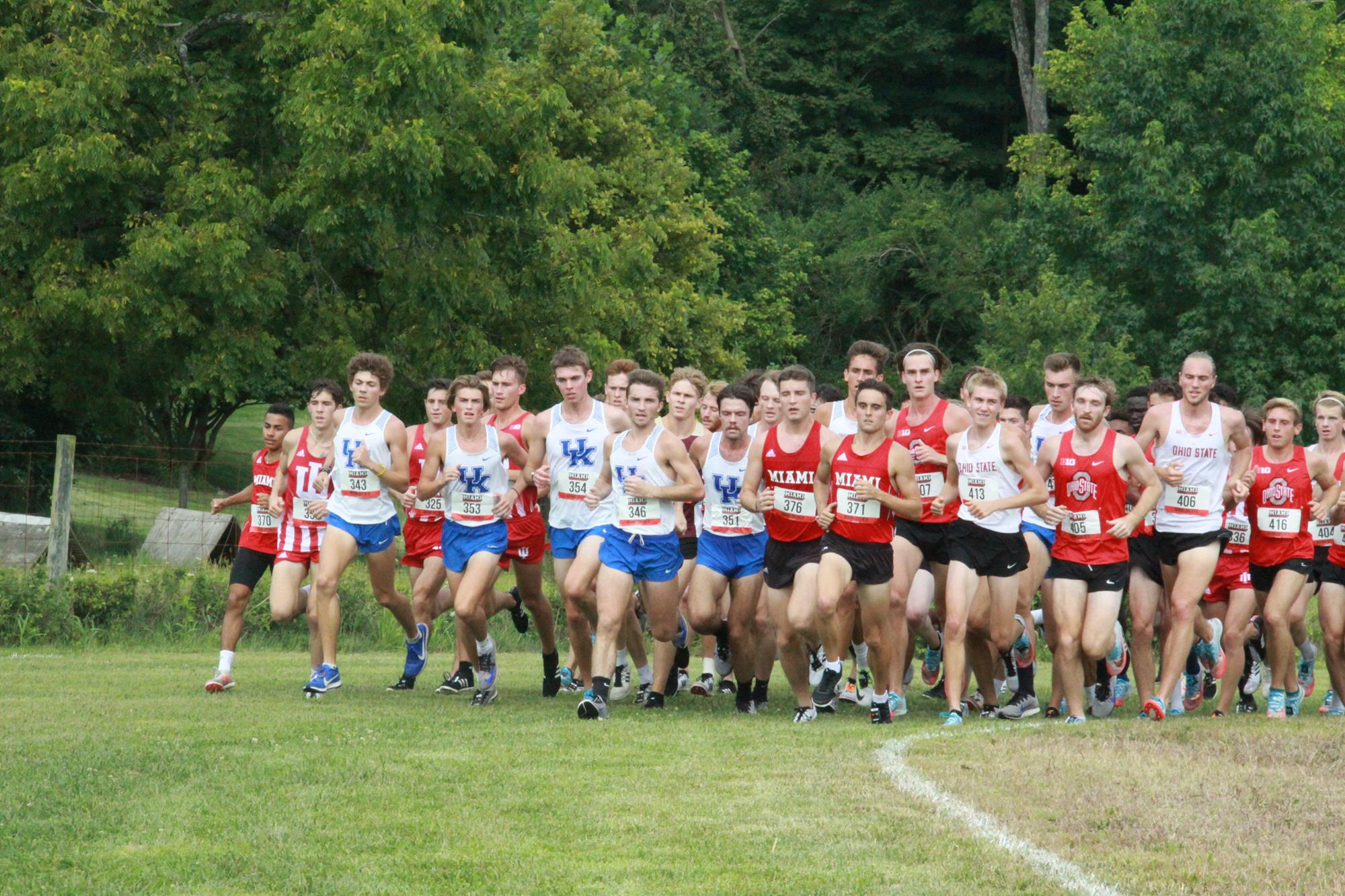 August 30, 2019 - 08:48 PM
Kentucky Cross Country Finishes Third and Fourth at Miami Opener
OXFORD, Ohio– The Kentucky cross country program opened up its 2019 season at the Miami Opener against Indiana, Ohio State, Miami (OH) and UNA-Indiana on Friday.
 
The men's team finished in third overall on 83 points in a 8,000-meter competition while the women's team finished in fourth on 89 points over a 6k course.
 
On the men's side, Indiana took home the victory with 21 points and Ohio State won the women's race with 19 points.
 
The Wildcats will be back in action on Sept. 27 at 9:30 a.m. in Charlottesville, Virginia at the Panorama Farms Invitational. 
 
Men's Team Report
Freshman Aaron Withrow, who finished 11th in 26:13.5, led Kentucky to a third-place finish at the Miami Opener to kick off the 2019 season.
 
Dylan Allen finished 15th in 26:23.2 to be the Wildcats' No. 2 finisher, while Brennan Fields (22nd, 26:31.4) and Trevor Warren (23rd, 26:35.4) were UK's No. 3 and No. 4 finishers respectively.
 
Finally, Tanner Dowdy placed 27th in 26:48.4 to round out Kentucky's top-5 finishers on the men's side.
 
Women's Team Report
Sophomore Kelli Walsh was UK's top finisher with a 12th-place finish in 22:17.8.
 
After Walsh, a trio of Wildcats in Sophie Carrier (22:26.5), Kaylie Kenne (22:27.4) and Madisyn Peeples (22:30.2) finished 17th, 18th and 19th.
 
Caitlin Shepard rounded out Kentucky's top-5 finishers on the men's side with a 23rd-place finish in 22:41.2.
 
Cross Country Refresher
Points are scored in cross country corresponding to finishing place. The place of each of the top five finishers on each team are added up and the team with the lowest total wins. Placers outside a team's top five cannot score so finishers on other teams that might finish behind a team's No. 6 or No. 7 finisher can get a point total fewer than their overall place in the race.
 
Men's Team Results 
1. Indiana: 21
2. Ohio State: 56
3. Kentucky: 83
4. Miami (OH): 108
5. UNA-Indiana: 122
 
UK Men's Individual Results
11. Aaron Withrow: 26:13.5 (9 points)
15. Dylan Allen: 26:23.2 (13 points)
22. Brennan Fields: 26:31.4 (19 points)
23. Trevor Warren: 26:35.4 (20 points)
27. Tanner Dowdy: 26:48.4 (22 points)
41. Shane Williams: 27:16.1
50. Matthew Thomas: 27:34.2
53. McLean Griffin: 27:51.6
58. Jacob Brizendine: 28:28.4
59. Stephen Larson: 28:39.5
 
Women's Team Results
1. Ohio State: 19
2. Miami (OH): 48
3. Indiana: 70
4. Kentucky: 89
5. UNA-Indiana: 124
 
UK Women's Individual Results
12. Kelli Walsh: 22:17.8 (12 points)
17. Sophie Carrier: 22:26.5 (17 points)
18. Kaylie Kenne: 22:27.4 (18 points)
19. Madisyn Peeples: 22:30.2 (19 points)
23. Caitlin Shepard: 22:41.2 (23 points)
26. Perri Bockrath: 22:57.6
30. Rachel Boice: 23:08.0
39. Lainey McKinley: 24:21.8
42. Sydney Burke: 24:30.3
 
 
Follow along with the Cats on Facebook, Instagram, Twitter and on the web at UKathletics.com.