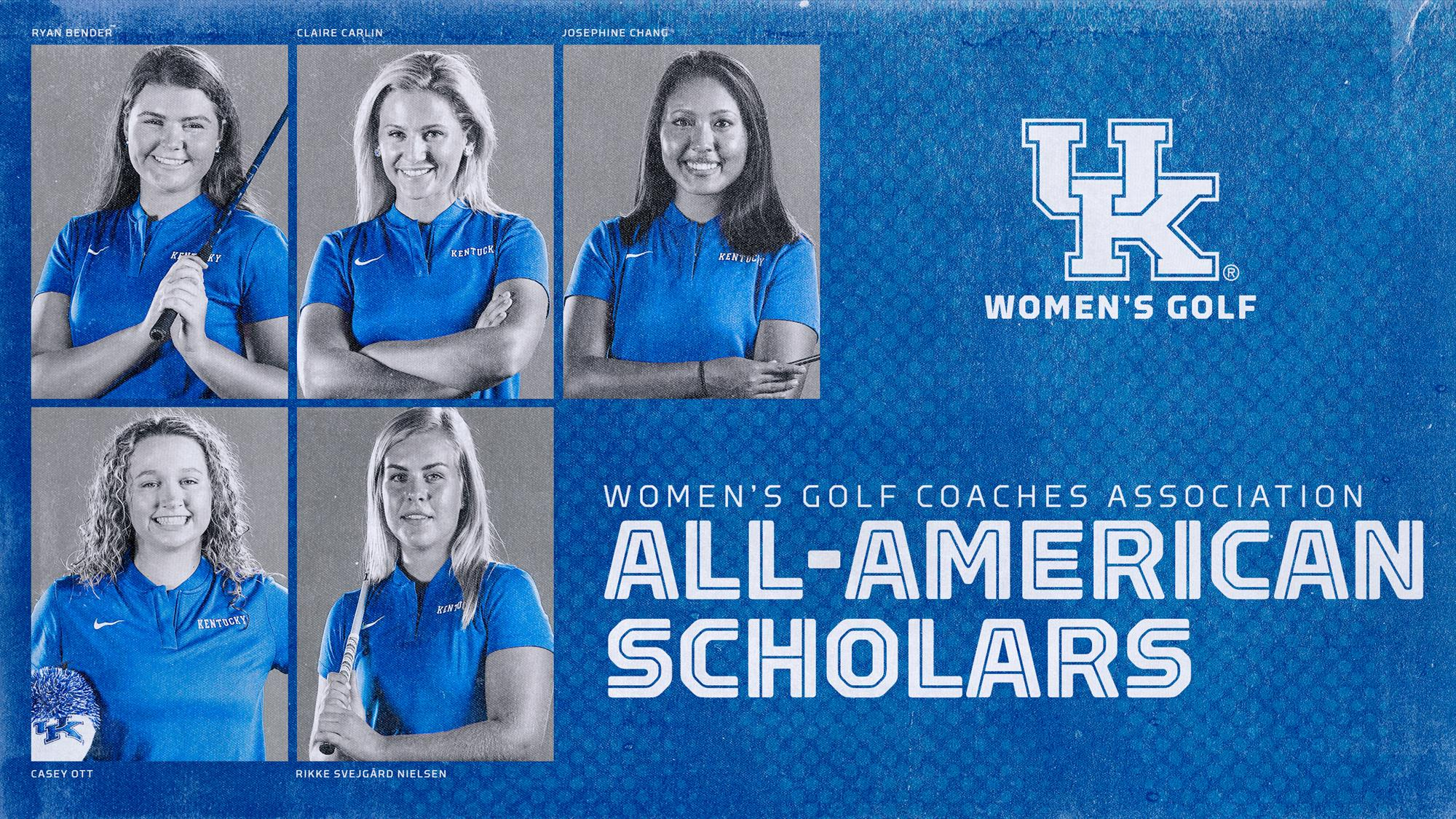 School Record Five UK Women's Golfers Named WGCA All-American Scholars
CORAL SPRINGS, Fla. – Before Monday, the Kentucky women's golf team had never had more than three Women's Golf Coaches Association All-American Scholars in a season. This year, the Wildcats landed a school record five of them.
 
Senior Claire Carlin, junior Josephine Chang, sophomore Rikke Svejgård Nielsen, and freshmen Ryan Bender and Casey Ott were named to the 2018-19 WGCA All-American Scholar Team this week.
 
A total of 1,097 women's collegiate golfers from Divisions I, II and II were recognized with the prestigious honor. Among the requirements to be nominated a WGCA All-American Scholars, a student-athlete must have a minimum cumulative grade-point average of 3.50 for the entirety of her college career, be of high moral character, and played in 50 percent of the college's regularly scheduled competitive rounds or a minimum of 10 rounds during the year nominated.
 
All five Wildcats made either the Southeastern Conference Spring Academic Honor Roll or the SEC First-Year Academic Honor Roll this past season.
 
With those five players leading the way, the UK women's golf team posted a 3.598 GPA in the spring, the second-highest average among the 22 teams at Kentucky.
 
Carlin just completed her four-year career at Kentucky and graduated this spring with a degree in hospitality management and tourism. She competed in 23 rounds in her career with two top-20 showings.
 
Chang appeared in nine events in 2018-19 with a second-place finish at the Colonel Classic. She's pursuing degrees in kinesiology and biology and is expected to be one of the leaders this upcoming season.
 
Svejgård Nielsen made an immediate impression this past season, her first at Kentucky, by winning the MSU Greenbrier Invitational. She finished with four top-20 showings, second most on the team, and is majoring in agricultural and medial biotechnology.
 
Bender is currently in exploratory studies in business after her first year at UK. She played in six events in her first season with a low round of 70.
 
Ott showed tremendous promise with 10 rounds and two top-10 finishes. She was one of UK's best golfers in the spring and is currently majoring in psychology.
 
Last week, the team unveiled its schedule for the 2019-20 season, which features nine regular-season stroke-play tournaments before the postseason. UK begins play Sept. 9-10 at the Minnesota Invitational.
 
For the latest on the Kentucky women's golf team, follow the team on Twitter, Facebook, and Instagram, as well as on the web at UKathletics.com.