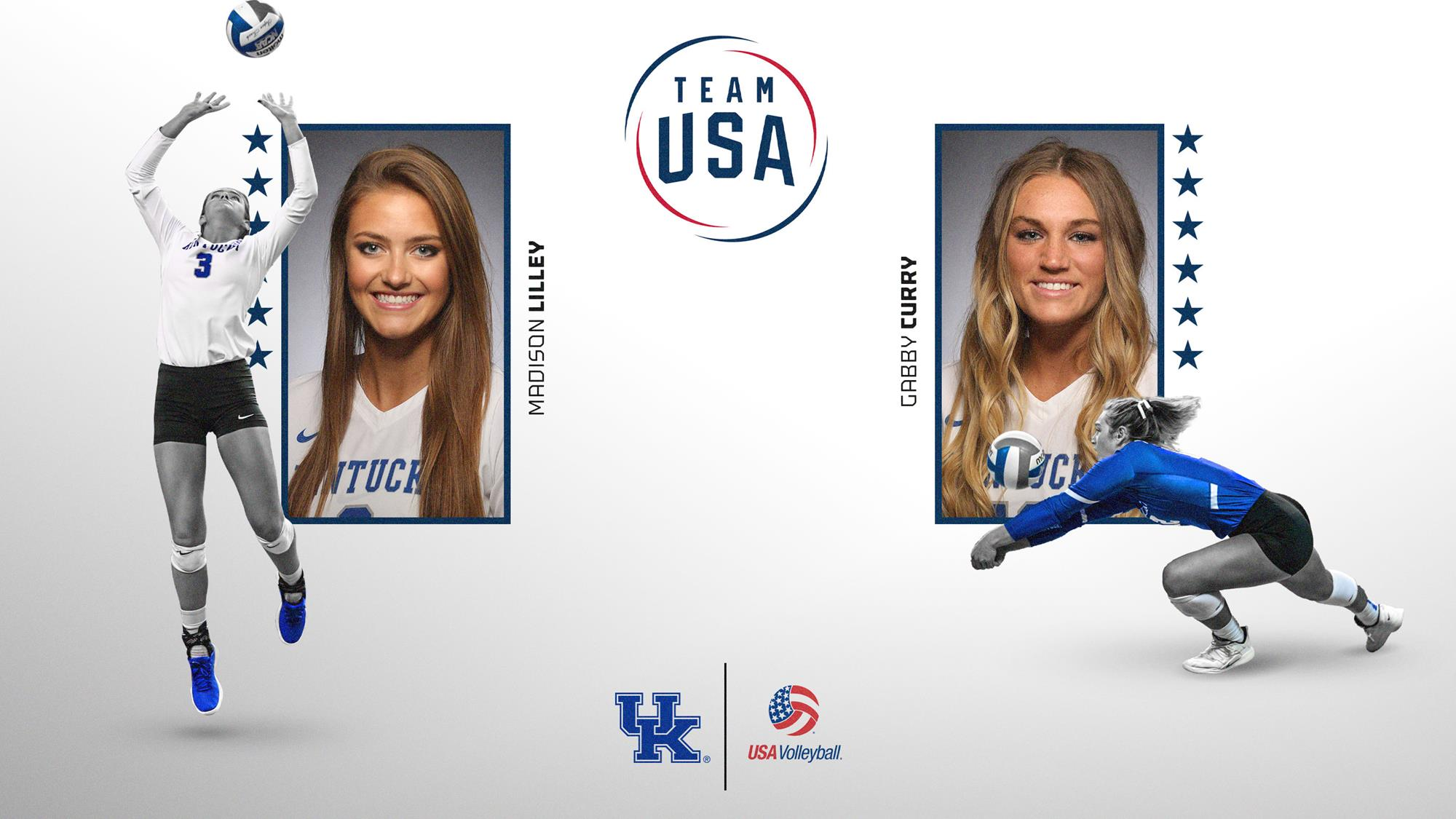 Curry, Lilley Selected to Train with United States National Team
LEXINGTON, Ky. – Two of the Kentucky volleyball program's most decorated players are embarking on perhaps the greatest honor of all – the opportunity to represent their country. Junior setter Madison Lilley and junior libero Gabby Curry were invited for an extended tryout with the United States Volleyball Women's National Team this summer.
 
Curry and Lilley will train with the US National Team in Anaheim, California, which opened training June 3.
 
The summer season and training camp will serve as a tryout for competition rosters for several international events. The team will participate in exhibition matches vs. the Canadian Women's National Team June 14-15. The NORCECA Pan American Cup is competing in Peru July 4-15, and also in Peru for the NORCECA Pan American Games Aug. 2-11 which concludes the summer.
 
Kentucky's dynamic juniors aren't the only Wildcats with an opportunity to put on the red, white and blue this summer. Freshman Azhani Tealer was selected as one of 20 players to train for a roster spot on the U.S. Women's Junior National Team competing in the 2019 FIVB Women's U20 World Championship July 12-21 in Mexico. The WJNTT will hold a training camp July 6-12 and the final selections will be made immediately following the training session to comprise a 12-player roster.
 
"This is a big deal for Madison and Gabby," UK head coach Craig Skinner said. "Not many athletes in college get to spend the summer training with our national team. They are going to be training with the best players in our country on a daily basis and have a chance to represent the United States in a couple of big international events this summer. We are all very happy for them and this opportunity."
 
Lilley has twice been named an American Volleyball Coaches Association Second-Team All-American. She was named the AVCA All-Southeast District Player of the Year as a sophomore after earning Freshman of the Year honors by both the AVCA and the Southeastern Conference following her freshman season. She averaged 11.30 assists per set which topped the SEC and ranked 15th nationally a season ago, while also helping the Wildcats average a league-leading 14.44 kills per frame. That mark also rated ninth in the nation. She already ranks among the top 10 in program history for career assists and has produced 22 career double-doubles.
 
"It's always an honor to train in the USA gym and being able to do that for an extended period of time this summer is going to be a great opportunity to grow, learn and develop as a player," Lilley said. "I'm going to miss being in Lexington with the whole Kentucky volleyball family, but I'm looking forward to coming back with a different outlook and more knowledge on the game that will benefit our team this fall."
 
Curry was an AVCA All-America honorable mention selection following her sophomore season after starting all 31 matches for the Wildcats at libero. The 2018 SEC Libero of the Year registered a team-high 4.36 digs per set which ranked fourth in the league a season ago en route to also earning All-SEC accolades. She produced 26 double-figure matches in digs and had eight with 20 or more digs. She also logged 26 aces, which was the fourth most on the team. She's appeared in every match during her two-year career as the Wildcats have won back-to-back league titles and advanced to the NCAA Regional Semifinals each season as well.
 
"What a great opportunity to train with the best in the country, represent Kentucky while doing it and being able to share these experiences with Madison on top of that is such a blessing," Curry said. "I'm super excited to play next to and learn from the other players, but I'm stoked to see the personal growth that is going to come from this amazing opportunity.
 
"Even though we won't physically be in Lexington to grow with the team – the team and the coaching staff have been extremely supportive. I can't wait to get into the gym and represent Kentucky and our coaching staff in the best way that I'm able to. Go Cats!"
 
Tealer is a 5-foot-10 outside hitter from Grand Prairie, Texas. She is the nation's No. 21 overall recruit and the two-time most valuable player in her district. She was also named the 2018 Offensive Player of the Year after leading her high school to a third district championship during her career. She was a bronze medalist at the USAV 17 Open. A dynamic track athlete as well, Tealer won a national championship and was an All-American as a sprinter.
 
Follow along with the Cats on Twitter, Facebook and Instagram, and on the web at UKathletics.com.