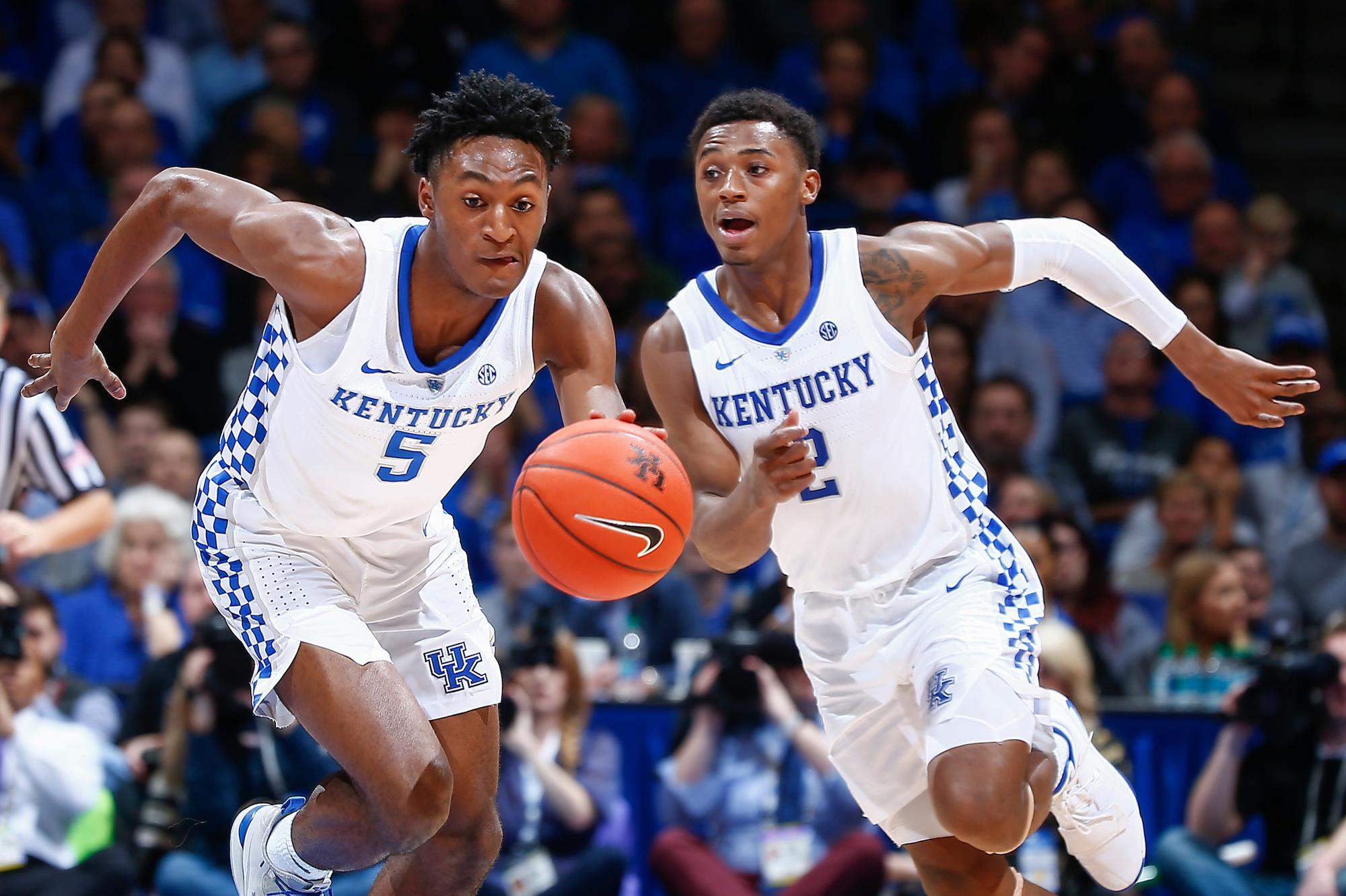 Kentucky Men's Basketball Sets Exhibition Slate
LEXINGTON, Ky. – The Kentucky men's basketball team has finalized its exhibition slate for the 2019-20 season with the additions of Georgetown College and Kentucky State to the schedule.
 
UK will play Georgetown College on Oct. 27 at 5 p.m. and Kentucky State on Nov. 1 at 7 p.m. Both games will be televised by the SEC Network and both will take place inside Rupp Arena, which is currently undergoing renovations and will have chair-back seating in the sideline areas of the upper arena for the 2019-20 season.
 
In addition, Big Blue Madness, long considered the official start of the season, will take place Oct. 11 at 7 p.m. on the SEC Network with the Blue-White Game slated for Oct. 18 at 7 p.m. on the SEC Network.
 
The regular season will officially tip off Nov. 5 in Madison Square Garden in New York vs. Michigan State in the annual State Farm Champions Classic. The Champions Classic is one of five regular-season games UK has on the books. Matchups in Rupp Arena vs. Eastern Kentucky (Nov. 8) and Evansville (Nov. 12) and neutral-site games in T-Mobile Arena in Las Vegas against Utah (Dec. 18) and Ohio State (Dec. 21 in the CBS Sports Classic) have also been announced.
 
UK's SEC opponents for the 2019-20 season were announced last week but dates, times and TV designations for the Wildcats' regular-season games will be unveiled at a later date.
 
The completed dates and opponents of Kentucky's schedule to this point can be found under the schedule tab on UKathletics.com.
 
The Wildcats have faced both Georgetown College and Kentucky State in exhibition play before.
 
UK is 2-0 in exhibition games vs. Georgetown College with the most recent meeting taking place Nov. 9, 2014. The Wildcats won that game 121-52.
 
Kentucky played Kentucky State in their lone exhibition meeting Nov. 6, 2015, a 111-58 rout by the Wildcats.
 
UK has played Kentucky State just once in regular-season play and won that matchup 118-63 on Dec. 15, 2001. Georgetown College was a frequent opponent of the Wildcats in the early parts of both programs' history with all prior 50 regular-season meetings taking place between 1903 and 1939. UK owns a 35-15 mark in those games.
 
Georgetown College is coming off its third NAIA Division I national championship last season. The Tigers have appeared in three NAIA national championship games under current head coach and two-time NAIA Coach of the Year Chris Briggs, who is a former student manager of the Wildcat program from 2001-04 and a graduate assistant from 2004-06.
 
Kentucky State finished the 2018-19 season with a 13-14 record.
 
The Wildcats have an all-time exhibition record of 136-12, have won 15 straight and won 61 of their last 63 tune-ups.
 
Ticket information for the two exhibition games, the Blue-White Game and Big Blue Madness, including campout information for Madness, will be announced at a later time.
 
For the latest on the Kentucky men's basketball team, follow @KentuckyMBB on Twitter, Facebook, and Instagram and on the web at UKathletics.com.