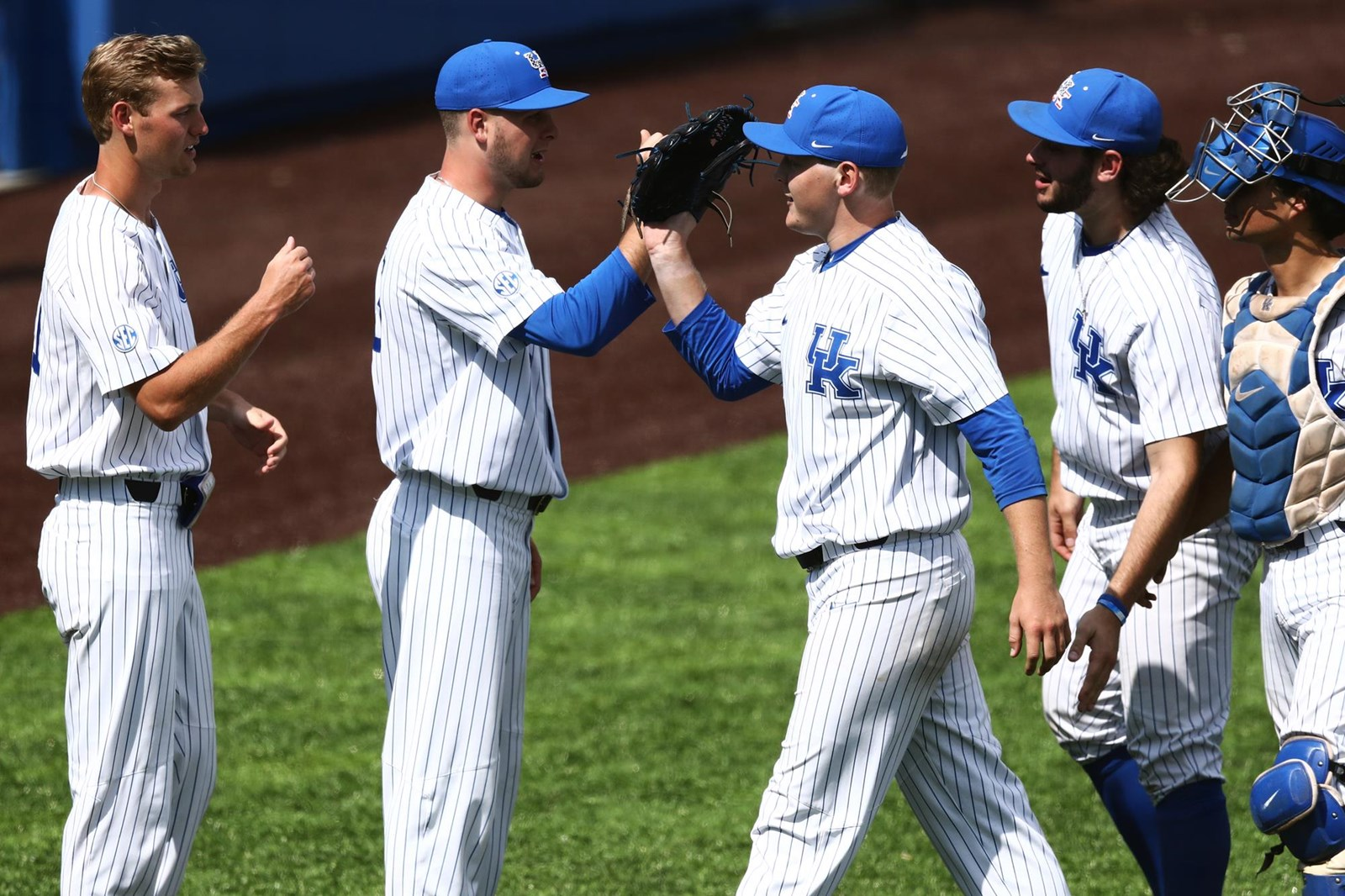 LEXINGTON, Ky. – Zack Thompson received a curtain call and Kentucky's four seniors were celebrated in a pregame ceremony as they all played their final game in blue on Saturday. The Wildcats' 2019 season came to an end with a 7-4 loss to No. 2 Vanderbilt at Kentucky Proud Park, as South Carolina claimed the final berth in the Southeastern Conference Tournament.
 
Thompson struck out the final two batters he faced then walked off the field to a standing ovation from the crowd of 4,249 on a glorious afternoon in Lexington. The junior left-hander exchanged a long hug with senior catcher and battery-mate Marshall Gei and high-fives with teammates before bounding out of the dugout to tip his cap to the crowd in a curtain call befitting of one of the best pitchers to come through the program.
 
Thompson is expected to be a top 20 selection in next month's Major League Baseball Draft. He will leave UK with the second-most strikeouts in a season (130), third-most career strikeouts (268), second-best career hits allowed per nine innings, third-best career winning percentage and have his name all over the record books.
 
In the end, a team with 19 of its 35 players being in their first year could not overcome a lack of experience in the unforgiving SEC. The Cats (26-29, 7-23) were 19-6 against non-SEC competition and faced the nation's No. 6-ranked schedule, with a nation-leading 29 games against the RPI Top 30.
 
The Cats also said goodbye to Gei, Ryan Johnson, Alex Rodriguez and Ryan Shinn on a day where each had moments trying to will the club to a win. The Cats erased a 4-1 deficit to tie the game before Vanderbilt took the lead in the ninth inning, with Johnson and Gei combining for five hits in the rally.
 
 
SCORING
Top 1st – Austin Martin homered to LCF on the opening pitch of the game. Vandy 1, UK 0.
 
Top 2nd – Harrison Ray homered to LF. Vandy 2, UK 0.
 
Bottom 3rd – Marshall Gei, Ryan Johnson and Cam Hill all singled to load the bases. Gei scored on a fielder's choice by Elliott Curtis. Vandy 2, UK 1.
 
Top 4th – Philip Clarke and Stephen Scott singled. Ray doubled inside the 3B bag, scoring Clarke. Scott scored on a fielder's choice by Julian Infante. Vandy 4, UK 1.
 
Bottom 4th – Dalton Reed homered to RCF. Alex Rodriguez and Gei singled with two outs. Johnson singled to LF, scoring Rodriguez. Vandy 4, UK 3.
 
Bottom 7th – Hill was hit by a pitch, Curtis walked and Ryan Shinn walked to load the bases. Hill scored on a fielder's choice RBI by Jaren Shelby. UK 4, Vandy 4.
 
Top 9th – Bleday homered to RF. Ethan Paul homered to RF. DeMarco walked, advanced to third on a throwing error by the pitcher on pickoff and scored on Scott's bloop single. Vandy 7, UK 4.
 
 
NOTES
The attendance was 4,249.
Kentucky has scored in 119 consecutive games and 195 of the past 196 dating to the 2016 season. The lone shutout came in a seven-inning game. The current streak is the second-longest in school history.
Junior LHP Zack Thompson pitched 6.0 innings, allowing four runs on six hits. He walked three, hit a batter and struck out nine.

The nine strikeouts give him 268 for his career, moving him into third on UK's career list.
He now has 130 strikeouts on the season, the second-most in a season in UK history, just three behind Joe Blanton's record 133 in 2002.
Junior INF Elliott Curtis walked and has reached base safely in nine straight games.
 
ON DECK
The 2019 season has concluded.