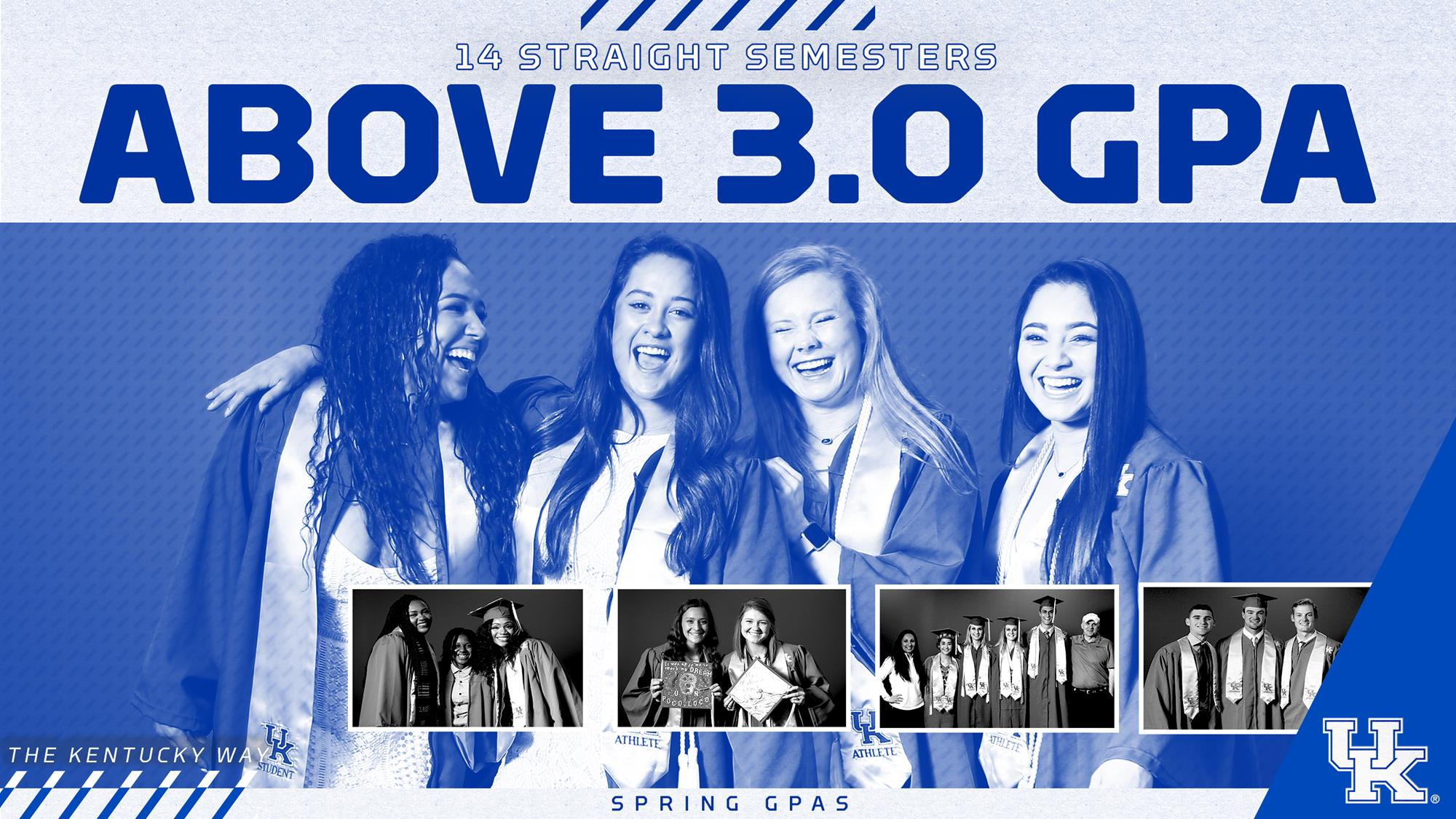 LEXINGTON, Ky. – For the 14th consecutive semester, UK Athletics has surpassed its goal of a department-wide grade-point average of 3.0. UK's scholarship student-athletes combined for a 3.201 cumulative GPA during the spring semester.
 
"We commend our student-athletes for their hard work in the classroom and the academic achievement that results from it," Athletics Director Mitch Barnhart said. "They face great challenges in pursuing a world-class education while competing at the highest level of college athletics, but these challenges help them prepare for a lifetime of success. We are proud of them and committed to supporting them as they pursue their dreams."
 
The 3.201 GPA is the second-highest semester GPA in the athletics department's history. UK previously posted a 3.210 GPA in the spring semester of 2014.
 
Seventeen of UK's 20 teams earned GPAs above 3.0, with the men's golf team setting the pace with a GPA of 3.706. Joining the men's golf team in posting GPAs of higher than 3.5 were women's golf (3.598), volleyball (3.594), women's swimming and diving (3.559) and softball (3.505).
 
"Academic success requires commitment from student-athletes, coaches and staff alike," Barnhart said. "I also want to give special thanks to our CATS (Center for Academic and Tutorial Services) counselors and tutors for providing incredible support for our student-athletes and their academic advancement."
 
UK's high marks in the spring semester serve to cap what has been a banner academic year for Wildcat student-athletes:
Earlier this week, the NCAA released its Academic Progress Rate report, showing that all UK teams surpassed the NCAA cut score. Six teams had perfect scores of 1,000 and were recognized with national awards for being in the top 10% of their respective sports. UK remains one of two Southeastern Conference schools to never have one of its teams incur a penalty during the 15-year history of the APR.
In November, it was announced that UK Athletics set a record for NCAA Graduation Success Rate. UK has broken or tied the GSR record every year since the NCAA began measuring that statistic in 2005.
Two weeks ago, the SEC Winter Sports Academic Honor Roll was announced and UK led the way with 78 honorees.
Including the 2018 winter commencement and last week's spring graduation ceremonies, 99 Wildcat student-athletes earned degrees during the 2018-19 school year.
UK Athletics supports the academic success of its student-athletes through CATS – the first academic center of its kind dedicated solely to serving student-athletes. CATS is an important component of UK's Student-Athlete Experience division, launched last year as a renewal of the department's commitment to prepare student-athletes to enter life after UK.
 
"Academic success is the foundation of UK's Student-Athlete Experience, and everything else builds on that foundation," said Jason Cummins, UK's executive associate athletics director for Student-Athlete Experience. "Whether beginning a professional athletic career, starting graduate or professional school, or moving directly into the workforce, it all starts in the classroom. The principles of success exemplified there carry over into every area of life. The degree truly is the floor."
 
UK has set a goal of a 3.0 department-wide GPA through the Elite 1-3-5 initiative and has reached the mark in every semester since Elite 1-3-5 was unveiled in 2015. UK is also positioned to make strides toward its goal of a top-five Learfield IMG College Directors' Cup finish by the year 2022, as UK ranked tied for fifth in the final winter version of the all-sports standings released last month.