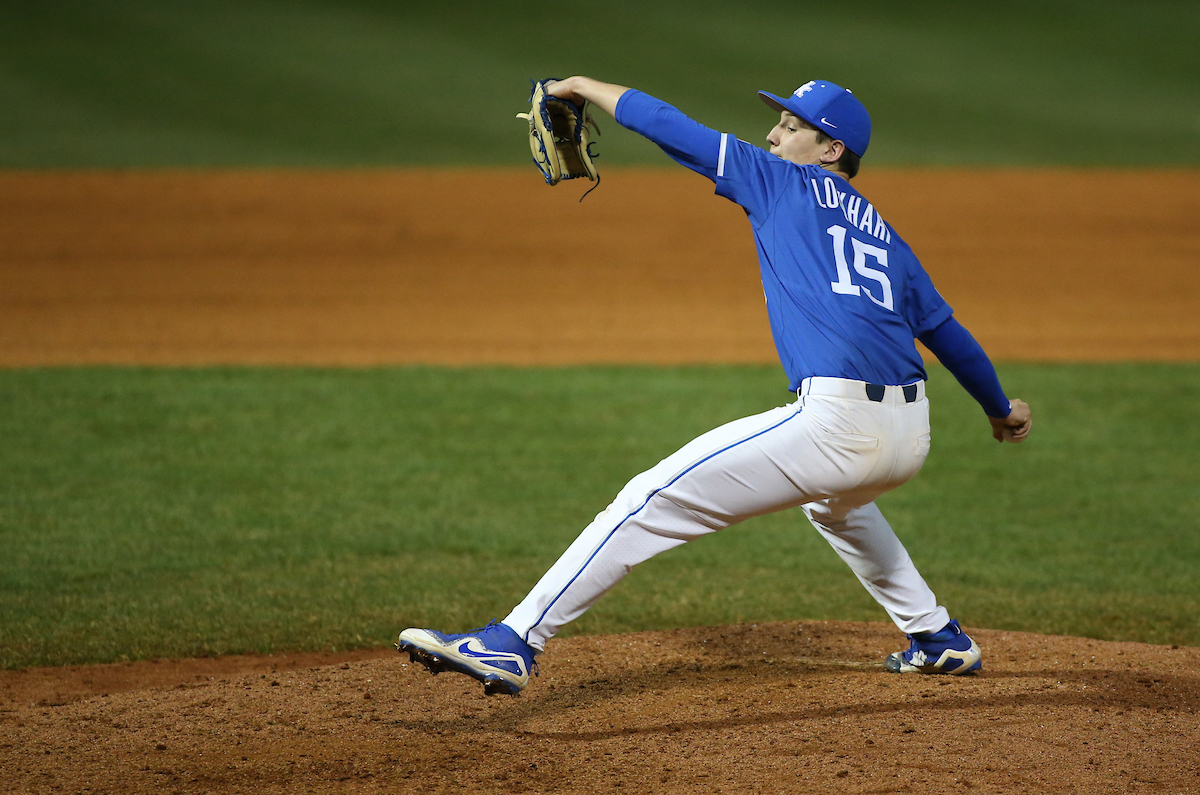 LEXINGTON, Ky. – Kentucky got 7.2 scoreless innings of relief on the mound from three freshmen and a sophomore while battling No. 5 Arkansas toe to toe in a 5-2 defeat at Kentucky Proud Park in Friday night's Southeastern Conference series opener.
 
The Wildcats fell behind 5-0 in the second inning before Lockhart stabilized things with a career-best outing and put the winning run at the plate in the eighth inning to put a scare into last season's national runner-up and current conference leader. Lockhart, a sophomore right-hander from Lexington, logged career-highs in innings (3.2), strikeouts (five) and pitches (63) before turning the game over to the freshmen.
 
Cottongame (2.0 innings), Ayers and Daniels (one inning each) shut it down from there, holding an offense that had scored double-digits runs in eight of its past 10 games off the scoreboard. They also received sensational defensive plays from sophomore centerfielder Cam Hill and freshman shortstop Austin Schultz as the Cats' youth continued to show promising signs for the future.
 
Hill also impressed at the plate, notching his fourth consecutive multi-hit game, including a double and a stolen base. Schultz reached base safely for the 33rd time in the past 35 games and also stole a base, his 10th of the season.
 
 
SCORING
Top 1st – Trevor Ezell doubled to LCF. Casey Martin reached on an infield single. Matt Goodheart reached on a fielder's choice, Martin safe at second on a throwing error by the pitcher, Ezell to third. Dominic Fletcher singled to RF, scoring Ezell and Martin, Goodheart advanced to third. Goodheart scored on a passed ball. Fletcher scored on Jacob Nesbit's grounder. Arkansas 4, UK 0.
 
Top 2nd – Martin hit an inside-the-park home run to CF. Arkansas 5, UK 0.
 
Bottom 4th – Austin Schultz reached on a fielder's choice, stole second and scored on Coltyn Kessler's triple to RF. Arkansas 5, UK 1.
 
Bottom 8th – Breydon Daniel walked, Ryan Johnson singled to CF and Ryan Shinn walked to load the bases. Elliott Curtis reached on a fielder's choice, Daniel scored, Shinn advanced to second. Arkansas 5, UK 2.
 
 
NOTES
Kentucky has scored in 109 consecutive games and 185 of the past 186 dating to the 2016 season. The lone shutout came in a seven-inning game. The current streak is the second-longest in school history.
Sophomore RHP Trip Lockhart came on in relief and posted 3.2 scoreless innings.

He set new career-bests in innings (3.2), strikeouts (five) and pitches (63).
Senior OF Ryan Johnson reached base safely for the ninth straight game.
Freshman INF Austin Schultz has reached base safely in 33 of the past 35 games.
Sophomore OF Cam Hill went 2-for-3 with a double, a walk and a stolen base.

He doubled in the fourth to extend his career-long hit streak to four games.  
It was Hill's ninth multi-hit game of the season and his fourth straight multi-hit game.
 
ON DECK
The series is slated to resume at 2 p.m. ET on Saturday afternoon, although heavy rain is forecast for the Lexington. The game will broadcast on SECN+ and on the UK Sports Network.