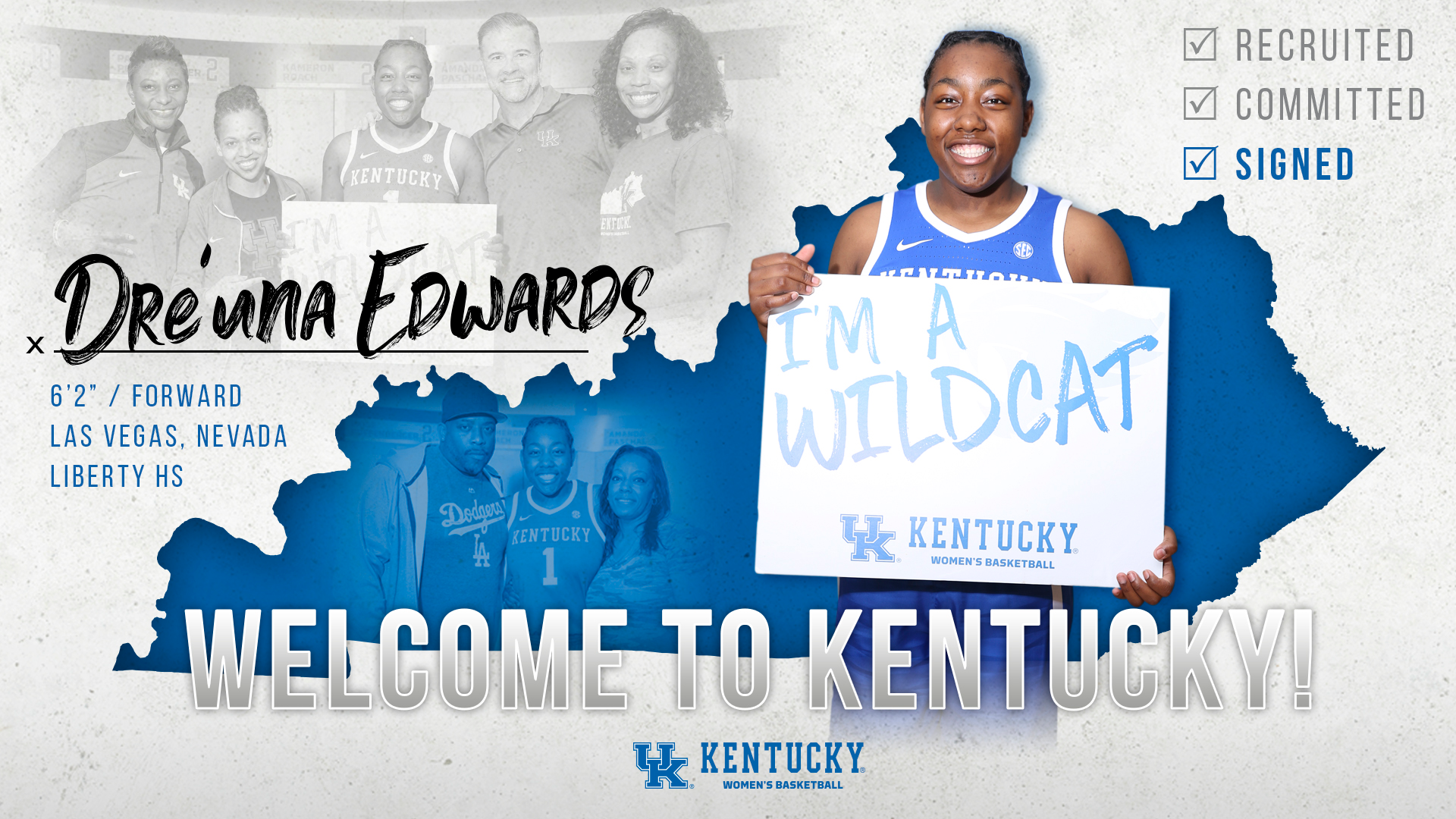 Dre'una Edwards to Transfer to Kentucky
LEXINGTON, Ky. – Dre'una Edwards (pronounced dray-AH-nuh), the 2019 Pac-12 Conference Freshman of the Year last season at Utah, has announced that she will transfer to the University of Kentucky and plans to join the team this summer. Edwards will sit out the 2019-20 season due to NCAA transfer rules and injury after sustaining a torn ACL in February.
 
"We are thrilled Dre'una is a Wildcat," UK head coach Matthew Mitchell said. "She will be an incredible addition to our family. Her positive energy and unbridled enthusiasm are infectious and will impact our program immediately. Dre has a game that fits our system perfectly and her competitive spirit will help us win. We all are excited for the future."
 
Edwards, a native of Las Vegas, was outstanding last season for Utah starting in 26 games and averaging 11.6 points and 6.7 rebounds per game. The 6-foot-2 forward scored 20 or more points three times for the Utes, including 18 double-digit scoring games. One of her top performances on the year came against UCLA, scoring a career-high tying 21 points while shooting 50 percent from the field and a perfect 9-of-9 from the free-throw line. She also had 21 points against Arizona and recorded a career-high 15 rebounds twice on the year.
 
Edwards, who shot 54 percent from the field and 76.3 percent from the free-throw line, ranked as one of the best freshman in the nation in 2018-19 as evident by her earning six Pac-12 Freshman of the Week honors. Her strong field-goal percentage would have ranked second nationally among freshmen had she not missed the team's final four games due to injury. All told, Edwards shot 50 percent or better from the field in 17 games and had five or more rebounds in 20 games. She also added 40 steals, 36 assists and 29 blocks.
 
Prior to her first collegiate season at Utah, Edwards was a two-time Southwest League Player of the Year for Liberty High School in Las Vegas averaging 18.4 points, 10.3 rebounds, 3.9 steals and 1.7 blocks per game as a senior. As a junior, Edwards averaged 16.8 points and 14.0 rebounds per game. The forward, who led her team to four straight regional championships and a state championship game appearance in 2018, was named Las Vegas Review-Journal First-Team All-State in 2018 and was a two-time USA Today All-USA Nevada Girls Basketball First-Team selection. Her senior year, Edwards was tabbed to the Naismith Trophy Girls High School Player of the Year watch list.
 
The Wildcats will return a large portion of its production for 2019-20 even with the departure of four seniors. In total, the Wildcats are set to return 63 percent of its scoring, 62 percent of its made 3-point field goals, 87 percent of its offensive rebounding, 81 percent of its total rebounding, 60 percent of its assists and 77 percent of its blocks. UK will also add incoming true freshmen Emma King (Stanford, Ky.) and Deasia Merrill (Villa Rica, Ga.) along with transfers Sabrina Haines, Nae Nae Cole and Chasity Patterson.
 
For more information on the Kentucky women's basketball team, visit UKathletics.com or follow @KentuckyWBB on Twitter, Instagram and Facebook.