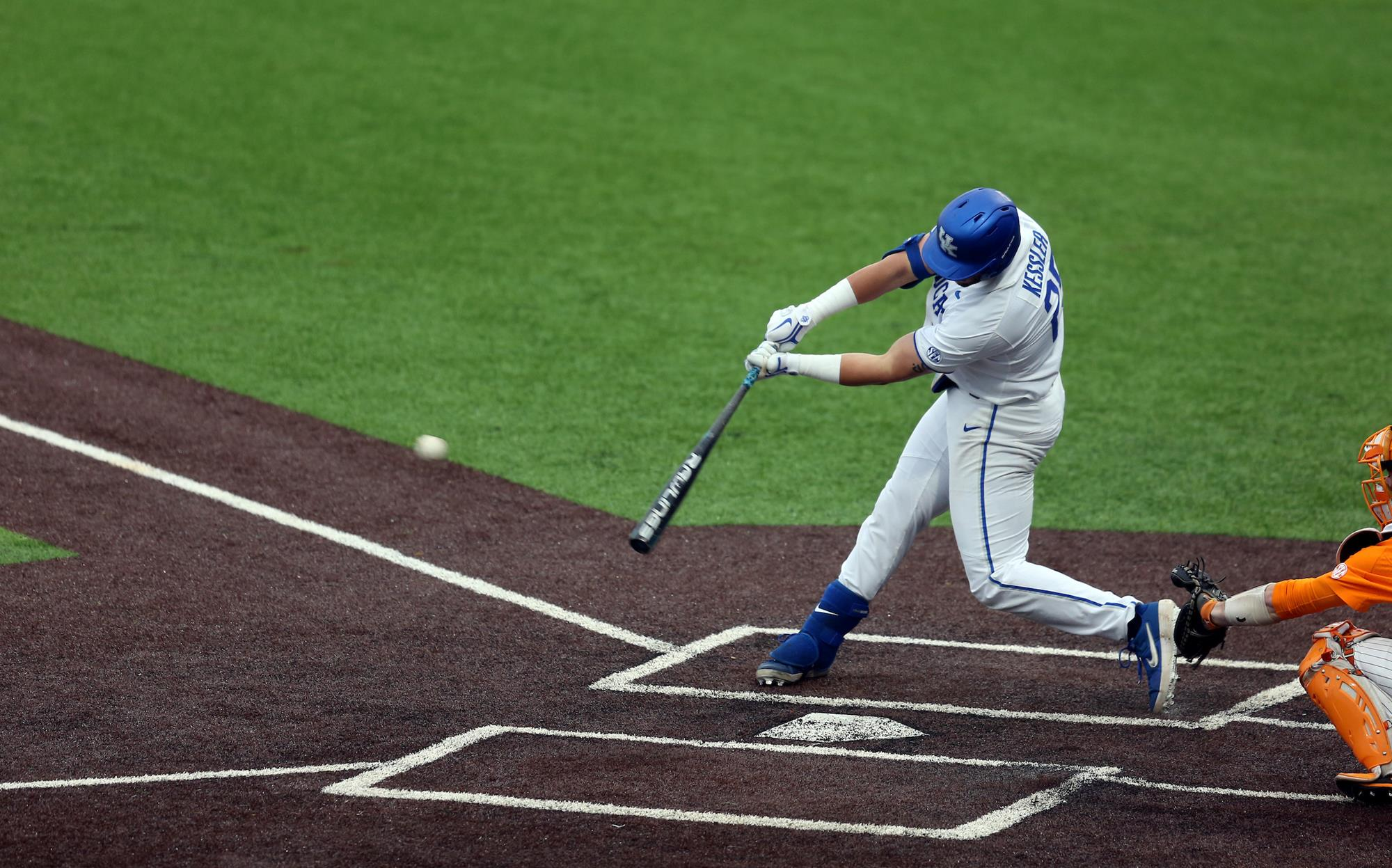 LEXINGTON, Ky. – The No. 22 Tennessee baseball team took advantage of a wind-aided two-run home run in the first inning and never looked back, defeating Kentucky 16-1 on Friday night at Kentucky Proud Park.
The game was delayed one hour and 28 minutes by rain in the top of the eighth before resuming at 10:52 p.m. ET.
 
The final game of the series is scheduled for 2 p.m. ET on Saturday afternoon, although rain is in the forecast in the Lexington area. Per Southeastern Conference policy the series must be completed in three days, meaning there will not be a postponement of the game to Sunday.
 
The Wildcats (20-19, 4-13 SEC) will send ace left-hander Zack Thompson to the mound on Saturday looking to end a stretch of seven straight games against ranked opponents with a win. Thompson has pitched seven consecutive quality starts of at least six innings with three or fewer runs allowed.
 
UK extended its scoring streak to 102 consecutive games in the second inning on three straight singles by T.J. Collett, Dalton Reed and Breydon Daniel. The streak is the third-longest in program history and within three games of tying for the second-longest. The Cats have scored in 179 of the past 180 games and have not been shutout in a nine-inning game since April 23, 2016 vs. Arkansas.
 
 
SCORING
Top 1st –Max Ferguson singled to RF and scored on an Andre Lipcius home run to RF. UT 2, UK 0.
 
Bottom 2nd – T.J. Collett and Dalton Reed singled to open the inning. Breydon Daniel singled up the middle to score Collett. UT 2, UK 1.
 
Top 4th – Alerick Soularie walked and advanced to second on a groundout. Ricky Martinez doubled to CF with two outs, scoring Soularie. UT 3, UK 1.
 
Top 5th – Ferguson, Lipcius and Soularie all walked with two outs to load the bases. Ferguson scored on a wild pitch. UT 4, UK 1.
 
Top 6th – Martinez hit a leadoff double and scored on Jake Rucker's single to CF. Pinch hitter Pete Derkay reached on a two-base error on dropped fly ball in LF, Rucker to third. Jay Charleston grounded out to second, Rucker scored and Derkay advanced to third. Derkay scored on a passed ball. UT 7, UK 1.
 
Top 7th – Soularie walked, moved to second on a groundout and scored on Martinez's single through the left side. Rucker was hit by a pitch. Derkay singled to RF, scoring Martinez and moving Rucker to third. Connor Pavolony singled to RF, scoring Rucker and moving Derkay to third. Charleston singled, scoring Derkay. UT 11, UK 1.
 
Top 8th – Justin Ammons singled, Martinez and Rucker walked. Ammons scored on Derkay's SAC fly. Pavolony singled to CF, Martinez and Rucker scored. UT 14, UK 1.
 
Top 9th – Nico Mascia and Ammons walked. Austin Knight reached on a fielder's choice. Rucker singled. Logan Gray singled to RF, scoring Mascia and Knight. UT 16, UK 1.
 
 
NOTES
Attendance for the game was 3,717.
Kentucky has scored in 103 consecutive games and 179 of the past 180 dating to the 2016 season. The lone shutout came in a seven-inning game. The current streak now is the third-longest in school history.
Sophomore LHP Mason Hazelwood pitched 4.2 innings, giving up three hits, four runs and three walks. He struck out five.

He threw a career-high 112 pitches.
 
ON DECK
Kentucky and the Tennessee complete their three-game series on Saturday at 2 p.m. ET at Kentucky Proud Park. The game will be broadcast on SEC Network Plus with audio coverage on UKathletics.com and the UK Sports Network.