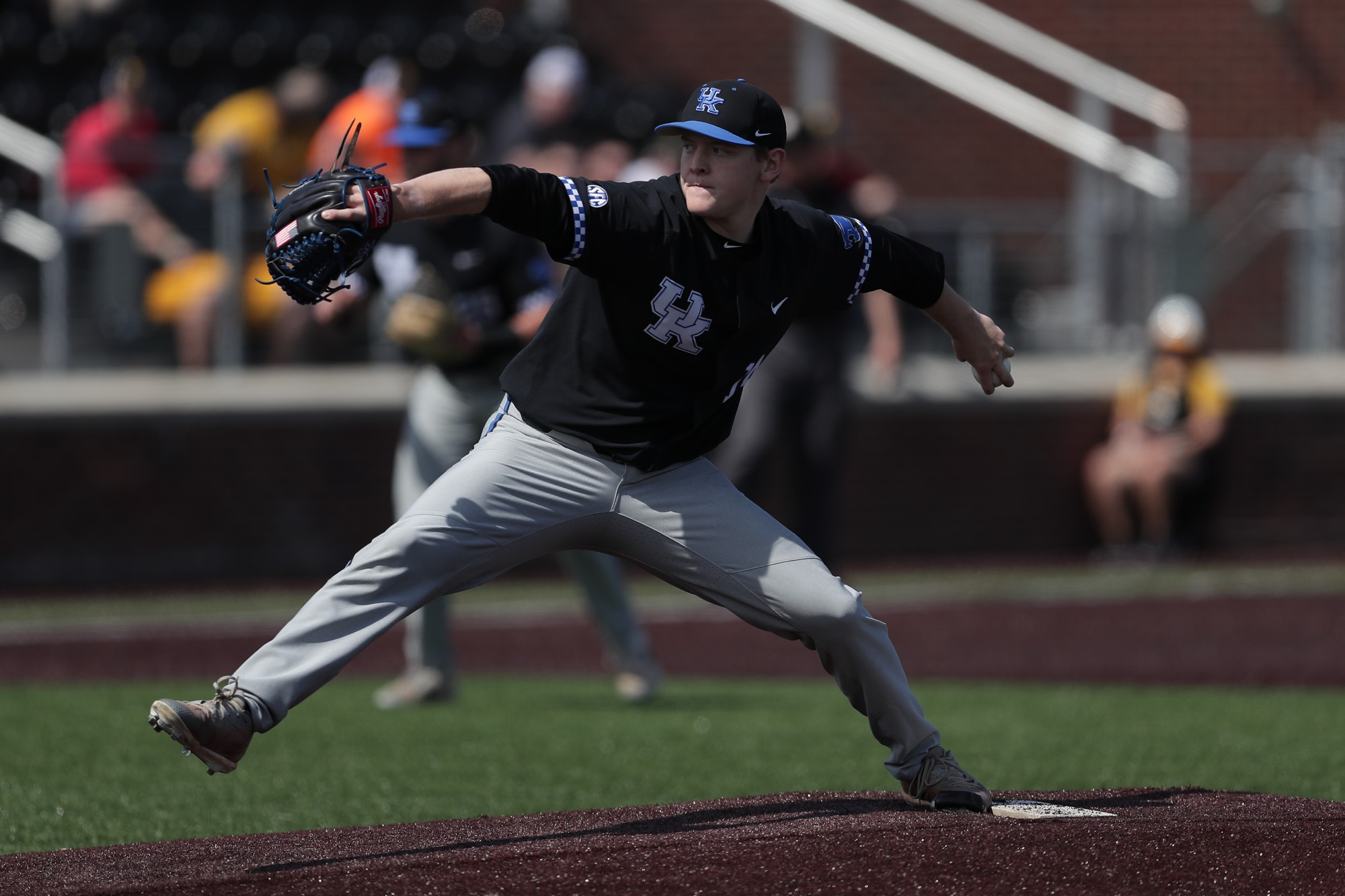 COLUMBIA, Mo. – Jaren Shelby blasted a clutch eighth-inning home run for the second straight game but it was short-lived exultation as Missouri scored a 5-4 walk-off victory over Kentucky on a gorgeous Saturday afternoon at Taylor Stadium. The clubs will square off on Sunday with the three-game series in the balance.
 
Shelby, who obliterated a baseball over the bullpen beyond the left field wall on Friday night as the Wildcats took the opener, erased a 3-1 deficit with a no-doubt, three-run home run to left. It was his second homer in as many days and put the Cats in the driver's seat to win a hotly-contested Southeastern Conference road series.
 
Missouri answered right back though with a solo home run by Paul Gomez to open the bottom half of the inning and then executed situational baseball in the ninth to even the series. A leadoff single and sacrifice bunt put the winning run on second with one out but the Cats recorded a strikeout to set up the final play. Austin James, who was hitting .154 coming into the game, took a big hack and lined a ball to left that found grass in left field just before a charging Ryan Shinn could haul it in, scoring pinch runner Connor Brumfield to end the game.
 
Junior left-hander Zack Thompson followed up his complete game shutout of No. 4 Georgia with six quality innings, allowing three runs – one earned – and striking out six as he got a sixth no-decision in eight starts.
 
SCORING
Bottom 4th– Kameron Misner singled to CF and scored on Peter Zimmermann's double to LF. Mizzou 1, UK 0.
 
Bottom 6th – Josh Holt hit by pitch and moved to second on a wild pitch. Chris Cornelius reached on an error, Holt moved to third. Peter Zimmermann laid down a squeeze bunt, scoring Holt and moving Cornelius to second. Chad McDaniel singled to LF, scoring Cornelius. Mizzou 3, UK 0.
 
Top 7th – Coltyn Kessler homered to CF. Mizzou 3, UK 1.
 
Top 8th – Austin Schultz and Ryan Shinn singled. Jaren Shelby homered to LF. UK 4, Mizzou 3.
 
Bottom 8th – Paul Gomez homered to LF. UK 4, Mizzou 4.
 
Bottom 9th – Zimmermann singled to RCF. Connor Brumfield ran for Zimmerman and advanced to second on McDaniel's SAC bunt. Austin James singled to LF, scoring Brumfield. Mizzou 5, UK 4.
 
NOTES
Kentucky has scored in 95 consecutive games and 171 of the past 172 dating to the 2016 season. The lone shutout came in a seven-inning game. The current streak now is the third-longest in school history.
Freshman IF Austin Schultz extended his reached base safely streak to 21 games with a single in the eighth inning.
Junior OF Jaren Shelby went 1-for-2 with a run, three RBI, two walks and a home run.

Shelby homered for the second straight game.
He now has seven multi-RBI games this season.
The three RBI tie his career-high.
Sophomore C/INF Coltyn Kessler went 2-for-3 with a run, RBI and home run.

Kessler has homered in two of the last four games.
He has seven multi-hit games this season.
Senior OF Ryan Shinn was 2-for-5 with a run and a double.

It was his second multi-hit game of the series and 12th of the season.
He clubbed his 15th double of the season and 22nd extra-base hit.

Junior LHP Zack Thompson gave up just one earned run in six innings, walking none and striking out six.

He now has 212 career strikeout and needs three more to enter the school's career top 10.
On the season, Thompson has 74 strikeouts in 49.2 IP.
 
ON DECK
Kentucky goes for a series win on Sunday afternoon at 2 p.m. ET and airs on the SEC Network Plus. Audio coverage on UKathletics.com.