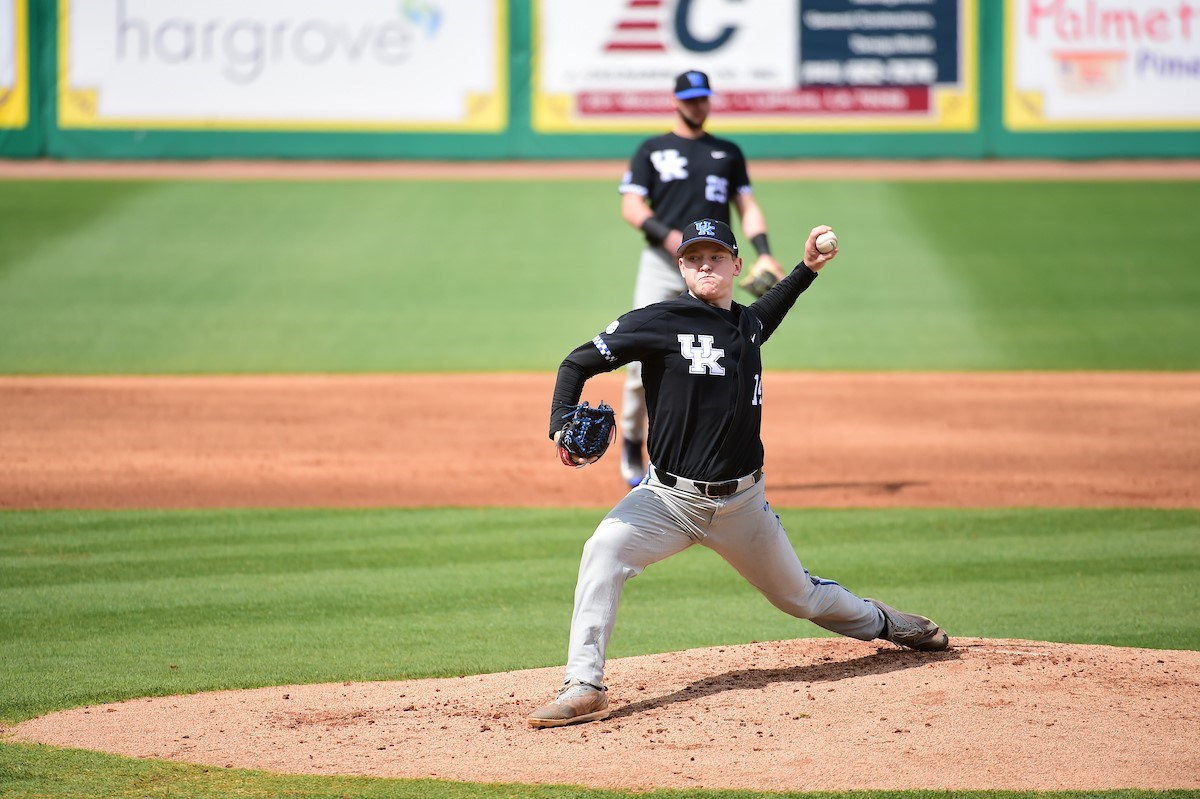 BATON ROUGE, La. – Delayed a day by rain, Kentucky's first taste of Southeastern Conference play turned out to be bitter as it dropped both games of a doubleheader against No. 11 LSU at Alex Box Stadium. The teams will close their three-game series on Sunday afternoon.
 
The Wildcats (13-6, 0-2 SEC) dropped a gut-wrenching 2-1 decision in 12 innings in the opener before falling 16-4 in the nightcap on day where they played 21 total innings of baseball. It was the third doubleheader UK has played in as many weekends.
 
In the opener, UK took a 1-0 lead in the first inning and that score held until the bottom of the eighth when a leadoff single and three walks helped LSU tie the game. Both teams had opportunities in extra innings to grab control before the Tigers were finally able to push across the game winner. Both LSU runs scored on bases loaded walks.
 
Starter Zack Thompson was dominant again despite getting a no-decision for the fourth time in his five starts. The junior left-hander did not allow a run in his six innings of work, yielding just four hits and striking out nine. He has struck out 46 and allowed just 19 hits and nine walks in 28.2 innings this season.
 
In the nightcap, defensive miscues did in the Cats early, as LSU piled up nine runs in the first three innings, only three of which were earned. Starter Grant Macciocchi was charged with 11 total runs allowed but only four earned as the Tigers piled up two big innings fueled by the errors.
 
Offensively, both junior T.J. Collett and freshman Austin Schultz had a pair of doubles in the second game. Collett finished the doubleheader with three hits and the lone RBI in the opener. Schultz and junior Elliott Curtis, who entered the second game as a pinch hitter in the third inning, each logged career-high three-hit games, their second multi-hit games in the second contest.
 
 
GAME ONE SCORING
Top 1st – Breydon Daniel walked, stole second and moved to third on Ryan Shinn's single to LF. T.J. Collett singled up the middle, scoring Daniel. UK 1, LSU 0.
Bottom 8th – Zach Watson singled to CF to open the inning. Chris Reid and Daniel Cabrera walked to load the bases. Drew Bianco walked, scoring Watson. UK 1, LSU 1.
Bottom 12th – Watson singled to LF and advanced to third on Reid's hit-and-run single. Cabrera was intentionally walked. Pinch hitter Giovanni DiGiacomo drew a bases loaded walk, scoring Watson. LSU 2, UK 1.
 
 
GAME TWO SCORING
Bottom 1st – Zach Watson blooped a single to LF. Antoine Duplantis was hit by a pitch. Chris Reid doubled into the LF corner, scoring Watson and Duplantis. LSU 2, UK 0.
 
Top 2nd – Dalton Reed singled to RF and Coltyn Kessler was hit by a pitch. Austin Schultz moved the runners up on a groundout. Cam Hill reached on a fielder's choice to the pitcher, scoring Reed. LSU 2, UK 1.
 
Bottom 2nd – Giovanni DiGiacomo singled to RF and Brock Mathis walked. Hal Hughes moved both runners up with a SAC bunt. Josh Smith was hit by a pitch. Watson reached on error by RF, scoring DiGiacomo. Duplantis reached on a fielder's choice, scoring Mathis. Daniel Cabrera singled to CF, scoring Smith and Duplantis. Cade Beloso singled to LCF, scoring Reid. DiGiacomo singled to LF, scoring Cabrera. LSU 8, UK 1.
 
Bottom 3rd – Watson reached on a two-out bloop single and Duplantis reached on an error. Reid walked to load the bases. Watson scored on a wild pitch. LSU 9, UK 1.
 
Top 4th – Schultz doubled to RF and advanced to third on a wild pitch. Hill walked. Elliott Curtis had a pinch hit single to LF, scoring Schultz. Breydon Daniel walked to load the bases. Hill scored on a wild pitch. LSU 9, UK 3.
 
Bottom 4th – Beloso singled to RF, DiGiacomo reached on an error and Hughes walked. Smith walked, scoring Beloso. DiGiacomo scored on a wild pitch. Watson homered to LF, scoring Hughes and Smith. LSU 14, UK 3.
 
Bottom 6th – Smith walked and scored on Watson's double to LF. Watson scored on Brant Broussard's groundout to SS. LSU 16, UK 3.
Top 9th – Dalton Reed singled, advanced to second on Orlando Adams Jr.'s walk and scored on Schultz's single up the middle. LSU 16, UK 4.
 
NOTES
Kentucky has scored in 83 consecutive games and 159 of the past 160 dating to the 2016 season. The lone shutout came in a seven-inning game. The current streak is the sixth-longest in school history.
Junior LHP Zack Thompson got his fourth no-decision in five starts in the first game.

Thompson pitched 6.0 innings, giving up four hits, no runs, two walks and striking out nine.
Thompson now has 46 strikeouts against just nine walks this season.
He is striking out 14.44 batters per nine innings.
Batters are hitting just .188 against Thompson.
Thompson now has 184 strikeouts for his career.
Sophomore C/INF Coltyn Kessler extended his reached base safely streak to 14 games but saw his career-long hitting streak end at 11 in the first game.
Junior IF Elliott Curtis had a career-high three hits in game two.
Senior C Marshall Gei has reached base in 10 straight games.
 
 
ON DECK
Kentucky will look to avoid the sweep on Sunday afternoon at Alex Box Stadium. First pitch is at 3 p.m. ET. The game will be aired on SEC Network Plus. Audio coverage can be found via UKathletics.com.