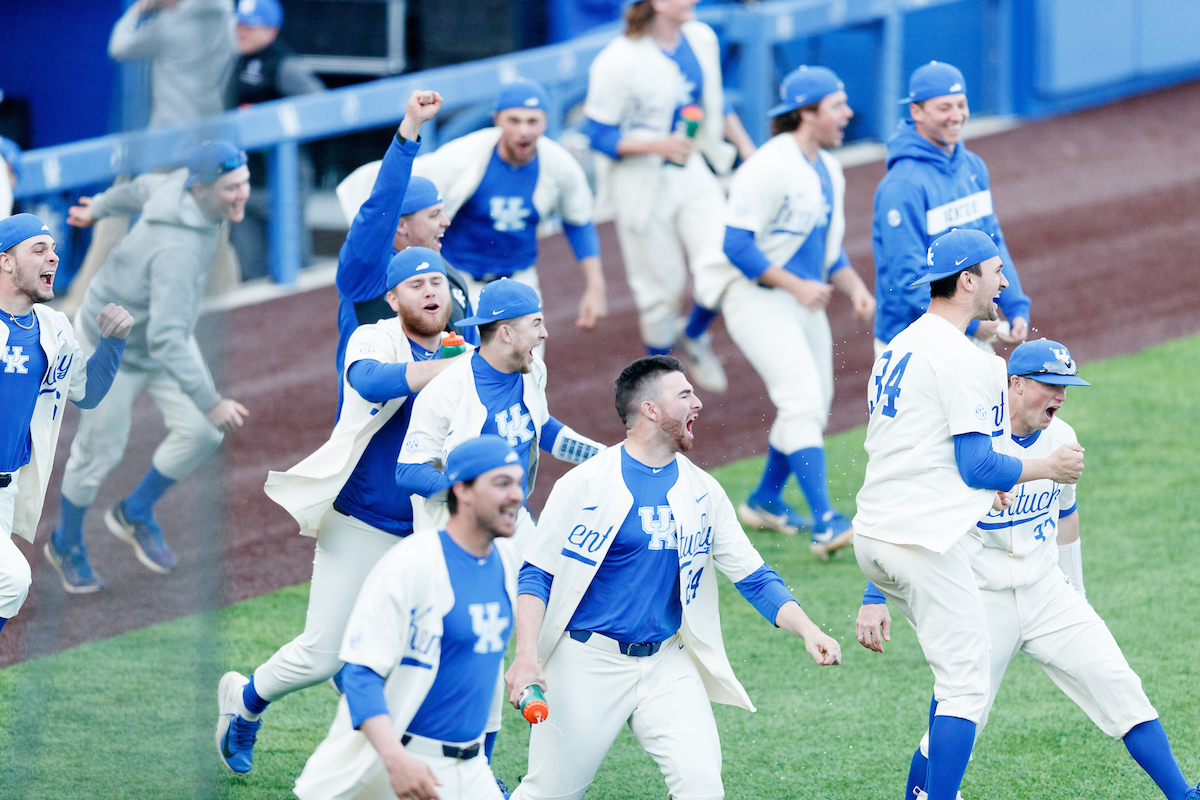 2019 KENTUCKY BASEBALL WEEK FOUR IN REVIEW
 
OVERALL RECORD: 11-4 (0-0 SEC)
WEEK RECORD: 3-1
 
LAST WEEK
Mar. 6 – L, 3-12, vs. Boston College
Mar. 8 – W, 4-1, vs. Middle Tennessee
Mar. 10 – W, 7-0, vs. Middle Tennessee (DH-Game 1)
Mar. 10 – W, 5-4, vs. Middle Tennessee (DH-Game 2)
 
THIS WEEK
Mar. 12 – vs. SIU Edwardsville (4 p.m.; Lexington, Ky.; SECN+)
Mar. 13 – vs. Western Kentucky (4 p.m.; Lexington, Ky.; SECN+)
Mar. 15 – at LSU (8 p.m.; Lexington, Ky.; SECN+)
Mar. 16 – at LSU (7:30 p.m.; Lexington, Ky.; SECN+)
Mar. 17 – at LSU (3 p.m.; Lexington, Ky.; SECN+)
 
TEAM NOTES
NOTES
Kentucky has scored in 79 consecutive games and 155 of the past 156 dating to the 2016 season. The lone shutout came in a seven-inning game. The current streak is the seventh-longest in school history.
Kentucky is 38-5 in non-conference home games under coach Nick Mingione.
The Cats are 74-4 under Mingione when leading after seven innings.
The Cats have swept three of four weekend series this season.
The Cats have won eight of their past nine games.
UK pitchers issued just one unintentional walk in 27 innings against Middle Tennessee.

The Cats struck out 30 hitters over that same span.

The Cats count seven come-from-behind wins among their 11 total victories.
The walk-off win over Middle Tennessee was Kentucky's second of the season and fourth in the Nick Mingione era.

This was the first walk-off home run for the Cats since Dorian Hairston walked off No. 2 South Carolina in the bottom of the 12th on May 8, 2016.
Each of the last three walk-off wins for the Cats have been by a score of 5-4.
 
 
 
SEC PITCHER OF THE WEEK CANDIDATE
ZACK THOMPSON (Jr., LHP)
On Friday vs. Middle Tennessee pitched 7.0 innings, giving up four hits and one run, while striking out nine and walking none.
Earned his first decision of
The seven innings pitched tied his career-high set against Indiana on June 4, 2018 in an elimination game in the NCAA Lexington Regional.
It was the first time in 24 career starts he did not walk a batter.
He threw 86 pitches, 64 for strikes.
He retired the final nine batters he faced and did not allow a baserunner after the Cats took the lead.
Thompson now has 37 strikeouts in 22.2 innings pitched this season.
He also owns a 5.3-to-1 strikeout-to-walk ratio on the season.
He has recorded at least eight strikeouts in all four of his starts.
 
 
SEC FRESHMAN OF THE WEEK CANDIDATE
COLE DANIELS (Fr., LHP)
Daniels has become the Cats' human fire extinguisher and was lights out in three appearances during the week.
He entered with runners in scoring position and the game in the balance in all three appearances, not allowing any of those runners to score, not allowing a hit and issuing only one walk.
On Wednesday against Boston College, he entered in the third inning when starter Mason Hazelwood put runners on second and third with one out. Daniels struck out both hitters he faced to get the Cats out of the inning unscathed.
In the first game of Sunday's doubleheader, Daniels entered in the seventh inning of a 0-0 game with the go-ahead run on third and immediately recorded a strike out and then ground ball to second to end the inning. The Cats scored in the bottom of the inning and Daniels earned the win.
Daniels also appeared in the back half of the doubleheader, coming on in relief of the UK starter after he allowed back-to-back home runs to open the inning and then put runners on first and third with no outs and the game on the verge of getting out of hand early. Daniels retired all three hitters he faced and the Cats went on to win 5-4 on a walk-off home run.
Daniels has a team-high eight appearances, and has struck out 10 hitters in 5.1 innings.

He has allowed opponents to hit just .111 and just five total baserunners.
Opponents are 2-for-16 on the season with runners on base.
During the Cats' nine-game home stand Daniels has:

Recorded two wins.
Not allowed a hit or run and struck out eight in 4.2 innings of work.
 
 
 
PLAYER NOTES
In Sunday's Doubleheader:
Junior RHP Grant Macciocchi pitched 6.1 shutout innings, giving up one hit, striking out seven and walking none against Middle Tennessee in Sunday's 7-0 win.

The 6.1 innings pitched and 74 pitches are career highs.
The seven strikeouts are a career high.
He did not give up a hit through the first six innings.
It was his first career weekend start and second overall.
In two starts, Macciocchi has given up just four hits and one run in 12.0 innings, walking one and striking out 13.

Senior OF Ryan Shinn walked in the first inning of the first game and was hit by a pitch in the second game to extend his reached base safely streak to 14 games.

His walk-off home run was the first of his career.

Sophomore C/INF Coltyn Kessler singled in the fifth inning of the first game and doubled as a pinch hitter in the second game to extend his career-long hitting streak to nine games. He's reached base safely in 10 straight games.
Freshman INF Austin Schultz notched his first career multi-hit game in the nightcap.
Junior OF Jaren Shelby had multiple hits in both games and drove in four total runs.
Sophomore RHP Jimmy Ramsey picked up the win in the second game.

He earned a win and a save in the three-game series.