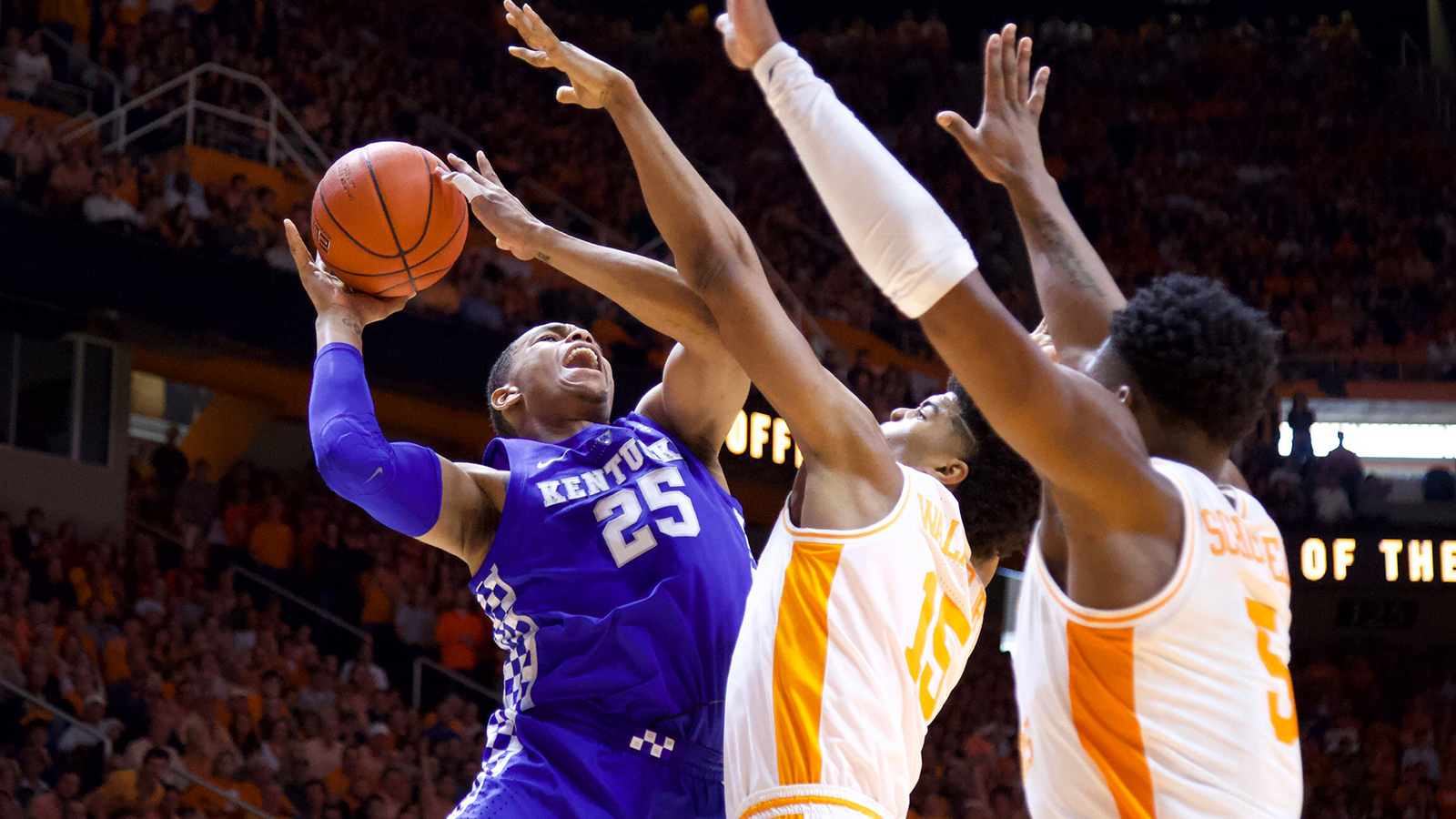 No. 4 Kentucky Falls at No. 7 Tennessee
KNOXVILLE, Tenn. – PJ Washington scored 13 points and grabbed three rebounds, but fourth-ranked Kentucky lost at No. 7 Tennessee 71-52 on Saturday inside Thompson-Boling Arena.
No other Kentucky player scored in double figures in Saturday's game. Nick Richards had eight points and seven rebounds, while Immanuel Quickley also had eight points. Keldon Johnson had seven points and seven boards for the Cats, who saw their four-game winning streak snapped with Saturday's loss.
Kentucky (24-5, 13-3 SEC) struggled from the field for most of the game. The Cats hit just 14 of 44 (31.8 percent) overall and only five of 19 (26.3 percent) from behind the arc. UK did hit 19 of its 29 free throw attempts in the game.
Tennessee (26-3, 14-2) had only five turnovers on Saturday, while forcing Kentucky into 17 miscues. The Vols scored 18 points off UK turnovers, while the Cats scored eight points off the Vols' miscues. Tennessee also had a 28-10 advantage in points in the paint.
Kentucky won the rebounding battle 39-36 and outscored Tennessee 13-11 in second-chance points. The Cats also held a 13-9 edge in bench points.
Kentucky got off to a quick start, taking a 6-0 lead early in the game. Tennessee answered by scoring the next nine points to lead by three. After the Vols took an 11-7 lead, the Cats scored five in a row to lead 12-11. After Tennessee led 13-12, Kentucky grabbed a 14-13 advantage on a Tyler Herro basket. But that would be Kentucky's last lead of the game.
Tennessee would assemble a 9-0 run to take a 28-18 lead with 4:03 to play in the half. The Vols would lead by as many as 14 before settling for a 37-24 advantage at the break. Kentucky hit just six of 26 (23.1 percent) in the first half, including just two of nine (22.2 percent) from behind the arc. Washington, who was limited due to foul trouble, led UK with six points in the first 20 minutes.
Early in the second half, the Vols went on a 10-3 run to take their biggest lead of the game, 47-27, with 16:17 to play. The Cats would not go away quietly, scoring the next seven points to cut the lead to 47-34 with 14:27 remaining. That would be as close as Kentucky would get for the remainder of the game.
The Vols earned a split of the regular season series with the Cats, who had won in Lexington 86-69 on Feb. 16. Tennessee got 27 points from Jordan Bone and 24 from Grant Williams in Saturday's game.
Kentucky returns to action on Tuesday, visiting Oxford to take on Ole Miss. Tipoff is set for 9 p.m. ET and the game can be seen on ESPN.