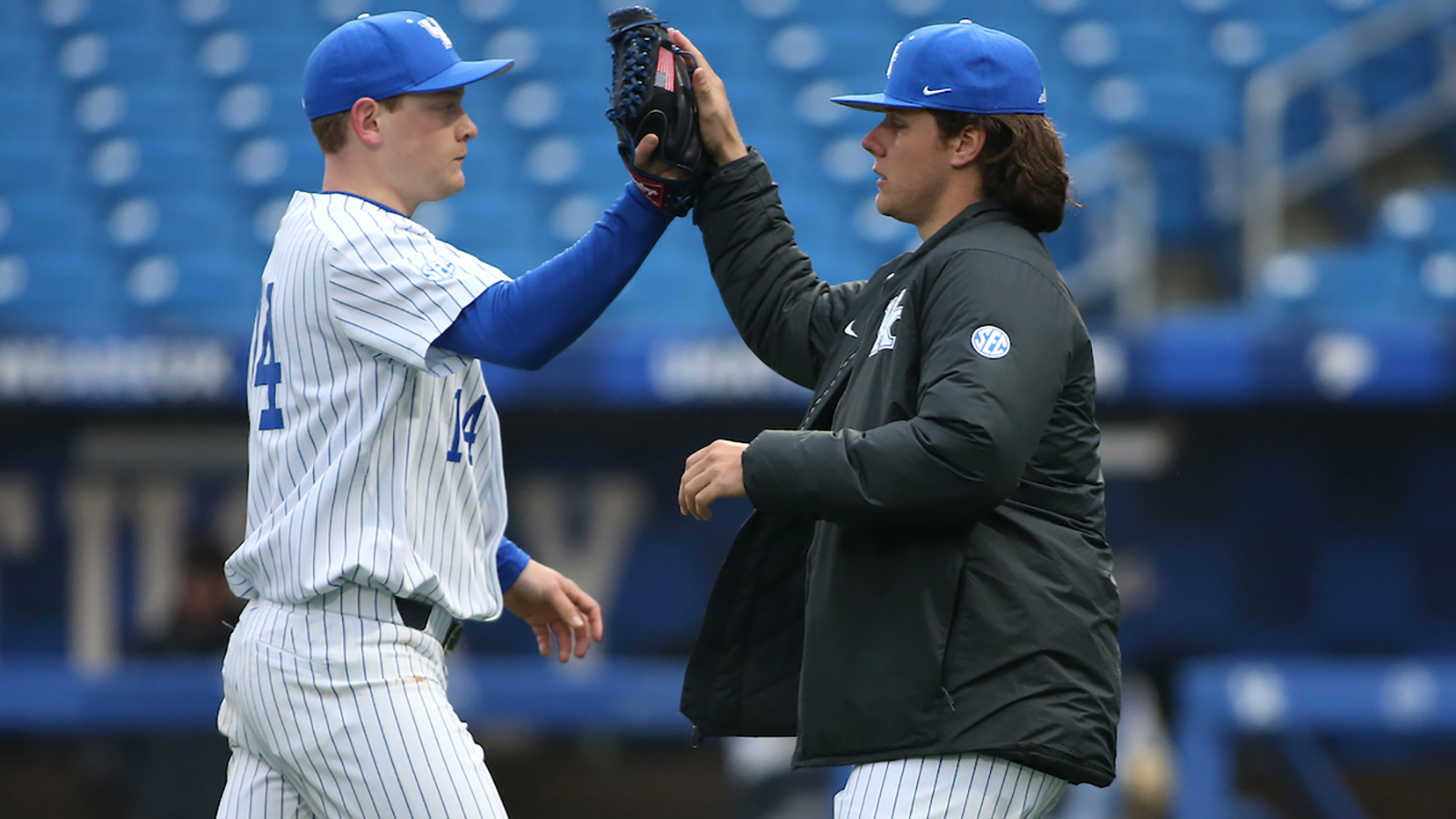 LEXINGTON, Ky. – Kentucky scored nine runs over its final two at bats to overcome a late deficit and claim a 10-2 victory over Canisius in Friday's opener of a three-game series at Kentucky Proud Park. The teams will play a doubleheader on Saturday with the first game set for a noon ET start and the nightcap 30 minutes after the completion of that contest.
 
The comeback win was the fourth out of the Wildcats' six wins so far this season and the second time in as many games the Cats rallied in the seventh inning or later to win. Trailing 2-1 entering the seventh, the Cats (6-3) scored five runs as nine consecutive batters reached base, including two on sacrifice fly balls that an outfielder dropped.
 
Junior T.J. Collett gave the Cats their first lead with an RBI single through the left side of the infield and sophomore Coltyn Kessler delivered a critical blow with his two-run single up the middle later in the inning. Kessler finished with a career-high three RBI and tied his career-best with two hits, including a double.
 
UK starting pitcher Zack Thompson was dominant again, striking out five in the first two innings on his way to career-high 11 for the game. He allowed six hits – three of the infield variety – and two runs in 6.0 innings, walking just two. Sophomore right-hander Daniel Harper relieved Thompson in the seventh and picked up the win with three innings of one-hit, scoreless work.
 
 
SCORING
Top 3rd – Mike Steffan singled to RF and Conner Morro walked. Mark McKenna doubled down the LF line, scoring Steffan and Morro. Canisius 2, UK 0.
 
Bottom 3rd – Zeke Lewis walked and Breydon Daniel singled to RF. Lewis and Daniel moved up on double steal. T.J. Collett reached on infield single, scoring Lewis. Canisius 2, UK 1.
 
Bottom 7th – Grant Macciocchi drew a pinch hit walk and moved to third on Daniel's single. Jaren Shelby hit a pinch hit SAC fly to RF, scoring Macciocchi. Shelby reached first when RF dropped the ball. Collett singled through the infield, scoring Daniel. Rook Ellington pinch ran for Collett. Ryan Shinn singled to LF. Dalton Reed hit a SAC fly to RF, scoring Ellington. Alex Rodriguez walked to load the bases. Coltyn Kessler singled up the middle, scoring Collett and Shinn. UK 6, Canisius 2.
 
Bottom 8th – Rook Ellington lined a single off the 3B glove. Collett hit by pitch. Elliott Curtis pinch ran for Collett. Shinn doubled over the CF head, scoring Ellington and advancing Curtis to third. Reed hit a SAC fly to LF, scoring Curtis. Reed reached first when LF dropped the ball an Shinn advanced to third. Shinn scored on a wild pitch. Kessler hit a SAC fly to LF, scoring Reed. UK 10, Canisius 2.
 
 
NOTES
Kentucky has scored in 73 consecutive games and 149 of the past 150 dating to the 2016 season. The lone shutout came in a seven-inning game. The current streak is the eighth-longest in school history.
The Cats stole five bases and now are 29-for-32 on the season.
Four Cats had multi-hit games: Breydon Daniel (3), T.J. Collett (2), Coltyn Kessler (2) and Ryan Shinn (2).
Three Cats had multi-RBI games: Kessler (3), Collett (2) and Dalton Reed (2).
Junior LHP Zack Thompson pitched 6.0 innings, giving up six hits and two runs, while striking out 11 and walking two.

The 11 strikeouts are a career-high for Thompson, besting the 10 he had against Indiana as a freshman on May 9, 2017.
Thompson now has 28 strikeouts in 15.2 innings pitched this season.
He also owns a 4-to-1 strikeout-to-walk ratio on the season.
Sophomore RHP Daniel Harper picked up the win with three innings of scoreless work.

Harper allowed just one hit and has allowed just four total hits in 9.0 innings this season.

Sophomore C/INF Coltyn Kessler went 2-for-4 with a double and three RBI.

The three RBI are a career-high.
The two hits tie his career-high, previously set against Tennessee on May 5, 2018.
It was Kessler's second career multi-hit game and first multi-RBI game.

Junior INF/OF Breydon Daniel went 3-for-5 with a run scored.

The three hits are a career-high and the third time he's recorded a multi-hit game.
 
 
ON DECK
Due to an unfriendly forecast on Sunday the Cats and Griffins will play a Saturday doubleheader beginning at noon ET with the second game following 30 minutes after that game's completion. Both games will be aired on SEC Network Plus. Audio coverage can be found via UKathletics.com.