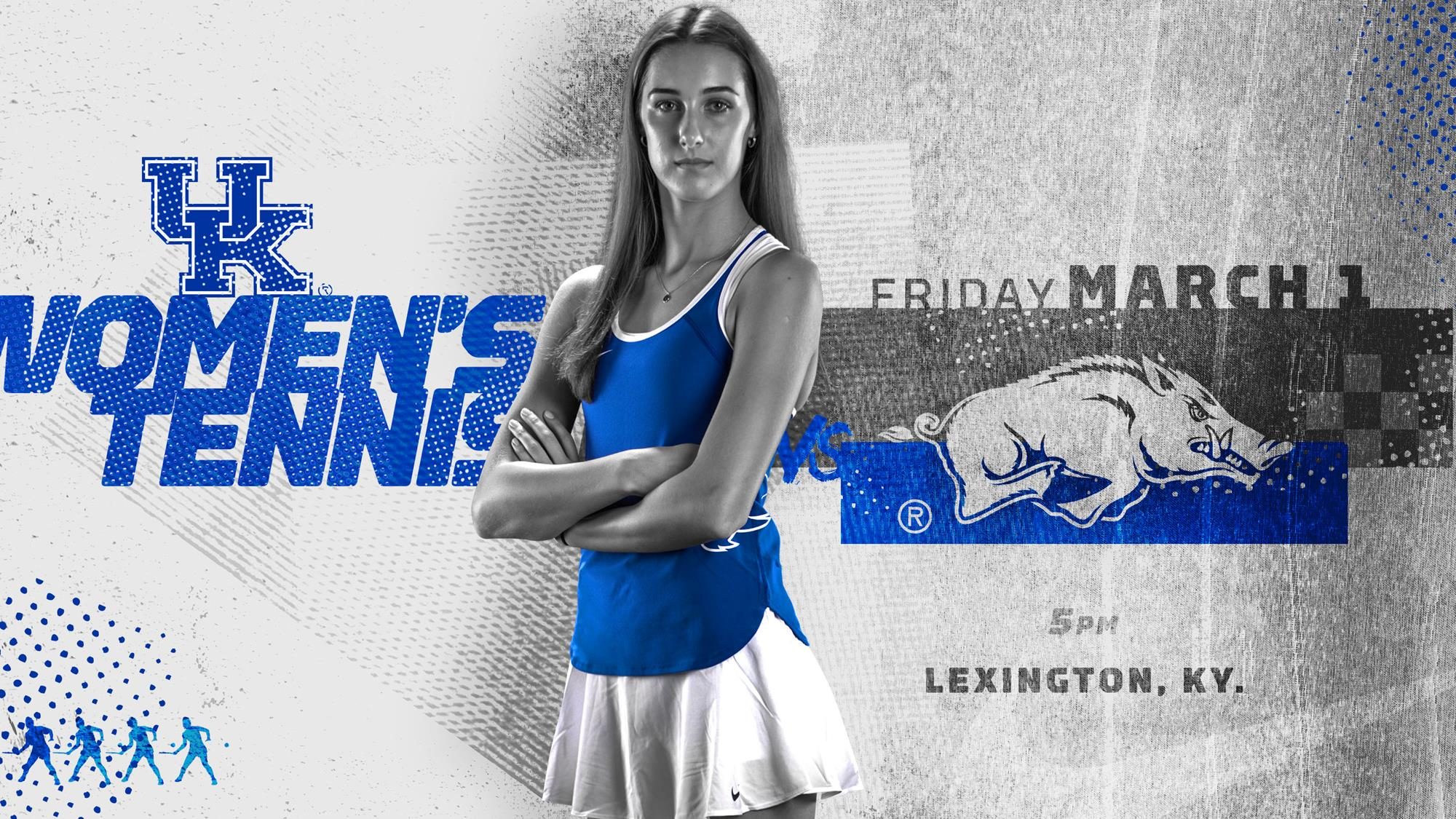 February 28, 2019 - 12:39 PM
No. 25 Wildcats Open Conference Schedule Friday in String of Home Matches
LEXINGTON, Ky. – In its best start to the season since 2016, Kentucky will open its conference schedule on Friday, playing host to Arkansas at the Hilary J. Boone Tennis Center. The first serve is set for 5 p.m.
 
Admission is free. Fans who wish to attend can enjoy free parking in any of the three E-lots adjacent to the tennis courts on the University of Kentucky campus one hour prior to the start of the matches. Parking structure No. 7 is also a near option for spectators at no cost.
 
No. 25 UK is 10-1 this season and will wrap up its nonconference schedule Sunday after it hosts Lipscomb in the second dual match of a doubleheader. The record is the best start to the season since the program put together an 11-1 mark in 2016.
 
The Wildcats lead the Razorbacks in all-time meetings by a 20-9 mark, with Kentucky winning each of the last five matches. UK has won three of its last five conference openers, dropping matches to Georgia in 2017 and Vanderbilt in 2016, both perennial programs at the national level.
 
Arkansas is currently the 41st-best team in the nation. Its club has put together a 7-4 record, forming a 2-3 mark in true road matches. The Razorbacks travel to Lexington with a four-match losing streak, dropping duals at Kansas (0-7), at Loyola Marymount (1-4), at Tulsa (1-4) and versus Oklahoma (0-4).
 
Kentucky and Arkansas have only competed against one common opponent this year in Kennesaw State. The Razorbacks reported 4-0 and 5-1 wins over KSU, while Kentucky defeated the club 7-0.
 
Live scoring for the dual match will be available at http://www.sidearmstats.com/ukentucky/tennis/xlive.htm?path=wten.
 
In 10 winning duals this season, UK has only dropped a combined four matches total. Three Wildcats remain unbeaten in both disciplines.
 
Freshman Tiphanie Fiquet, who was named Southeastern Conference Freshman of the Week for the third time on Wednesday, boasts nine singles wins and nine doubles wins. Junior Diana Tkachenko has formed a 9-0 record in singles, with one doubles victory on her report. Sophomore Brianna Tulloch is unbeaten in two singles matches and one doubles match.
 
One UK player ranks among the top 50 in the nation on the singles court. Senior No. 46 Justina Mikulskyte is 6-1 in singles with each of her victories happening on court one. She and redshirt-junior Akvile Paražinskaite are the 50th-best pair in the nation, holding on to a 5-2 mark on court one. The duo is unbeaten (2-0) in doubles matches over ranked foes.
 
The duo took down then-No. 14 Sophia Graver and Taylor Russo of Auburn with a 7-5 outcome. In their last showing, the twosome defeated No. 55 Liza Buss and Anzhelika Shapovalova of SMU on Sunday by a 6-1 decision.
 
The Friday match is the first in a string of home matches this weekend. The Wildcats will return to the Hilary J. Boone Tennis Center on Sunday for a doubleheader – an 11 a.m. first serve versus Missouri and a 4 p.m. start against Lipscomb.
 
For more on Kentucky women's tennis, follow @UKWomensTennis on Twitter and Instagram, Kentucky Women's Tennis on Facebook, or on the web at UKathletics.com.