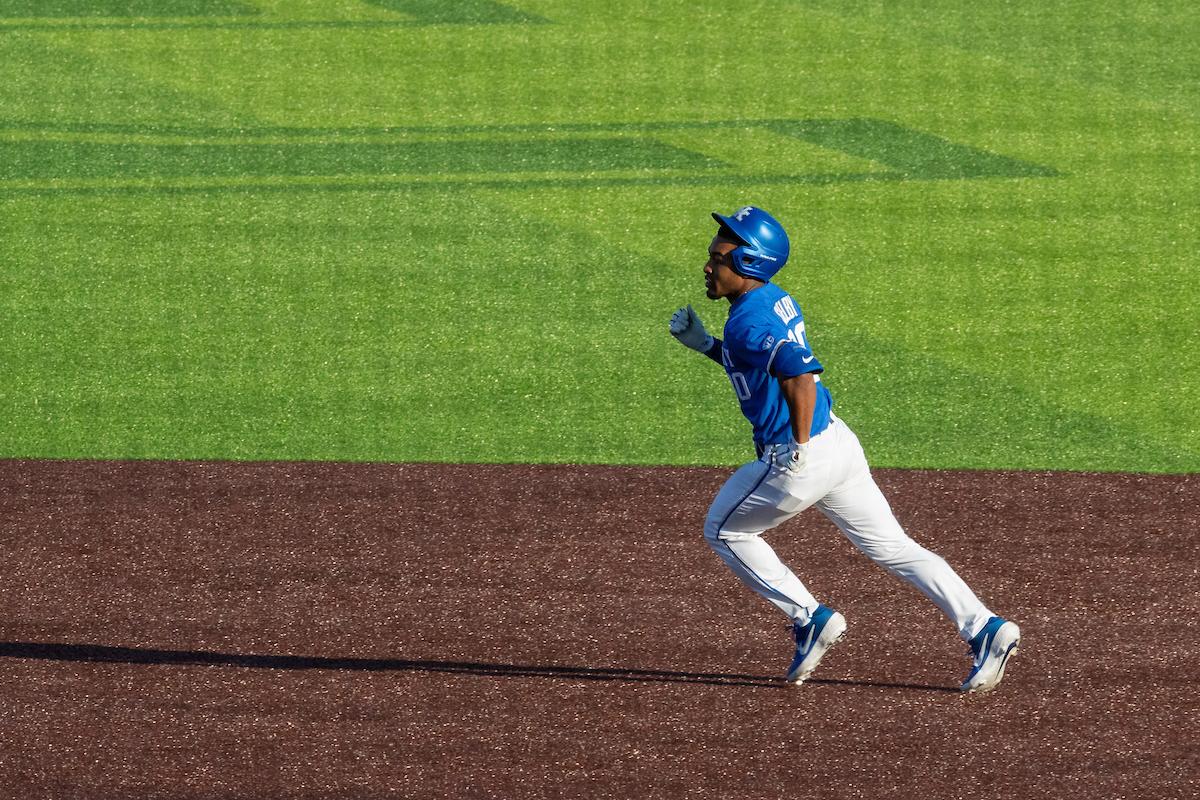 LEXINGTON, Ky. – Kentucky's home series this weekend with Canisius has been adjusted due to the forecast for inclement weather on Sunday. The three-game series will open as scheduled on Friday at 4 p.m. ET and continue with a doubleheader on Saturday that begins at noon. The second game will follow 30 minutes after the completion of the first.
 
Gates will open at 10 a.m. ET. Season ticket holders will use their original ticket for Saturday's game for entrance to both games. For single-game purchasers, tickets to Sunday's game may be used as entrance for the rescheduled doubleheader on Saturday. Tickets for either Saturday or Sunday will be valid for both games. For reserved seating, in the event of both Saturday and Sunday tickets arriving, fans with Saturday tickets will have right to the reserved seat for game 1 and fans with Sunday tickets will have right to the reserved seat for game 2. Fans with Sunday tickets, who are unable to attend Saturday's games may contact the UK Ticket Office at (800) 928-2287 (option 4).
 
The Wildcats (5-3) are in the midst of the opening week of Kentucky Proud Park, having defeated Eastern Kentucky on Tuesday and pulled off a four-run ninth inning rally to knock off Northern Kentucky on Wednesday. A crowd of 4,076 attended the first game in the new stadium, the tenth-largest crowd in program history.
 
All three games will be streamed online on SEC Network Plus. Darren Headrick will have the radio call on Friday and Keith Elkins for Saturday's two games, which all can be heard on 98.5 FM Lexington or via UKathletics.com.
 
 
SPEED DEMONS: CATS PRESSURING OPPONENT WITH STOLEN BASE
 
In recent years, the Kentucky baseball team has been known for its power at the plate. The Wildcats have been among the Southeastern Conference's leaders in home runs and slugging percentage fueled players like Kole Cottam, Riley Mahan, Tristan Pompey and others.
This year's Wildcats have some pop, with T.J. Collett and Dalton Reed leading the way but UK also is showing another element to its offensive attack this season – team speed and the stolen base.
The Cats stole four more bases in Wednesday's win over Northern Kentucky, giving UK 11 stolen bases in its last two games. Kentucky has 24 stolen bases through eight games this season, which ties the Cats for the SEC lead in that category.
Head coach Nick Mingione knows that this team is comprised of a number of players who can steal a base.
"One of our things is, this year, we want to be able to have a complete offense and base running and base stealing are two of those components to a good offense," Mingione said. "That's just how we're built, that's how we recruited, that's the personnel we're using, so we have to utilize those skills."
With that type of speed on the roster, the Cats have been in attack mode on the base paths.
"We have guys that can really run, so we've given a lot of guys the green light and our word this week has been go," Mingione said. "You've got to be on go the second you're on the bases. We've continued to do that and I think Coach (Todd) Guilliams has done a good job of getting those guys off and moving."
UK has stolen at least four bases in a game three times this season, including a season-high seven steals against Eastern Kentucky on Tuesday. Jaren Shelby did most of the damage against the Colonels, swiping five bases, including three in a row, to become the first SEC player to accomplish that feat in 25 years. After being walked, Shelby stole second, third and home in the fifth inning. After another steal on Wednesday, Shelby is now tied for the SEC lead with seven stolen bases this season.
With the move to Kentucky Proud Park this season, the Cats will likely have less power and will be more likely to create runs, especially using the stolen base. But Mingione credits the makeup of his team, rather than the new digs, for the surge in stolen bases.
"I think it's more of the personnel than the ballpark," Mingione said. "One of the cool things we do is, we time all of our guys on their stolen base time. We know our guys' stolen base time. We have some guys that can really run."
However, there is one element of the new park that could be helping the Cats.
"And the turf, you run a little quicker on the turf than you do the dirt, so that helps us," Mingione said.
UK will take its speed into a weekend series against Canisius this weekend. The three-game set begins on Friday with a 4 p.m. ET start against the Golden Griffins. All-American left-hander Zack Thompson will take the mound for the Cats on Friday, looking for his first win of the season. On Saturday, the two teams will play a doubleheader beginning at noon ET. Jimmy Ramsey (1-0) will start for the Cats in the first game, followed by freshman lefty Dillon Marsh in the nightcap.
 
 
WEEKEND DETAILS
Friday, March 1 vs. Canisius
     4 p.m. ET; Kentucky Proud Park (Lexington, Ky.)
Saturday, March 2 vs. Canisius (Doubleheader)
     Game 1: Noon; Kentucky Proud Park (Lexington, Ky.)
     Game 2: 30 minutes after completion of first game
 
Radio: UK Sports Network; 98.5 FM Lexington; UKathletics.com
TV/Online: SEC Network Plus