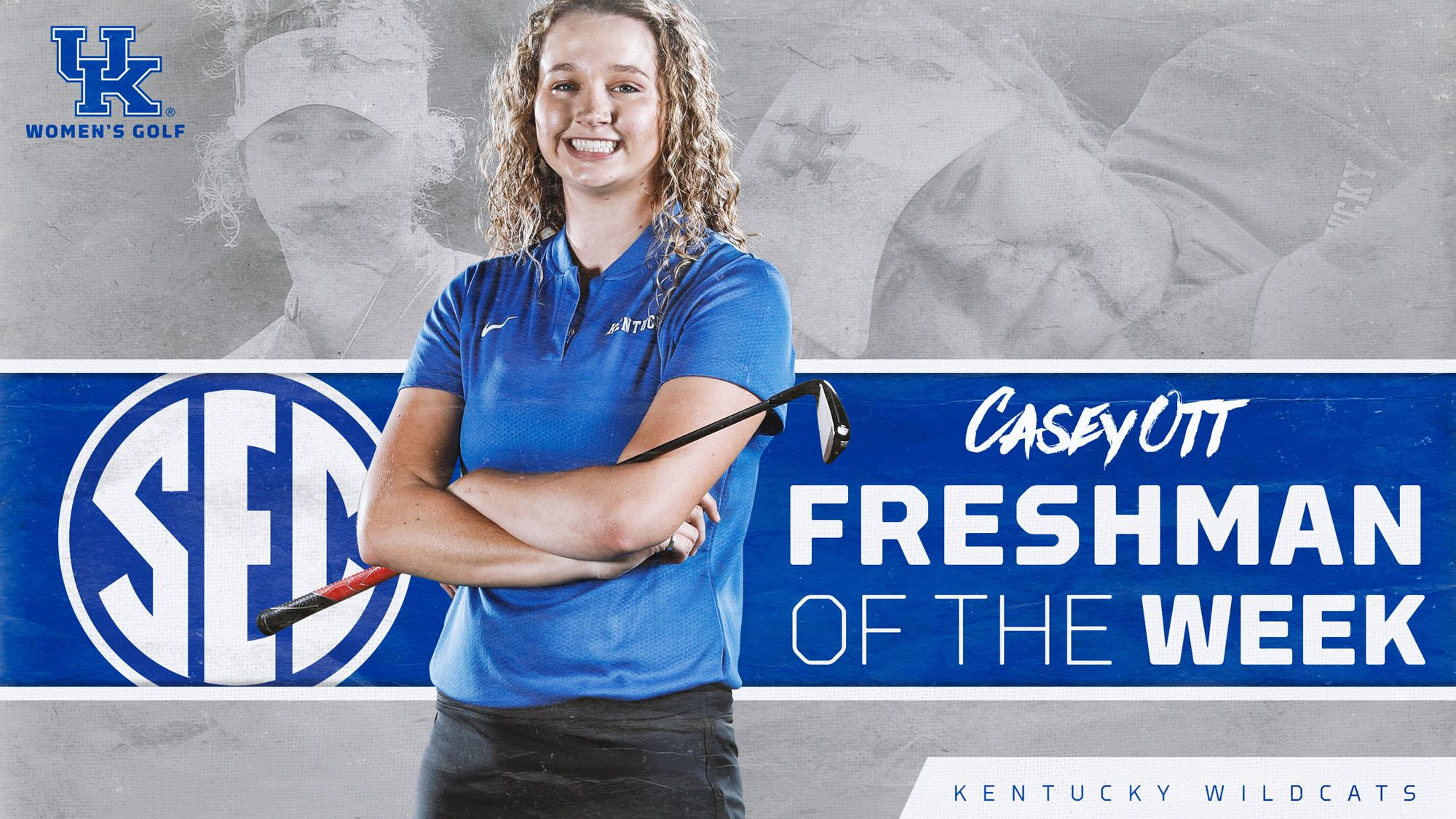 February 27, 2019 - 05:39 PM
Ott Named SEC Women's Freshman Golfer of the Week
BIRMINGHAM, Ala. – Casey Ott's spectacular start to the women's golf spring season got even better Wednesday when she was named the Southeastern Conference Women's Freshman Golfer of the Week by the league office.
 
Ott earned the league honors after her second straight career week. The freshman from Conway, Arkansas, tied for sixth place at the Gold Rush Invitational with a 54-hole career-low score of 217.
 
The 1-over-par total was just three strokes off the lead as she collected her second top-10 finish in as many weeks. Just a week earlier, at the Reynolds Lake Oconee Collegiate Championship, Ott tied for seventh place with a 54-hole total of 221.
 
Counting the last two tournaments, four of her last five 18-hole rounds have been par or better. That includes an 18-hole career-best 69 in the first round of this past week's Gold Rush Invitational, which featured eight birdies.
 
On Tuesday, in the final round, Ott moved back up the leaderboard with a 2-under-par 70.
 
With Ott leading the charge in the last two tournaments, UK tied for third at the Reynolds Lake Oconee Collegiate Championship and placed sixth at the Gold Rush Invitational.
 
Ott has been Kentucky's best golfer this spring with a 73.0 stroke average in UK's two stroke-play tournament events. Prior to the Gold Rush and Reynolds Lake Oconee, Ott won her match vs. Louisville 6 & 5 before capturing individual medalist honors for the Battle of the Bluegrass in a nine-hole shootout.
 
For the season, Ott is averaging 75.0 strokes per round with six rounds of par or better. She came to Kentucky as one of the top recruits of the Golda Borst era as a two-time Arkansas Gatorade Player of the Year and 2017 Arkansas state champion (class 7A).
 
The SEC Freshman of the Week honors are the third in program history and first since current junior Josephine Chang won it in March 2017. Haley Mills also won it in March 2014.
 
After a busy start to the spring season with three events in less than three weeks, Kentucky will take a slight break before heading west to the Clover Cup. That tournament will take place March 15-17 in Mesa, Arizona.
 
For the latest on the Kentucky women's golf team, follow the team on Twitter, Facebook, and Instagram, as well as on the web at UKathletics.com.