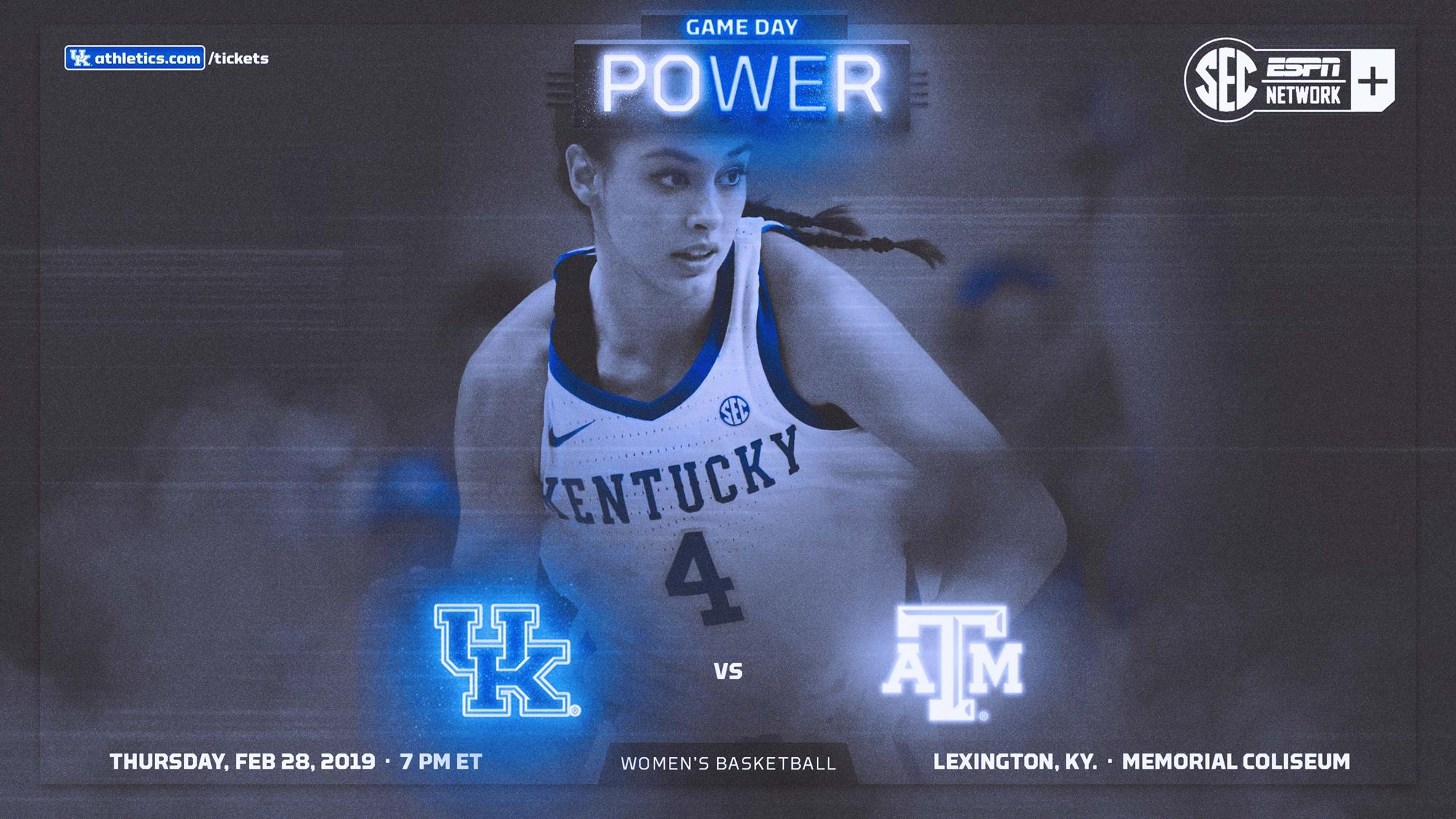 February 27, 2019 - 08:18 AM
Wildcats Host No. 19 Texas A&M For Regular-Season Home Finale
LEXINGTON, Ky. – Looking to extend the longest active winning streak in the Southeastern Conference to seven games, the No. 11 University of Kentucky women's basketball team will conclude the home portion of its 2018-19 schedule Thursday when it plays host to No. 19 Texas A&M at 7 p.m. ET inside Memorial Coliseum.
 
Single-game tickets are $10 (all ages) in reserved seating areas, while general admission tickets are $8 for adults and $5 for children (ages 6-18) and seniors (age 65+). Senior guard Maci Morris is scheduled to sign autographs postgame Thursday.
 
The game will be televised on the SEC Network+ with Dick Gabriel and Christi Thomas on the call. The action can also be seen through WatchESPN on computers, smartphones or tablets. Darren Headrick will have the call on the UK Sports Network on 630 AM in Lexington. Live stats and free live audio will be available online at UKathletics.com.
 
Spectator parking is located in all E-lots surrounding Memorial Coliseum and are off control 3 hours prior to tip. Additionally, the South Limestone Garage (PS#5) and the Rose Street Garage (PS#2) are available 2 hours prior to tip. With the Gatton Student Center lot and expansion of North Craft lot there are 238 additional parking spots for spectators this season around Memorial Coliseum. The Bill Gatton Student Center is available as a pay-to-park option. Availability is based on the Gatton Student Center Event Schedule.
 
The Lexington Parking Authority Transit Center Parking Garage, located between High Street and Vine Street is available for parking after 5 p.m. during the week and all day on the weekends. Additionally, a free shuttle service will pick up in the High Street lot beginning 2 hours prior to tip. UK Athletics Event Staff will be at the Transit Center Garage Entrance to assist with directing patrons to the correct shuttle pick-up location.
 
Parking is prohibited in any R (Residential) lots. Vehicles parking in R lots without a proper permit, along yellow curbs, grass spaces, or other non-specified and unapproved areas may be subject to ticket and/or tow. Disabled spectator parking is available with a valid, state issues disabled hangtag in the E lot North of the Craft Center. These spaces are available on a first-come, first-served basis until full.
 
Shuttles are available beginning 2 hours prior to tip off and pick up and drop off near the South Limestone Garage (PS#5) and near the Transit Center Parking Garage and High Street Lot. Shuttles will start back up after halftime to return guests to their parking areas, the shuttle will discontinue service 1-hour post-game.
 
Doors to Memorial Coliseum open 1.5 hours before tip and UK Athletics encourages women's basketball fans to arrive early to ease traffic and parking congestion around the Coliseum. For more information on parking around Memorial Coliseum and other game-day questions visit UKathletics.com.
 
Taylor Murray scored 18 points with three assists and two steals as Kentucky (23-5, 10-4 SEC) held off a furious fourth-quarter rally from LSU to earn a win on Senior Day and secure a 10-win league season for the ninth time under Matthew Mitchell last Sunday. UK led by 16 early in the fourth quarter before the Tigers would end the game on a 18-7 run. Murray hit three free throws late in the game and got a huge steal with seconds remaining to clinch the win. UK went 8:14 without a field goal to end the game.
 
Murray led Kentucky in scoring in both games last week as the Wildcats also defeated then-No. 13 South Carolina in Columbia. On the season, Murray is averaging 12.9 points per game while leading UK with 100 assists and 88 steals. Freshman Rhyne Howard, who was tabbed the SEC Freshman of the Week for the eighth time this week, is averaging a team-best 16.7 points per game with 6.7 rebounds per game and a team-best 66 3-pointers. Senior guard Maci Morris is the only other Wildcats averaging double figures at 15.6 points per game, hitting 65 3s at 44.8 percent from long range this season.
 
The Aggies are 21-6 this season overall and 10-4 in the league, tied for third with the Wildcats in the conference standing. TAMU has won each of their last two games by significant margins taking down Tennessee 79-62 last Thursday before a 80-62 win at Florida on Monday.
 
Chennedy Carter leads the team by averaging 22.3 points per game with 83 assists and 34 steals, while Kayla Wells is averaging 15.0 points per game and Ciera Johnson is averaging 11.9 points per game with 8.0 rebounds per game. N'dea Jones leads the team with 11.1 rebounds per game and is also earning 11.9 points per game.
 
Texas A&M leads the all-time series in games played against Kentucky, 5-4, including a 2-1 mark in games played in Lexington. Kentucky's lone win against TAMU in Lexington came on Jan. 10, 2013 (65-62) before the Aggies have won each of the last two meetings. The road team in the game has won five of the last seven meetings in the series. The two teams met earlier this season in College Station with the Aggies winning 73-71.
 
For more information on the Kentucky women's basketball team, visit UKathletics.com or follow @KentuckyWBB on Twitter, Instagram and Snapchat, or Kentucky Women's Basketball on Facebook.
UK ATHLETICS COMMUNICATIONS AND PUBLIC RELATIONS
KENTUCKY WBB PRE-TEXAS A&M NEWS CONFERENCE
WEDNESDAY, FEBRUARY 26, 2019
MEMORIAL COLISEUM – LEXINGTON, KY.
Head Coach Matthew Mitchell
Opening statement…
"Well, tough game ahead of us Thursday night and a big game. Texas A&M has had a great season up to this point and we had a very tough game with them in College Station, and they're a difficult matchup for us. Really good players. Coach Gary Blair is a Hall of Fame coach, always has them well prepared. So, it's an important game here at the end of the season. I'm proud that the team is in this position, that we can play some meaningful games here in the last week of the SEC schedule. The team practiced hard yesterday. So, we need to come out today and have a good day of preparation, one more good session tomorrow and turn it loose at 7 p.m. tomorrow night. I'd love to have a big crowd for the last home game of the season, potentially. So, it's the last chance to see a crew that has really worked hard and has got a lot out of the season so far. There's a lot to accomplish tomorrow night with a victory. So, a big crowd, Memorial full of the big blue nation, would help us a lot as far as getting a victory  tomorrow night."
 
On why tomorrow night is a big game…
"Well, I think the team is interested in what their good work has gotten them. It is a good opportunity to lock up a top-four spot, so we're aware of that. The team has handled every bit of information we have given them this year and they've handled it well. They haven't seemed like they were overwhelmed by anything of that type of information. So, they know that tomorrow night can help them. Listen, it is all a bonus now. We're going to the SEC Tournament and we've got to play good teams and we have to play well to twin that tournament. We're going to the NCAA Tournament, we're going to play some really good teams and we're going to have to do well. So, that's the way I look at it. They like to do well. We  got caught in a deal last year where we had a young team and I made some incorrect assumptions about what people knew and what they didn't know, so we're all just trying to share information when appropriate. So, tomorrow night is a big game as far as getting a top-four seed in next week's tournament. That's clearly advantageous to you. So, they understand that and I think it'll be a positive for us. I don't think it'll add any pressure or take any edge off either way. I think they will be excited to play. With this group, they're so competitive, so probably the loss to Texas A&M last time factors more, and the improvement that we can show that we've made in a month with a win here tomorrow night, that probably is more motivation than anything else. So, I think we're in a good spot there and I believe we'll come out and play real hard tomorrow night."
 
On what areas improved that may show up tomorrow night…
"Well, we did not play at the tip top of our capabilities from an effort standpoint defensively throughout the game. We had some great moments in the game and we made some good plays in the game, but the consistency wasn't what we needed and what we've had in our quality wins this year. So, that needs to improve. We had an awfully hard time keeping them off the boards and I think that was one of those games that you just look in the mirror and really commit to improvement there, so I think we've improved in that over the last month. So, we just need to do a better job on the back board and offensively, just too many perimeter shots. We weren't aggressive enough. So, we've worked hard over the last month. I'm sure Texas A&M has. They are playing terrific basketball, they are very, very tough. They have earned the right to be one of the top teams in the conference because they have played dynamite this year. So, we just need opt put together a really complete game – great effort, great energy, great attitude tomorrow night because this will be a tough one."
 
On if LSU and Texas A&M have the way they attack the glass in common…
"Yeah. Both teams have talented players and both teams are well coached. I think Texas A&M right now has much more capability from the perimeter than LSU does. And, Texas A&M has a tough inside game, too. They're a really complete team. I think they're playing really good defense right now. It is disruptive, aggressive, a combination. So, that is a similarity of LSU. I think LSU is so tough to play against. They're really physical, really tough and I think there is a similarity there with Texas A&M. Tough, can apply pressure in spots, try to leave some people open that they don't believe can knock down the shots. So, defensively I believe there are some similarities between the two teams."
 
On the dynamic that has developed amongst the top scorers…
"Yeah, I'll tell you, the great thing about those three, they get a lot of attention because they score points, but after every game we show a highlight reel from the previous game and the first thing we show are people taking charges. And, the two people that were first up in the last game from LSU were Rhyne Howard and Taylor Murray. Jaida Roper is in there a lot, but I'll tell you another person who is in there a lot, Maci Morris is on those highlight reels game after game after game. So, I think it's great for our team to see that they're not pre-Madonna's or that they don't think they're above the team because they score so much. They get down and they work hard.  Rhyne Howard is on the board, Taylor Murray is stealing the ball, Maci Morris is always giving terrific effort on the defensive end. So, I think that that helps our team tremendously and our players that are not only productive for us in the scoring columns, they are productive all over the floor. I'm appreciative of their efforts as I am the entire team. Those three players, if just those three played we'd have an awful tough time. So, the team has done a great job of coming together and winning games and putting us in a good position here going into the last home game of the season with Texas A&M. I'm proud of them and I'd love for all of us to come together and work hard enough to get a victory tomorrow night."