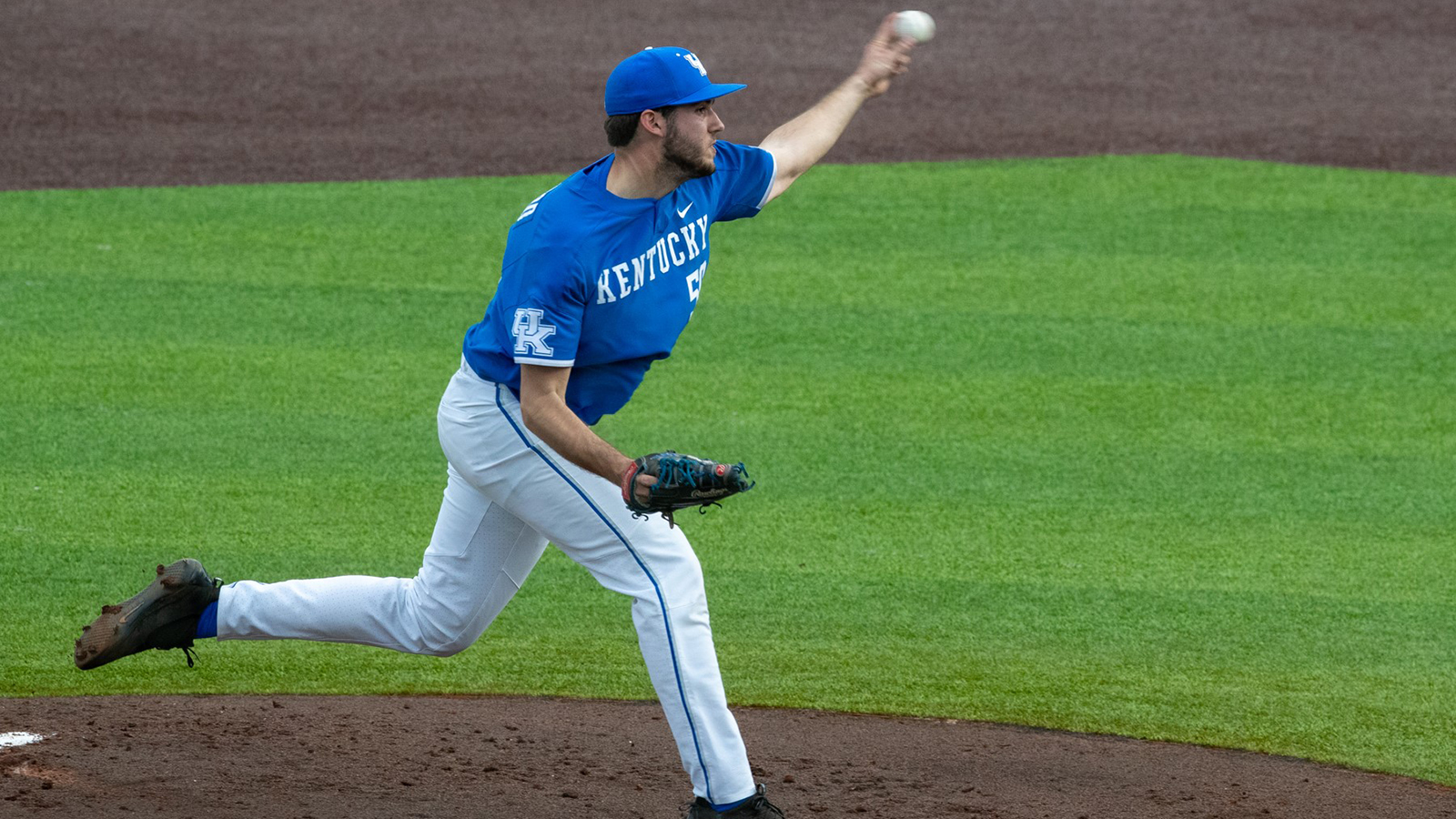 The Kentucky bullpen logged quite a bit a lot of work in last weekend's series at Texas Tech. The Cats used 12.1 innings out of the bullpen in three games against the third-ranked Red Raiders.
Heading into this week's mid-week games against Eastern Kentucky on Tuesday and Northern Kentucky on Wednesday, head coach Nick Mingione and his staff needed some innings out of their starting pitchers. And the Cats got just that.
In Tuesday's win over Eastern Kentucky, junior Grant Macciocchi gave the Cats 5.2 innings of work, allowing only three hits and one run while striking out six in a 7-3 Big Blue victory. On Wednesday, it was sophomore left-hander Mason Hazelwood who pitched six solid innings, allowing just one hit while striking out a career-high 11 hitters. Hazelwood left the game with a 1-0 lead but did not earn the win as it took a ninth-inning rally for the Cats to escape with a 5-4 win.
Mingione knew how important it was for his starters to perform this week, not only because of last weekend, but because of what this week's schedule holds for the Cats and because of what it does for the team.
"That was big because, that sets the tone," Mingione said. "Our pitching and defense has to be great. Any time a starter can do that, it makes the game so much shorter. So now, we're sitting here trying to manage this week, we're supposed to play five games this week, so two days in a row we've had our starters go deep, and that's obviously helped our bullpen."
Hazelwood's 11 strikeouts were the most by a UK pitcher since Sean Hjelle struck out 13 against Oakland on Feb. 23 of last season. The sophomore from Mercer County (Ky.) High School retired the first 16 batters he faced in Wednesday's game.
"Today, my fastball was really working for me," Hazelwood said. "It's one of the things that, throughout the beginning of the year, I've had control issues basically. This weekend, (Coach Jimmy) Belanger really worked with me and he told me just trust my stuff and I went out there today and just trusted it and it worked."
Hazelwood knew that his mental approach was also much better on Wednesday.
"It was more mental stuff," Hazelwood said. "All throughout the summer, I went out there and just threw and had fun. Coming back, when I got here, I started working on mechanics and everything just had to be perfect for me. Then tonight, I just went out there and threw it and had fun."
While he has primarily been used in relief at UK, Hazelwood likes how he can prepare for a starting role.
"Honestly, I enjoy having my time before the game and being able to pace myself instead of having a timer to say you've got this many batters to come in," Hazelwood said. "I've enjoyed being able to work on my own pace instead of when needed."
Mingione was more than impressed with Hazelwood's performance on Wednesday.
"Mason Hazelwood, was he not fantastic?," Mingione said. "His efficiency of his pitches, we challenged him with his tempo. He was in attack mode. He set the tone early."
Hazelwood's early effort, combined with a four-run ninth inning, made the difference in Wednesday's win. The starts by Maccoicchi and Hazelwood give the Cats a rested bullpen heading into a weekend series against Canisius.