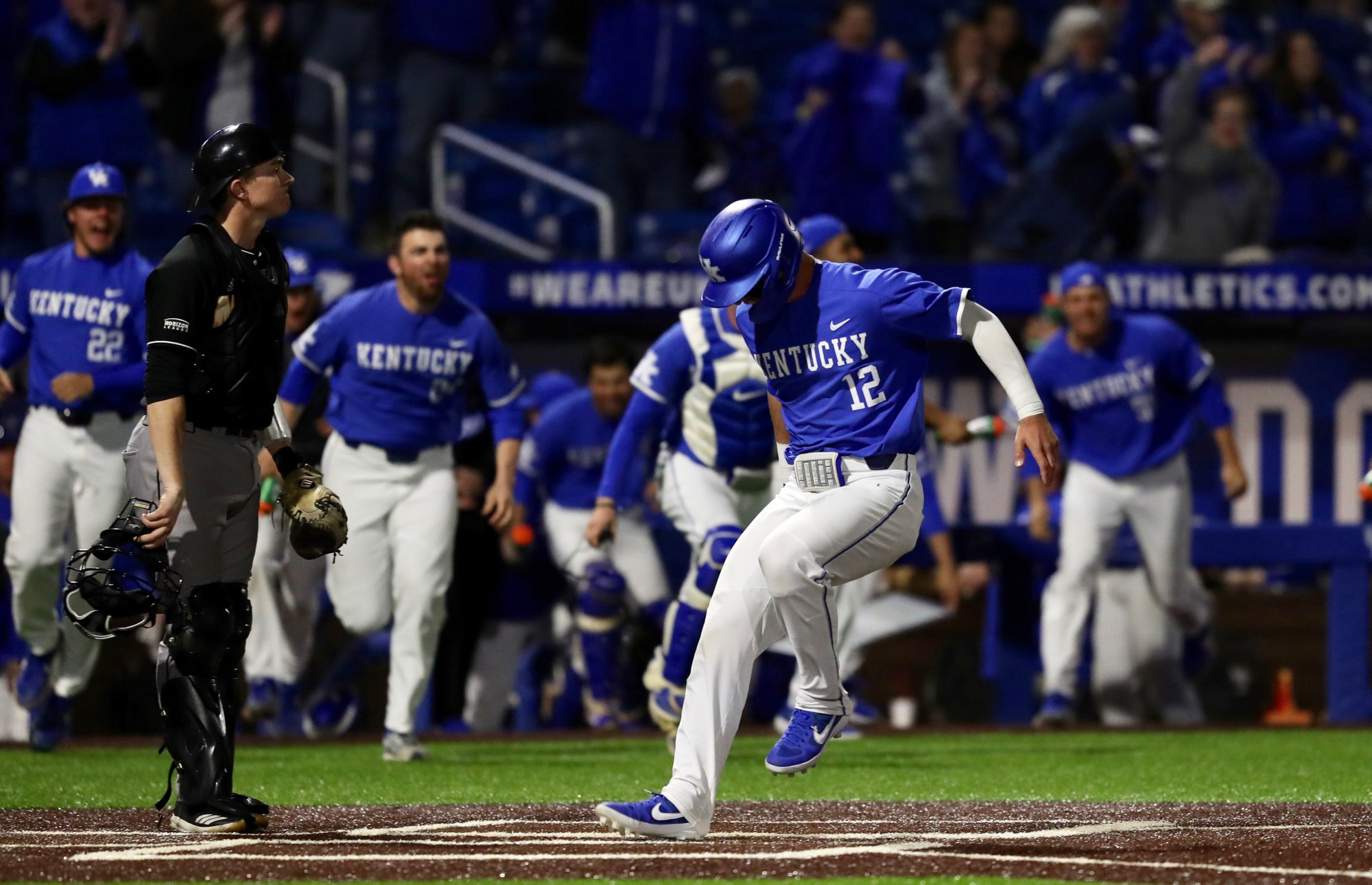 LEXINGTON, Ky. – Dalton Reed ripped a single back up the middle to score Ryan Shinn and complete a four-run ninth inning rally as Kentucky posted its first walk-off win of the season with a 5-4 decision over Northern Kentucky at Kentucky Proud Park.
 
Trailing 4-1 entering the final at bat, the Wildcats (5-3) notched their third walk-off victory under head coach Nick Mingione and their first since defeating No. 9 Auburn on March 23, 2018. Coincidentally, the score in that victory also was 5-4 although the winning run came on a wild pitch after Luke Heyer homered to tie the game earlier in the inning. The Cats' last walk-off hit came from Dorian Hairston, who homered in the 12th inning to defeat No. 2 South Carolina on May 8, 2016.
 
A junior college transfer from Roff, Oklahoma, Reed arrived at UK with All-American credentials and homered on the first pitch he saw with the Wildcats in the season opener but acknowledged his game-winner meant a little more.
 
"It's pretty great," Reed said. "Things like (the walk-off) make it even more special."
 
The ninth inning began with Marshall Gei's single, his career-high third hit of the game. After Zeke Lewis and Breydon Daniel singled with one out to bring home a run and slash the deficit to two, Shinn walked to load the bases. T.J. Collett fell behind 0-2 before bouncing a single in the hole vacated by the shortstop as the Norse played a shift to the right side, scoring two and tying the game. Reed followed with his game-winner.
 
Freshman right-hander Alex Degen pitched two scoreless innings to pick up the win but it was sophomore left-hander Mason Hazelwood who stole the show on the mound. Making his first collegiate start, Hazelwood retired the first 16 batters he faced and allowed only a single baserunner in 6.0 innings, striking out a career-high 11 batters.
 
 
SCORING
Bottom 1st – Ryan Shinn walked, moved to second on T.J. Collett's groundout and to third on a wild pitch. Jaren Shelby singled to LF, scoring Shinn. UK 1, NKU 0.
 
Top 7th – Andrew Bacon doubled to RCF to open the inning and moved to third on a wild pitch. Will Hauter walked. Griffin Doersching singled to LF, scoring Bacon. NKU 4, UK 1.
 
Bottom 9th – Marshall Gei and Zeke Lewis singled. Elliott Curtis pinch ran for Gei. Breydon Daniel singled to RF, scoring Curtis and moving Lewis to third. Grant Macciocchi pinch ran for Daniel. Shinn walked to load the bases. Collett singled through the left side, scoring Lewis and Macciocchi. Dalton Reed singled up the middle, scoring Shinn with the game-winning run. UK 5, NKU 4.
 
 
NOTES
Kentucky has scored in 72 consecutive games and 148 of the past 149 dating to the 2016 season. The lone shutout came in a seven-inning game. The current streak is the eighth-longest in school history.
The walk-off win was the first of the 2019 season.

It is the first walk-off win since a 5-4 win over No. 9 Auburn on Mar. 23, 2018. The winning run in that game scored on a wild pitch.
It is the first walk-off hit since Dorian Hairston hit a solo home run in the 12th inning to defeat No. 2 South Carolina on May 8, 2016.
Sophomore LHP Mason Hazelwood pitched 6.0 innings, giving up one hit, no runs, and striking out 11.

Hazelwood retired the first 16 batters he faced.
Only one hitter reached base in his six innings of work.
He is the first UK pitcher to strike out at least 10 hitters in a game since Justin Lewis fanned 10 against Missouri on April 29, 2018.

Junior 1B Dalton Reed went 2-for-5 with an RBI.

Reed had the game-winning, walk-off hit for the Cats, his first at UK.
Reed had this third multi-hit game of the season.
Senior C Marshall Gei went 3-for-4 in the game.

It was Gei's first multi-hit game of his career.
He opened the ninth inning rally with a single.

Junior OF Jaren Shelby went 2-for-5 with a double, RBI, walk and stolen base.

It was his fifth multi-hit effort in eight games.
He stole his sixth base in two days and is 7-of-7 on the season.
Freshman RHP Alex Degen pitched 2.0 innings, giving up one walk and striking out two.

Degen picked up his first collegiate win.
 
ON DECK
The Cats returns to Kentucky Proud Park on Friday to open a three-game weekend series with Canisius. First pitch is scheduled for 4 p.m. ET and will be aired on SEC Network Plus. Audio coverage can be found via UKathletics.com.