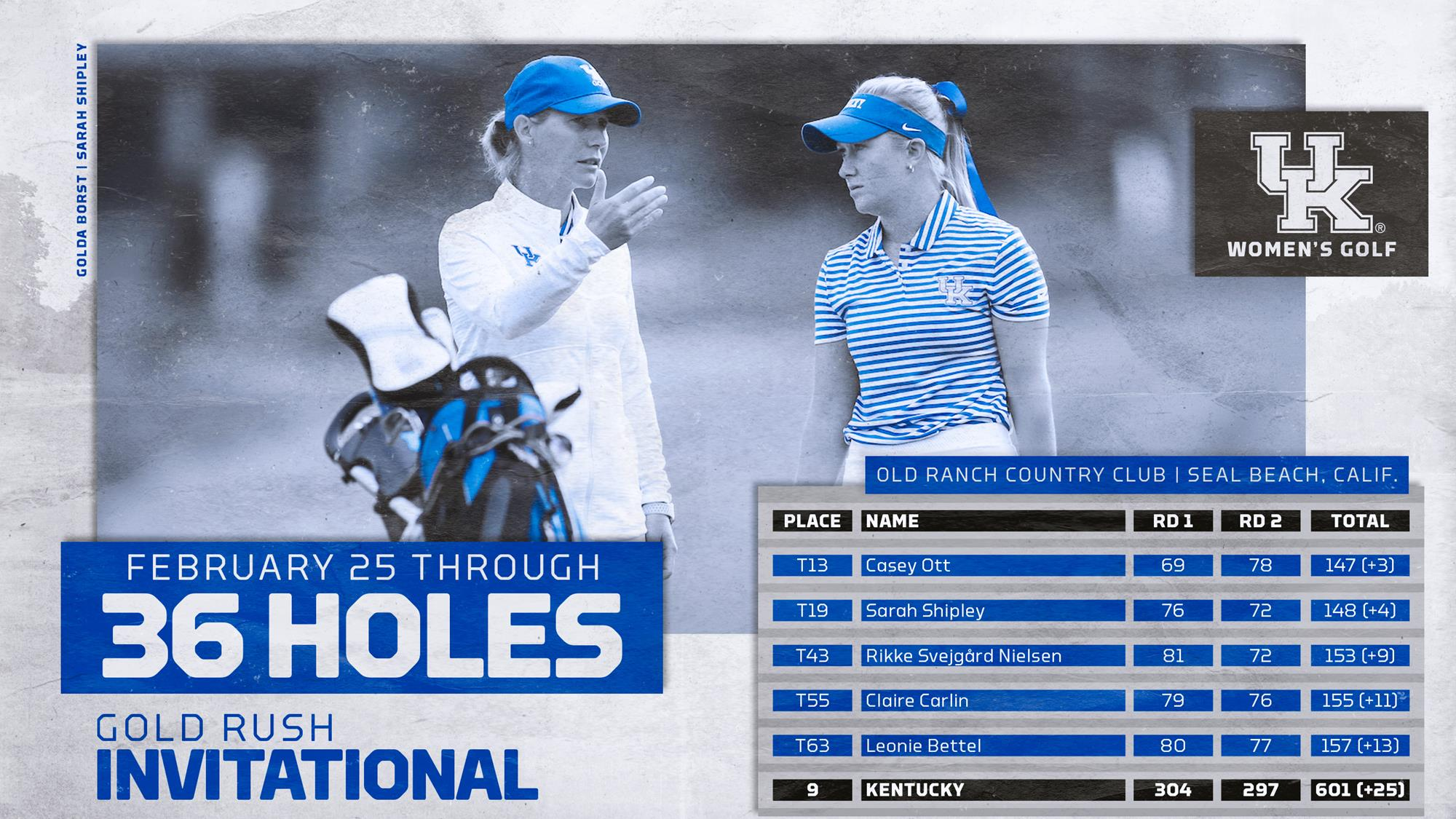 February 25, 2019 - 10:24 PM
Ott, Shipley in Top 20 after 36 Holes at Golf Rush Invitational
SEAL BEACH, Calif. – Kentucky women's golfer Casey Ott's rapid ascension from a freshman with potential to an everyday impact player continued Monday with another strong spring round.
 
After leading the Wildcats in each of the first two spring events, she's once again positioned herself for a finish near the top of the leaderboard after a career-best first round at the Gold Rush Invitational. Ott (tied for 13th) and junior Sarah Shipley (tied for 19th) are both in the top 20 after 36 holes in Seal Beach, California.
 
Ott fired a career-low 69 in the first round and was tied for second place after the first 18 holes, while Shipley followed a first-round 76 with an even-par 72 to finish the day. The duo has led Kentucky to a ninth-place standing in the 15-team field at 25-over par heading into Tuesday's final 18 holes.
 
UK fired a 304 in the first round but bounced back with a 9-over-par 297 in the afternoon round. It's a tightly bunched field with just eight shots separating the Wildcats from fifth place.
 
"We didn't have the start we were looking for today," UK head coach Golda Borst said. "Most of our players got off to a rough start and had a hard time making enough birdies to get the shots back. I was pleased to see us bounce back some in round two but we have to do a better job of finishing our rounds off strong. We have to find a way to play more free and with more courage from the start because we are a better team than what we showed today."
 
The tournament finale will begin Tuesday at 8 a.m. local time (11 a.m. ET) with a shotgun start. Live scoring will continue to be available at GolfStat.com.
 
San Jose State and Sacramento State, no strangers to the West Coast layout at Old Ranch Country Club (par 72, 6,169 yards), have run away from the field with 36-hole scores of 2-over par and 4-over par, respectively. San Jose State's Abegail Arevalo leads the individual leaderboard at 7-under par.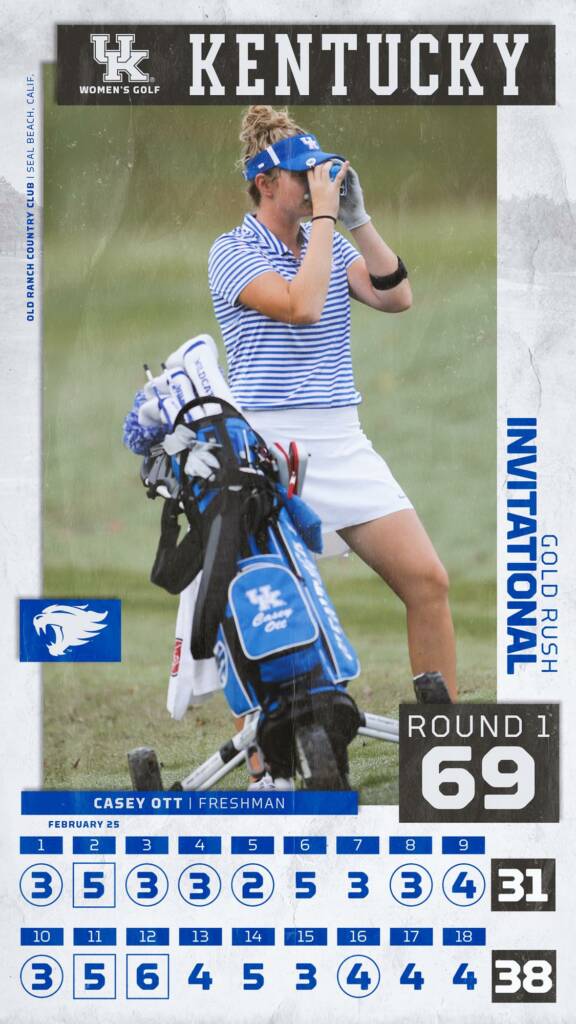 Ott was tied for first place for much of the first round and completed the first 18 holes in a tie for second after a barrage of birdies. She recorded a remarkable eight of them in the first round for a career-low 69. It's her fifth round of par or better in her short Kentucky career and her third straight dating back to last weekend.
 
The freshman from Conway, Arkansas, began her day on No. 5 and birdied four of her first six holes. Had it not been for back-to-back double bogeys on holes 11 and 12, her career-best score could have been even lower.
 
Ott rebounded from the double bogeys with a birdie on No. 16 and then caught fire again on her return to the front nine with birdies on three of her final four holes.
 
All that came after Ott's strong start to the spring. Two weeks ago she won her individual match vs. Louisville in dominating fashion, 6 & 5, won individual medalist honors in the Battle of the Bluegrass, and then posted her first career top-10 finish (tied for seventh) with a 54-hole collegiate low of 221 at last weekend's Reynolds' Lake Oconee Collegiate Championship.
 
Ott couldn't sustain her first-round magic and carded a 78 in the second round, but she's eyeing another top-10 showing at 3-over par overall.
 
"Casey really stepped up for us today in round one when we needed her to," Borst said. "It was great to see her make eight birdies in that first round because she's been working very hard on her putting. She pushed a bit too hard in round two towards the end and learned a lot about herself and her game in the process. Casey's very capable of putting some low scores together and I think we are just starting to see what she can do for our team." 
 
Shipley did the opposite of Ott. She started slow with a 76 and then came back strong in the afternoon round with an even-par 72. Her second round featured three birdies, three bogeys and the rest pars as she tries to rekindle the spring she had last season when she led the Wildcats in stroke average.
 
Sophomore Rikke Svejgård Nielsen also shot an even-par 72 in the second round after an 81 in the afternoon. She's tied for 43rd. In just 14 collegiate rounds, Svejgård Nielsen has five scores of even par or better.
 
Senior Claire Carlin is tied for 55th at 11-over par after a 79-76 day.
 
Fellow senior Leonie Bettel was uncharacteristically off her game Monday. Heading into the Gold Rush, the ANNIKA Award candidate was well ahead of the single-season school record stroke average, but she's currently 13-over par and in a tie for 63rd. She'll need a big day Tuesday to continue her perfect streak this season of finishing in the top 20.
 
The Gold Rush Invitational is the first of two straight tournaments in the Pacific Time Zone for UK. The Wildcats will return west March 15-17 to Mesa, Arizona, for its third straight appearance in the Clover Cup.
 
For the latest on the Kentucky women's golf team, follow the team on Twitter, Facebook, and Instagram, as well as on the web at UKathletics.com.