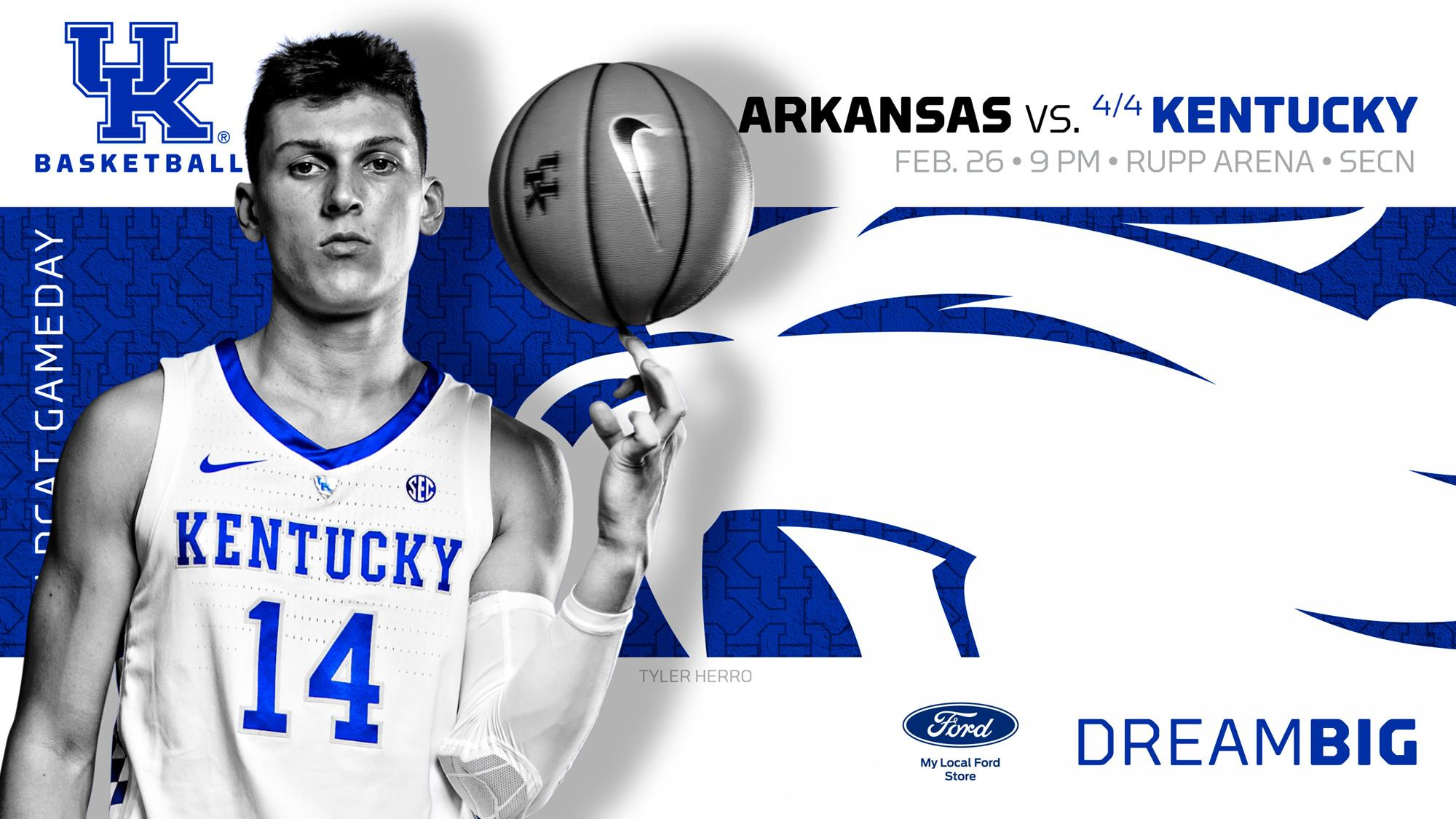 February 25, 2019 - 07:51 PM
UK's Sole Focus on Arkansas
It's officially Bracketology season.
 
Bubble buzz is everywhere and – more relevantly for Kentucky – it's impossible to make it through a game without conversations about its potential impact on projecting seed lines.
 
For the Wildcats, the news on that front has been almost exclusively good of late. In the midst of 13 wins in 14 games, UK now seems to be a consensus choice to be one of four No. 1 seeds were the NCAA Tournament to begin today.
 
There's the thing though: Selection Sunday isn't for another three weeks. That's why the Joe Craft Center is basically a sound-proof booth when it comes to NCAA Tournament talk.
 
"To be honest, we haven't discussed that one bit," assistant coach Joel Justus said. "(John Calipari) has not discussed it one bit with our guys."
 
It's the goal of the UK coaching staff to keep the Cats focused each successive task at hand, the next one being a home game against Arkansas (14-13, 5-9 Southeastern Conference) Tuesday at 9 p.m. Considering the makeup of the team they lead, that's not as tall a task as you might think.
 
"They probably don't even know how many teams are in the NCAA Tournament," Justus said.
 
That might be somewhat of an exaggeration, but Justus's point stands. The Cats don't need to be told not to look ahead.
 
Kentucky vs. Arkansas

Tue., Feb. 26 – 9 p.m. ET
Rupp Arena
Lexington, Ky.
Game Notes: UK | UA
UK Athletics App Digital Guide

Coverage

TV: SEC Network
Radio: UK Sports Network
Watch
Listen
Live Stats

UK
2018-19 Stats
UA
23-4
Record
14-13
12-2
Conference Record
5-9
78.3
PPG
76.3
64.9
Opp PPG
73.9
.480
FG%
.445
.403
Opp FG%
.425
38.8
RPG
34.5
.359
3PT FG%
.324
.348
Opp 3PT FG%
.342
.747
FT%
.662
14.0
APG
16.1
6.4
SPG
8.1
4.9
BPG
4.9

"It doesn't matter to me," Jemarl Baker said. "It's my job to work hard; it's my job to do what I can for the team to help us win."
The next chance for Baker and his fellow fourth-ranked Cats (23-4, 12-2 SEC) to do that comes against an Arkansas team that has lost five straight, though the Razorbacks do have a road win over an LSU team tied atop SEC standings alongside UK and Tennessee to their name. Even if they didn't, that wouldn't matter to UK's preparations.
 
"We were done at Rupp at six o'clock on Saturday night and started to look at Arkansas," Justus said. "We saw the kids Sunday afternoon and went through our normal Sunday prep the same way we did last Sunday and the Sunday before that and every Sunday in conference play. There's nothing any different. We will go through a normal practice today."
 
Arkansas might not be winning at the level that had the Razorbacks in the NCAA Tournament in three of the last four seasons, but Daniel Gafford is still on the roster. The 6-foot-11 sophomore could have entered the NBA Draft after a standout freshman season, but elected to return. He's averaging team highs in points (16.6), rebounds (8.9, which also leads the SEC) and blocks (2.0) while shooting an SEC-best 66.3 percent from the field.
 
"You look at a guy that shoots 85 percent around the rim, that is a tremendous finisher," Justus said. "He's a guy that you've got to do your work before he gets the ball. That's obviously easier said than done. From all of our standpoint, it's a big challenge for our guys. It's a big challenge for our young guys. It would be a big challenge for anyone."
 
UK will have to take on that challenge without Reid Travis, who will sit out a second game with a sprained knee. It will come down to EJ Montgomery and Nick Richards to cope with Gafford alongside PJ Washington.
 
"I heard he's pretty good," Montgomery said of Gafford. "He's going to be a challenge. We just want to go out there and fight, compete and try to get a win."
 
Montgomery and Richards played well in a dominant win for Kentucky over the weekend. Playing expanded roles, they combined for 10 points, 10 rebounds, six blocks and three steals in 43 minutes against Auburn.
 
"We're wanting them to play with energy and confidence and that's something that I think they demonstrated the entire night," Justus said. "I think if you look at the blocked shots, which is something that Coach has been on them about, for them to get out and do that gives us a spark. I think everyone is always rooting for Nick. I think we're wanting EJ to do the same thing. Once again, it's a big challenge tomorrow night with Daniel Gafford. We'll see where kind of those guys are."
 
As ever, the Cats will be focused on the present moment.
 
"There's nothing that changes besides the guys in the jerseys on the other team," Justus said. "We just do our best to make sure our guys are at their best by tomorrow night."
Wildcats Roll Past Auburn for Season Sweep
PJ Washington scored 24 points to lead No. 4/4 Kentucky past Auburn, 80-53, on Saturday, as John Calipari moved past Joe B. Hall for the second most wins in school history at 298.
"No one should go by him, so Coach Hall just asked me to vacate any games that go by him," Calipari said. "I said they have already vacated some of my games. Maybe we'll just vacate some more and at the end of the day I'll be one less than him."
Washington led three players in double figures and helped lead the Wildcats to a regular-season sweep of the Tigers. The Wildcats (23-4, 12-2 Southeastern Conference) defeated Auburn 82-80 last month and made things easier the second time around. Tyler Herro followed Washington with 17 points and Ashton Hagans added 14.
Kentucky played without senior forward Reid Travis, who sprained his right ankle in a 66-58 win at Missouri last Tuesday. Travis is expected to miss the next two weeks. Freshman EJ Montgomery started in Travis' absence and scored six points. Nick Richards split time with Montgomery in the post and added four points. Keldon Johnson snagged a career-high 17 rebounds and just missed a double-double with eight points.
"Keldon told on himself today," Calipari said. "If he thinks he's getting two rebounds next game, I'm going to be all over him. He told on himself. You're able to get that many rebounds? You're able to go above the rim against a team like that, that rebounds like crazy, offensively?"
Washington scored 11 of Kentucky's first 16 points and set the tone for the victory. Four of Kentucky's first seven field goals were 3-pointers, including three by Washington. Washington and Herro combined for 27 points in the first half. Washington, with a career-high five 3-pointers, and Herro combined for eight of Kentucky's 11 3-pointers in the contest.
"He's not the same player, and the biggest thing is, he got in great condition," Calipari said of Washington. "Now he can play basketball and, are you ready for this, you can think. If you're not in shape, your whole thought is about I'm dying out here. You're not thinking ahead. You're not anticipating. He's in great, great condition. And he's playing like the best player in the country right now. He really is."
Auburn coach Bruce Pearl agreed.
"He had that ability a year ago," he said. "I've seen it but now it's being brought out. He's playing with great confidence and playing a great role doing the things he's doing. He's a national player of the year candidate without question."
• The 27-point margin of victory is the Wildcats' biggest vs. Auburn since defeating the Tigers 110-75 during the memorable 2014-15 season
• UK now leads the series 94-19, including 48-2 in games played in Lexington
• Kentucky is now 241-40 vs. Associated Press unranked competition under Calipari
• UK held Missouri to 53 points and 32.8-percent shooting. The Wildcats improved to 177-16 under Calipari when holding the opponent to
less than 40-percent shooting, including 13-0 this season
• Kentucky is now 72-0 when limiting the opponent to 55 points or less under Calipari, including 8-0 this season
• It's the fifth opponent in conference play that UK has held to its season-low point total at the time of the game
• The Wildcats continue to put opponents away when they get up by double figures. UK moved to 256-5 all-time under Calipari when leading
by at least 10 points in the contest
• Kentucky's 18-0 run from the end of the first half through the start of the second is its biggest run of the season
• UK led by as many as 33 points
• The Wildcats shot 54.5 percent from the field and are a perfect 11-0 this season when shooting 50 percent or better
• Kentucky dominated on the boards with a 43-24 advantage to improve to 19-2 this season when winning the battle on the glass
• Washington extended his double-figure scoring streak to 12 games. He's scored 20 or more points in eight of the last 10 games and has 10 such games overall this season
• Johnson's 17 rebounds marked the third game this season where a Wildcat has grabbed 17 or more rebounds. UK is one of just two teams in the country to have done that this season and just the fifth overall since the 1996-97 season, according to STATS
• UK improved to 14-0 this season when Herro scores at least 15 points and 8-0 when he makes at least three 3-pointers
• Hagans scored 14 points, his most since tallying a career-high 23 at Georgia on Jan. 15, in addition to a career-high-tying two 3-pointers and a game-high-tying five assists
• Montgomery had a solid all-around game starting in place of Travis with six points, seven rebounds, a career-high-tying three blocks and a career-high-tying two steals
Calipari Moves into Second Place on UK's All-Time Wins List
A 66-58 win on the road at Missouri may have seemed like business as usual for the Wildcats, but it served as a major coaching milestone for head coach John Calipari. The win signified No. 297 as UK's head coach, which tied him with Joe B. Hall for the second most by a Kentucky head coach. He moved past Hall Saturday with an 80-53 win over Auburn.
Now, only Adolph Rupp owns more victories as UK head coach than Calipari.
Having coached 366 games to date with the Wildcats, he's within striking distance of becoming one of the five fastest coaches to 300 wins at one program in NCAA history. Bill Self at Kansas won his 300th game in the fastest time span of 358 games. Rupp owns the mark at Kentucky. He achieved win No. 300 in just 366 career games.
Travis Out at Least Two Weeks With Right Knee Sprain
Forward Reid Travis is expected to miss at least two weeks after spraining his right knee vs. Missouri on Feb. 19. An MRI conducted after the team returned to Lexington confirmed the sprain. No other damage to the knee was detected.
"I just feel so good that it was more of a sprain than anything else because you just get worried about that stuff when you see someone go down," UK head coach John Calipari said. "We are going to be very conservative with this so he may be out a couple weeks. We hope he will be ready for around the conference tournament or maybe even a little bit before, but I'm happy for Reid that we're going to get him back."
Travis sprained his knee midway through the second half vs. Mizzou when a teammate attempting to rebound a ball inadvertently fell into Travis' right knee. Travis stayed in the game for two possessions before walking gingerly under his own power off the court and into the locker room.
The graduate transfer from Stanford has been one of the key components to Kentucky's 23-4 start, which includes a 5-2 record vs. Associated Press Top 25 teams and has positioned the Wildcats for a potential top seed in the NCAA Tournament.
Travis is averaging 11.3 points and 6.9 rebounds for the Wildcats while shooting 51.6 percent from the floor and 73.0 percent at the free-throw line. He's started 23 of 26 games, scored in double figures in 14 of them, and posted four games with 20 or more points. He's also recorded two double-doubles.