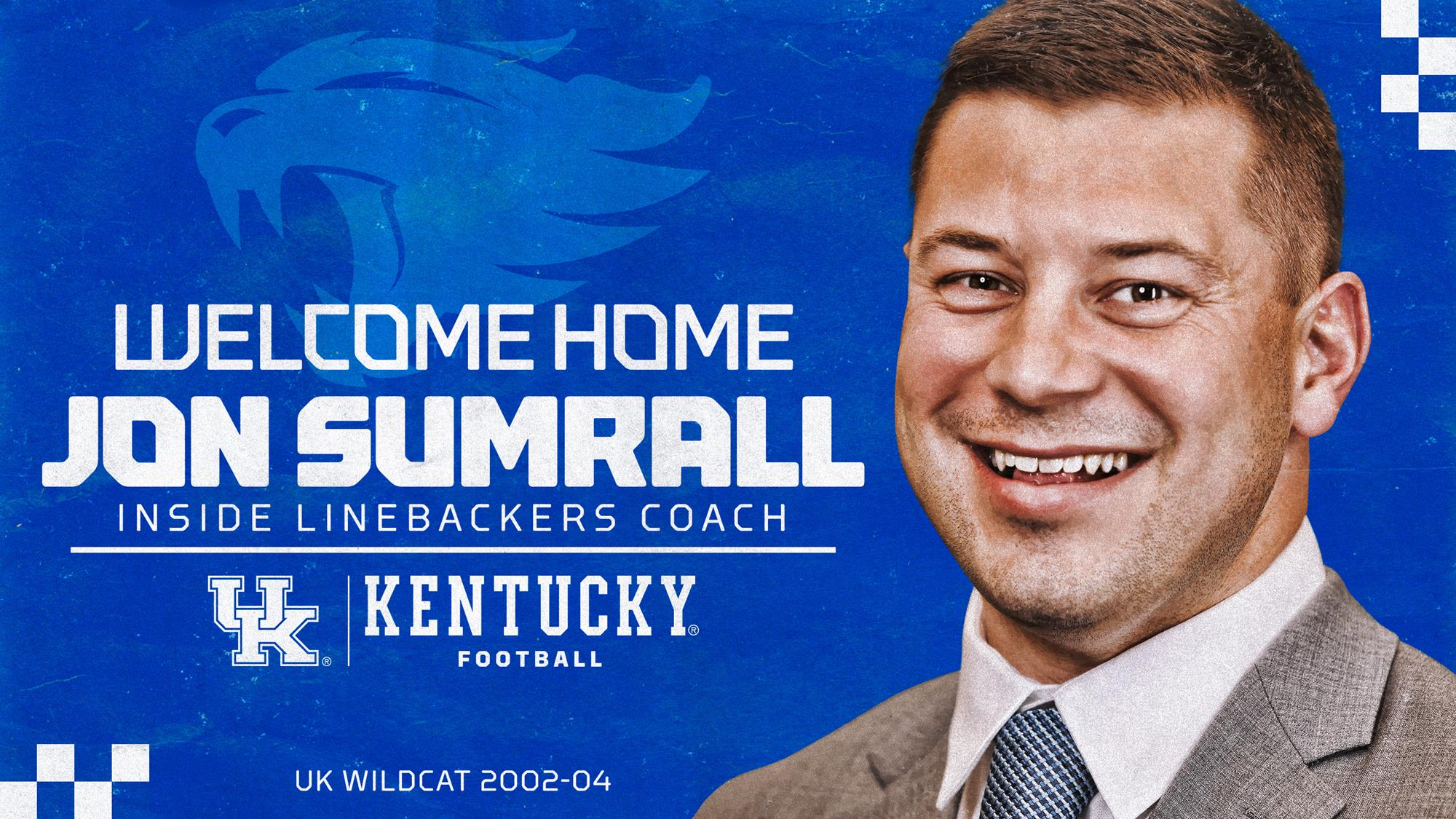 LEXINGTON, Ky. – After a short stint as the linebackers coach at Ole Miss, head coach Mark Stoops has announced the hiring of Jon Sumrall in the same position at Kentucky. Sumrall will coach the inside linebackers.
 
"I am extremely impressed with Jon," Stoops said. "He has a great reputation in the business and has proven himself as a top-level recruiter in the Southeastern Conference. He brings a wealth of experience in the defensive staff room and it's always great to bring home a former Wildcat."
 
Sumrall, 36, was a three-year letter winner at middle linebacker at Kentucky from 2002-04.  He started every game in 2004, leading the Wildcats with 72 tackles. He also excelled off the field as he was named to the SEC Academic Honor Roll and was selected to the Frank G. Ham Society of Character. After earning his degree in finance in 2005, Sumrall served as a graduate assistant for the Wildcats during the 2005 and 2006 seasons under head coach Rich Brooks.
 
"It's an honor and a privilege to have the opportunity to coach at my alma mater and be a part of Coach Stoops' program and what he's building here," Sumrall said. "I'm excited about developing relationships with the players and helping them grow on and off the field as men. The University of Kentucky holds a special place in my heart and the opportunity to represent the Commonwealth is very special to me."
 
Sumrall left Kentucky in 2007 and spent five seasons under head coach Ron Caragher in various positions at the University of San Diego, including defensive coordinator during his final two seasons. The first three years, he served as the defensive line coach, recruiting coordinator and camp coordinator before assuming the defensive coordinator and linebackers coaching role in 2010. During his final season with the Toreros, Sumrall was promoted to assistant head coach.
 
USD went 36-19 during his time there, including a pair of Pioneer League co-championships.
 
Sumrall then moved to Tulane where he worked three seasons (2012-14) under head coach Curtis Johnson. He coached the defensive line the first two seasons before coaching the linebackers in 2014.
 
In 2013, he was a crucial part of Tulane's run to the New Orleans Bowl as the Green Wave finished second in the nation with 35 forced turnovers. It was Tulane's first bowl game since 2002 and third since 1988. Tulane finished fourth nationally with 16 fumble recoveries, sixth with 19 interceptions, 22nd nationally in total defense (352.1), 13th in sacks per game (2.92) and 11th in red zone defense (73.5 percent) that year.
 
Under Sumrall's tutelage, defensive end Julius Warmsley earned first-team All-Conference USA honors after leading the team with 18.5 tackles for loss. Sumrall also was named a finalist for FootballScoop Defensive Line Coach of the Year along with coaches from Michigan State, Stanford and Missouri.
 
In December of 2014, Sumrall accepted the assistant head coach position at Troy under then-head coach Neal Brown. He worked primarily with linebackers and served as the special teams coordinator and his three seasons, the Trojans' defense was tops in both the Sun Belt and NCAA in multiple defensive categories.
 
The Trojans won a school-record 11 games in 2017 and the Troy defense ranked first in the nation in red zone defense (.614), second in tackles for loss per game (8.6), seventh in rushing defense (105.3), 11th in scoring defense and 24th in total defense per game (336.6).
 
Troy notched a pair of bowl wins, with triumphs in the 2016 Dollar General Bowl and the 2017 New Orleans Bowl. Additional highlights included a road win at LSU and a 30-24 loss at No. 2-ranked Clemson.
 
In January of 2018, Sumrall accepted the linebackers coaching position at Ole Miss.
 
The Huntsville, Alabama native was a two-time all-state performer and a four-year letter winner at Grissom High School.
 
He is married to the former Ginny Nixon also of Huntsville, and the couple has four children.