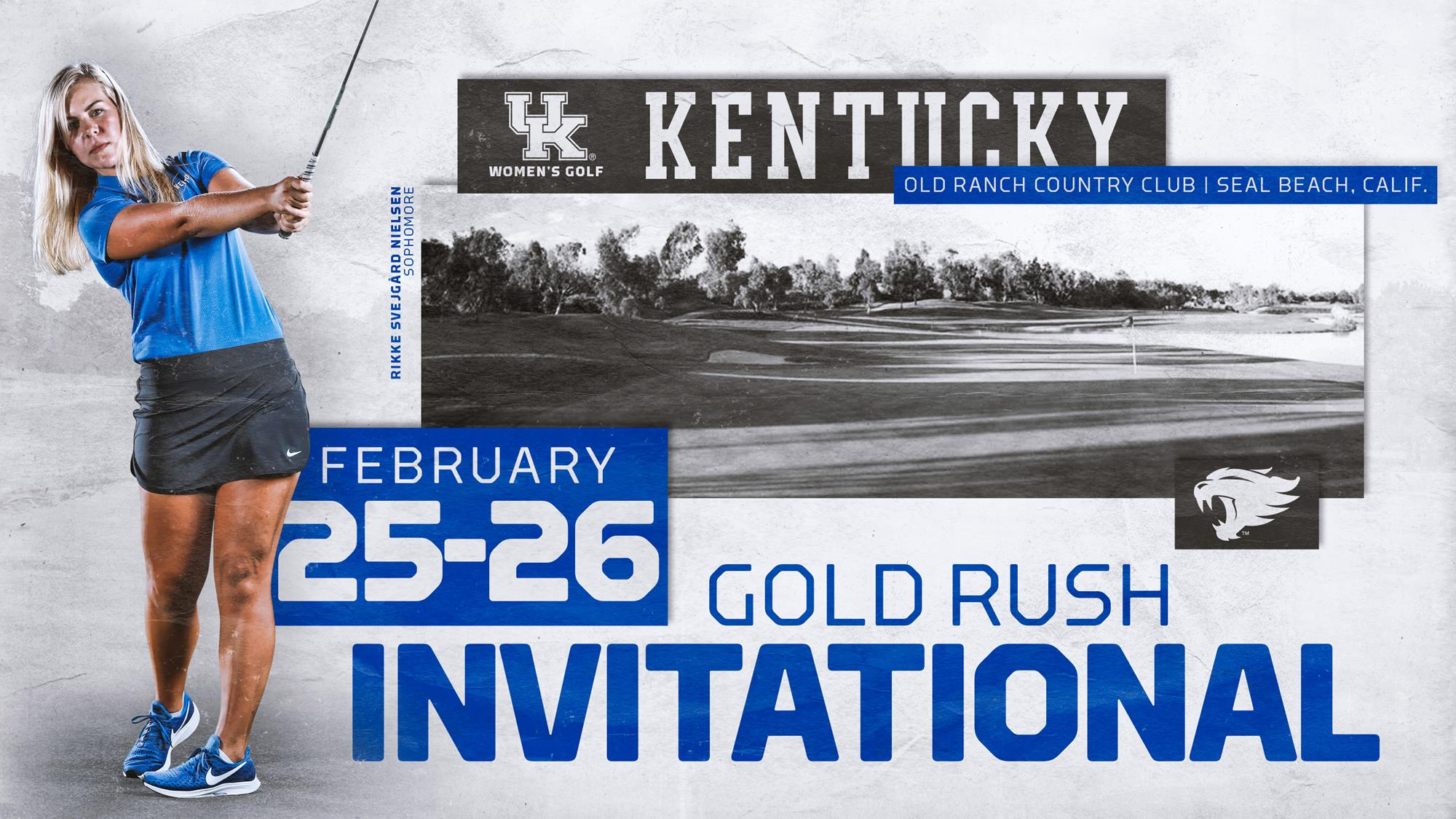 February 24, 2019 - 01:44 PM
UK Women's Golf Heads West for Gold Rush Invitational
SEAL BEACH, Calif. – The Kentucky women's golf team's busy start to the spring season will continue Monday and Tuesday out west at the Gold Rush Invitational.
 
The Wildcats will play their third event in just over a two-week time span in their first-ever appearance at the Gold Rush Invitational at Old Ranch Country Club in Seal Beach, California. UK will play 36 holes of stroke play Monday followed by 18 holes on Tuesday to close out the month of February competition.
 
Kentucky will look to build on a strong showing at the Reynolds Lake Oconee Collegiate Championship in Greensboro, Georgia, where the Wildcats tied for third place last weekend. It marked the second top-three finish of the season for UK.
 
Live scoring will be available for both days of competition at GolfStat.com with players slated to tee off Monday at 8 a.m. local time (11 a.m. ET) with a shotgun start.
 
"It's another quick turnaround for us this week and we are looking forward to facing some different teams here in Long Beach," Kentucky head coach Golda Borst said. "Being out on the West Coast will be good for us and it gives us an opportunity to learn how to manage the time difference and the different types of courses that they play out here.
 
"Our team is looking better and better after the last two events and they are starting to find their groove. I know they are all excited to compete again after our finish last week in Georgia and we can't wait to get after it on Monday."
 
The field will consist of 15 teams, including top-50 opponents San Jose State and Georgia. UK checks in at No. 64 in the latest GolfStat rankings. Long Beach State will serve as the tournament host.
 
The 2018 Bettie Lou Evans Invitational champions will challenge the field with senior Leonie Bettel, sophomore Rikke Svejgård Nielsen, freshman Casey Ott, senior Claire Carlin and sophomore Sarah Shipley. The Wildcats featured all eight players on roster in the previous two events with individual competition.
 
Bettel is coming off her fifth top-20 showing of the season at the Reynolds Lake Oconee Collegiate Championship. She's five for five in that regard when it comes to stroke-play competition this season, including two championships.
 
The ANNIKA Award midseason finalist checks in at No. 39 in the latest national rankings and boasts a 71.5 18-hole stroke average, which would be a school record if the season ended today.
 
Svejgård Nielsen was in second place after the second round of the Reynolds Lake Oconee and was eyeing her second championship in her brief UK career before an uncharacteristically inconsistent round in the finale in Greensboro derailed her chances. She still tied for 19th for her third top-20 showing in just four stroke-play events to start her collegiate career.
 
No one is trending more upward right now than Ott. She's started the spring with a dominating 6 & 5 match-play win vs. Louisville, individual medalists honors in the Battle of the Bluegrass, and then her first career top-10 finish at the Reynolds Lake Oconne, where she tied for seventh with a career-best 54-hole score of 221 (5-over par).
 
Carlin and Shipley both tied for 32nd in Greensboro last weekend at 14-over par. Each has a pair of top-20 tournaments this season.
 
This week's tournament will be played at Old Ranch Country Club, which will play at 6,115 yards, a par 72. Old Ranch Country Club was designed by Ted Robinson and features 128 acres of water, tree-lined fairway unmarred by homes and bent-grass greens.
 
The Gold Rush Invitational will mark the first of two straight tournaments in the Pacific Time Zone. UK will return out west March 15-17 to Mesa, Arizona, for its third straight appearance in the Clover Cup.
 
For the latest on the Kentucky women's golf team, follow the team on Twitter, Facebook, and Instagram, as well as on the web at UKathletics.com.