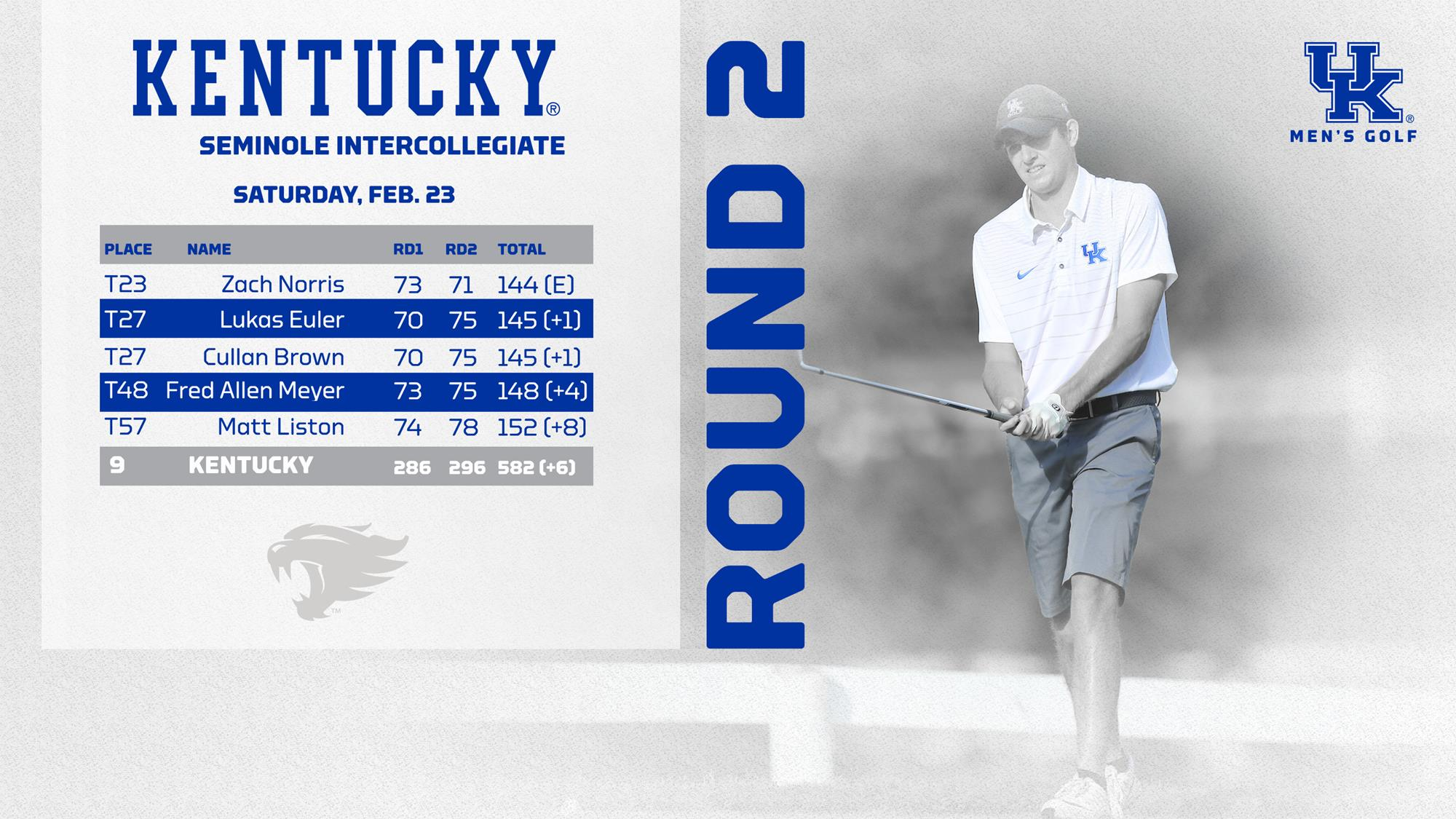 February 23, 2019 - 09:25 PM
Zach Norris leads Men's Golf at Seminole Intercollegiate
Day One Results | Live Scoring
 
TALLAHASSEE, Fla. – Redshirt freshman Zach Norris was the low scorer on the first day of the Seminole Intercollegiate for the Kentucky men's golf team on Saturday. Norris is even par through two rounds to pace the Cats in the opening tournament of the spring season.
 
Norris notched eight birdies on the first day, including three on the back nine to finish his second round at 1-under and enter the clubhouse tied for 23rd. Kentucky sits in ninth following the opening 36 holes at 6-over par. The Cats will tee off on Sunday at 8 a.m. ET.
 
The course is set up as a par-72, 6,965-yard event. The field is comprised of three teams in the top 27 in the Golfstat.com rankings. Eight programs are rated among the top 100.
 
Senior Max Mehles had an impressive day as an individual scorer, finishing 2-under. Mehles logged two 1-under rounds to finish Saturday tied for 10th.
 
Freshman Cullan Brown made his collegiate debut, going 2-under in his first round before finishing the first day at 3-over. Brown birdied six holes and was 6-under through 12 and atop the leaderboard. Some mishaps over his last six holes hindered an otherwise exceptional debut. Brown is tied for 27th at 1-over going into Sunday.
Senior Lukas Euler also finished tied for 27th. Euler was able to gain some momentum heading into the second day, as he birdied three of his last four holes, pushing him to 1-over for the day.
 
Senior Fred Allen Meyer registered a 148 and junior Matt Liston logged a 152 on the opening day. The duo is tied for 48th and 57th, respectively.
 
Play resumes at 8 a.m. ET on Sunday as the 14-team field will play one more round of 18. Live stats are available via Golfstat.com.
 
Jacksonville is the clubhouse leader after day one. West Virginia and Louisville are tied for second. Wake Forest and Kansas State round out the top five of the leaderboard.
 
For the latest on the Kentucky men's golf team, follow @UKMensGolf on Twitter and on the web at UKathletics.com.